Weave braids are versatile and get constantly modified to stir up new hairstyle trends from time to time.
There is an endless list of weave braid styles that makes it hard to pick a favorite, and if you succeed in picking a favorite, another new weave braid style will take the internet by surprise and you could find yourself questioning your choices again.
The several styles of weave braids never get old or boring because you can get them done using different colors and types of hair extensions, and each color gives you a new fresh look even when it is a hairstyle you have done earlier but with another color.
African women have their heads high and proud in various weave braid styles.
The tight curls, kinky feel, nappy layout, thick feel, and delicate texture that characterizes natural African hair makes weave braids the most suitable protective hairstyles to have on from time to time.
Braided hair will remain in style because it serves a lot of persons and is a lovely look for African and non-African girls alike.
13 Types Of Weave Braids For Every Woman
Since there is an endless list of weave braids to choose from and you might need a little help deciding based on how long the braids will last, how much it will cost you and how to take care of it so your hair underneath is safe, here are 13 types of weave braids to make your decision easier while answering those questions;
1. Knotless braids
Knotless braids are a weave braid style that involves braiding your hair using hair extensions and the three-strand braid technique. For knotless braids, your hair is separated into little boxes or triangles depending on your preference and then it is braided.
What makes knotless braids unique is that unlike other braids done with hair extensions, they do not have knots at the beginning, it is made to look seamless and neat.
Duration: 2-3 months (with proper care)
Price estimate: $150 – $600
Care tips: wash & moisturize.
2. Bob braids
Bob braids are a simple hairstyle done by braiding the hair with hair extensions or one's natural hair in medium or jumbo sizes.
Bob braids are meant to stop at shoulder length and they are usually made to curve slightly at the tips and frame the face beautifully. It's a way to take a quick break from long braids and still look absolutely stunning.
Duration: 4 – 6 weeks.
Price: $95 – $250.
Care tips: oil daily.
3. Box braids
Box braids are a braid hairstyle where single braids are done with a square or box parting. They are just regular braids done with hair extensions but they all have a distinct square-shaped hair parting that makes them stand out.
Box braids can be done in different lengths, sizes,  and on different hairstyles that include single braids.
Duration: 4 – 6 weeks.
Price estimate: $100 – $300.
Care tips: Oil scalp daily.
4. Braids with curls
Braids with curls are a braided hairstyle where single braids are done with hair extensions or attachments and then the tips are left unbraided because they are to be curled instead.]
The curls at the end of braids can be done using a curling iron, a threading technique, or some curling rods. You can add curls to just about any braided style, it makes it look prettier.
Duration: 2 weeks – 3 months (depending on the hairstyle).
Price estimate: $80 – $600 (depending on the hairstyle).
Care tips: Oil the scalp daily or wash and moisturize.
5. Cornrow braids
Cornrow braids are a braid style that originated in Africa, they were usually done for kings, queens, warriors, and other people of royal descent. Cornrow braids are neatly lined up flat against the hair just like how cornrows for farming in the fields are done.
There are various designs and techniques for making cornrows, making the hairstyle seem like it is born anew each time a new style is discovered.
Duration: 2-6 weeks (depending on maintenance).
Price estimate: $85 – $120.
Care tips: moisturize & oil scalp daily.
6. Ghana braids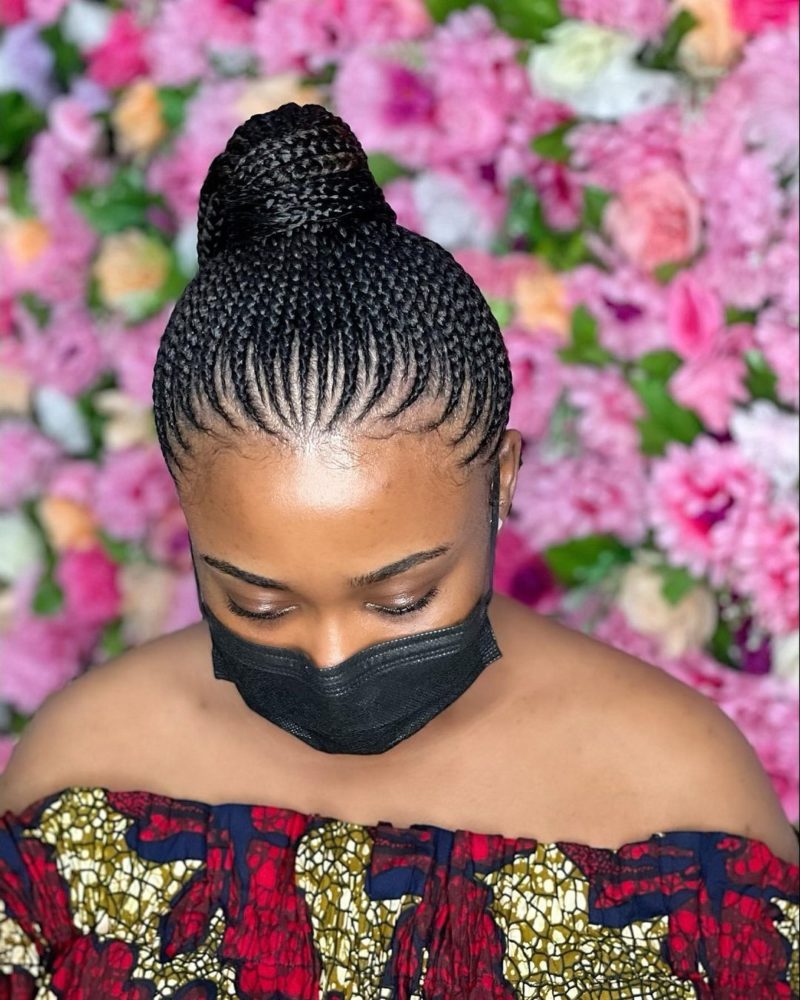 Ghana braids are a type of African braid that is popular amongst Ghanaians, it can be done in the same pattern as cornrows or in an updo pattern to resemble a ponytail.
Ghana braids are thicker than cornrows, and while cornrows can be done without hair extensions, Ghana braids need hair extensions to achieve the hairstyle. For Ghana braids, your hair is intertwined with the hair extensions which are added almost every step of the way,  and your hair is pulled back.
Duration: 3 weeks – 1 month
Price estimate: $75 – $100
Care tips: moisturize & oil hair, cover hair with satin or silk scarf at night.
7. Fulani braids
Fulani braids are also an African type of braided hairstyle, it is popular among the Fulani people. It is best described as a combination of cornrows and box braids and it is usually adorned with cowries and a lot of beads, mostly wooden or transparent beads.
Fulani braids usually have one or two braids at the sides of one's head hanging out and framing the sides of one's face.
Duration: 3 – 5 weeks.
Price estimate: $160-$200.
Care tips: Oil your scalp daily.
8. Jumbo braids
Jumbo braids are simply a name for the bigger and thicker version of single or box braids. Jumbo braids are not just large braids, they are a lot bigger and could also be done for bob braids.
Your hair will be parted neatly into bigger sections, fewer braids are done and they look best when the braids are long. If you love bold and long braids, this will suit you perfectly, you can curl the tips to make it look even better.
Duration: 2 – 3 weeks.
Price estimate: $45 – $120.
Care tips: oil scalp daily & cover with a silk or satin bonnet at night.
9. Senegalese twists
Senegalese twists are a type of braiding style that is done using the two-strand twisting method instead of the three-strand method that is used for other braided styles.
Your hair is twisted vertically from the roots with hair extensions, some persons start the twist with a quick three-strand braiding so the hair extensions hold on to your hair more firmly while others who are more experienced can begin with a twist and it would still be firm enough.
Senegalese twists are shinier, smaller, and smoother than regular twists and they also make use of kanekalon hair. For this braiding style, the longer it is, the lovelier it appears, it's also best to use a hair extension color that is the same as your hair so that it blends easily and lasts longer.
Duration: 4 – 6 weeks (depending on how it's cared for).
Price estimate: $120 – $320.
Care tips: oil, condition & moisturize daily.
8 Pack Pre Stretched Braiding Hair – 26″ 100G/Pack Premium Kanekalon Braiding Hair Pre Stretched Extensions
🥰【Black Pre Stretched Braiding Hair Yaki, Soft, smooth, Natural, Dip Well.】Kanekalon Prestretched Hair Premium Kanekalon Braiding Hair Pre Stretched Kanekalon, Yaki texture natural looking. Upgrade prestretched braiding hair super Soft as Human Hair, comfortable to wear!

💓【Kanekalon Braiding Hair Pre Stretched, No Tangle, Easy To Braiding Install.】Ezbraid Professional Prestretched Braiding Hair Quick and Easy install& Plz use a large tooth comb and conditioner when braiding Blace Pre Stretched Braiding Hair!
Prices pulled from the Amazon Product Advertising API on:
Product prices and availability are accurate as of the date/time indicated and are subject to change. Any price and availability information displayed on [relevant Amazon Site(s), as applicable] at the time of purchase will apply to the purchase of this product.
10. Passion braids
If you have heard of passion twists or you've gotten them done, you'll definitely love passion braids as well. Passion braids as you must've guessed are the braided version of the popularly and still trending passion twists.
Passion braids which are also known as butterfly braids are usually done as box braids – parted in squares before being braided.
They are knotless and are done using free tress water wave braiding hair that is curly and silky, strands are pulled out to form little loops while it is being braided to make it look rough yet gorgeous. They are usually done in bold and long braids and always look great!
Duration: 3 – 5 weeks.
Price Estimate: $150 – $250.
Care tips: oil & moisturize scalp daily.
11. Feed-in cornrow braids
Feed-in cornrow braids are like cornrows, they are made to rest against the head when done and are parted neatly just like cornrows.
The significant difference between cornrows & feed-in braids is that cornrows have knots, while feed-in braids are light on the hair, knotless and seamless because of how expertly they are braided. Feed-in braids make your hair look smoother and more natural when done.
Duration: 2-4 weeks.
Price estimate: $90 – $220 (depending on the length).
Care tips: oil & moisture scalp daily, wash if you plan to keep it for as long as a month.
12. Side-swept cornrow braids
Side-swept cornrow braids are an interesting braided style that involves braiding the hair flat against the scalp but in a circular motion that makes it face one side of the face.
A side parting is usually made before the cornrows are plaited into slim or thick braids in a circular motion instead of straight to end at the back of one's head. Whether bold or thin, side-swept cornrow braids always make your face look softer and well-defined.
Duration: 2 – 4 weeks.
Price estimate: $75 – $150 (depending on length & size).
Care tips: oil & moisturize daily.
13. Braided ponytail
A braided ponytail is a simple style that be easily achieved by oneself after going through a few informative and instructive videos.
For a braided ponytail, you will need to have your hair packed to look sleek and smooth with mousse or any hair gel of your choice, your hair can either be packed in a high or low ponytail, lastly, a hair extension is added to the tip and a jumbo braid is done to complete the hairstyle.
You can choose to braid your hair before adding a ponytail at the tip or you can have one or two braids for adding hair accessories.
Duration: 2days – 2 weeks ( depending on how it's cared for).
Price estimate: $60 – $100.
Care tips: moisturize the braided extension, touch up your hair with mousse before stepping out, cover your hair before bed.
Summary
Of course, these have caught your eyes and you're fantasizing about flaunting your hair in some of the styles above, we'll that's expected and also very welcomed.
These are all protective hairstyles and by caring for them properly, they can last longer and allow your hair underneath to breathe and grow freely while you have it on. Feel free to experiment and look like an absolute goddess trying out these styles.