Little girls can rock braids just like adults, and we must say, braids look even more fascinating on them. However, their scalp is pretty fragile hence it's best to choose simple braid styles that won't be too much for their hair strands.
Box Braids for little girls can be styled the same way as that of adults, and it can be a great protective hairstyle for them as well.
One of the advantages of simple braids for kids is that it keeps their hair away from their face, and it simply makes them look cute. There are also lots of accessories you can use to make it look even more adorable.
Box Braids For Little Girls: 22 Simple Styles For 2022
One of the coolest things about kids' box braids is that they can be really simple and still look classic and beautiful. You don't need to plait long thick box braids for kids, just something fancy and simple will do.
So, here are 22 simple box braid styles that are awesome for little girls.
1. Medium Jumbo Box Braid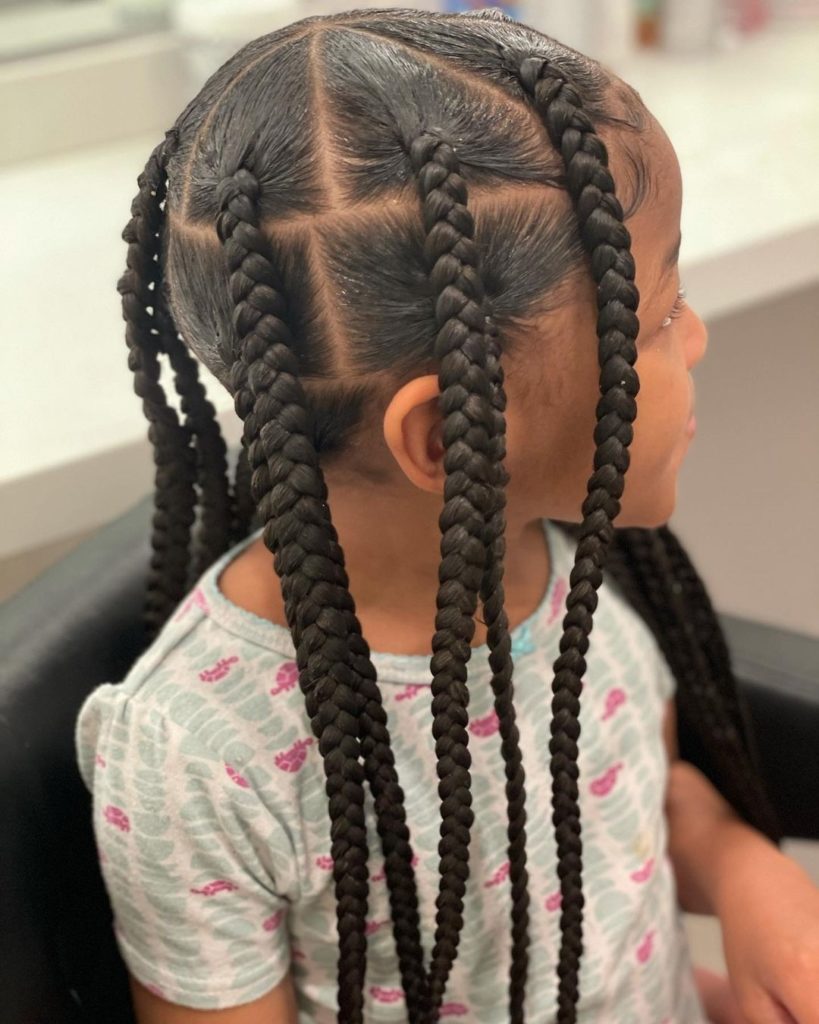 Medium Jumbo box braids are the perfect choice of hairstyle for your kids if they don't like something too much or cry a lot while making their hair. This hairstyle is quite adorable and easy to make as well. This can be styled with beads as well.
2. Kids Braid Up-Do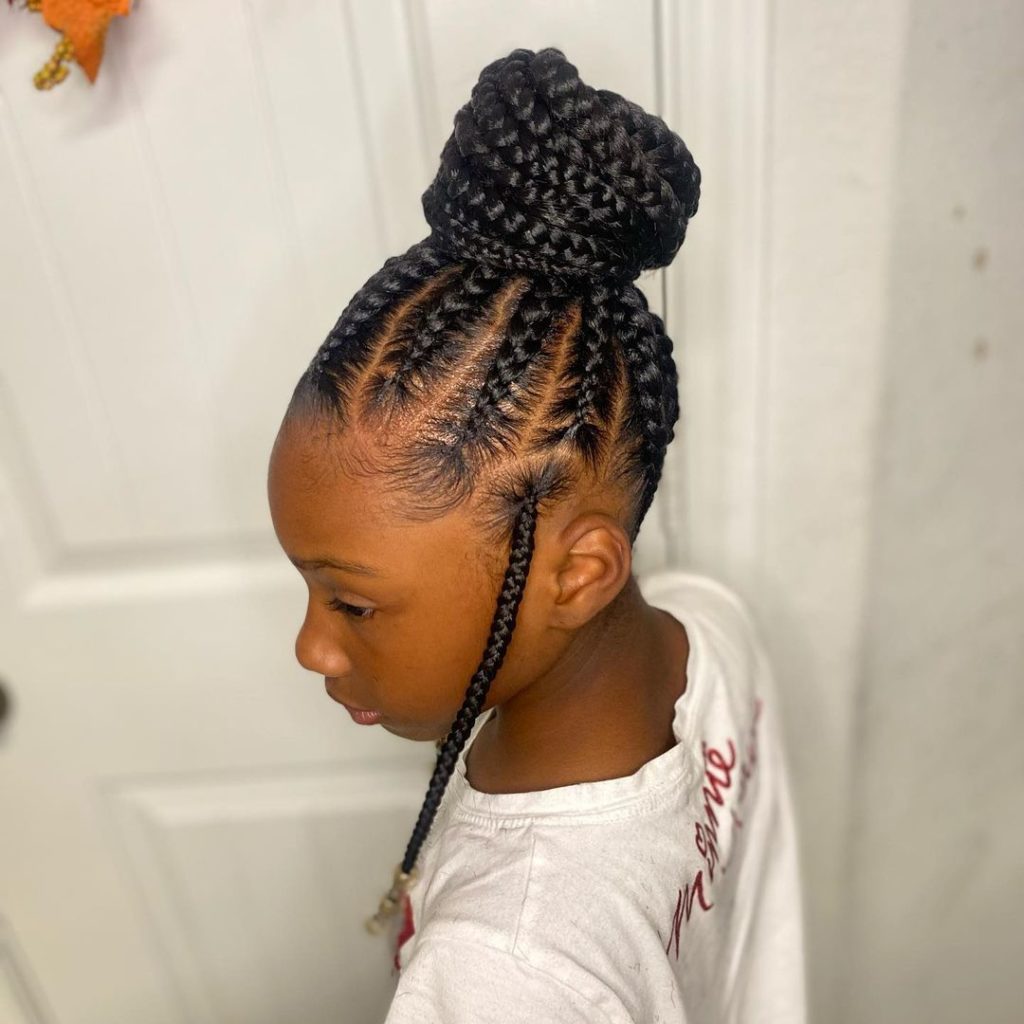 Kids braids are simply awesome and if you want to keep it simple then here is an exquisite but very casual braid your girl is sure to love. This braid hairstyle is one of the common braid styles for kids.
3. Jumbo Knotless Two Colour Box Braid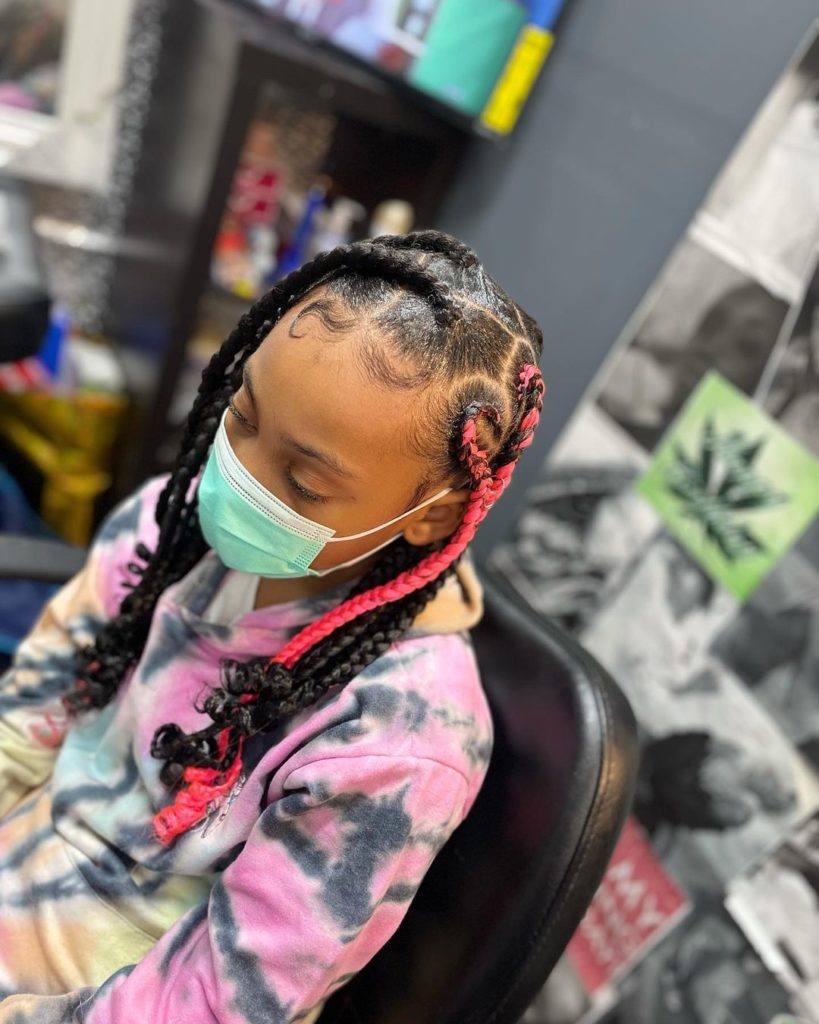 Here is another box braid style little girls can't say no to. This is a simple hairstyle and just like every simple little girl braids, it won't take time either.
4. Small Cute Girls Box Braid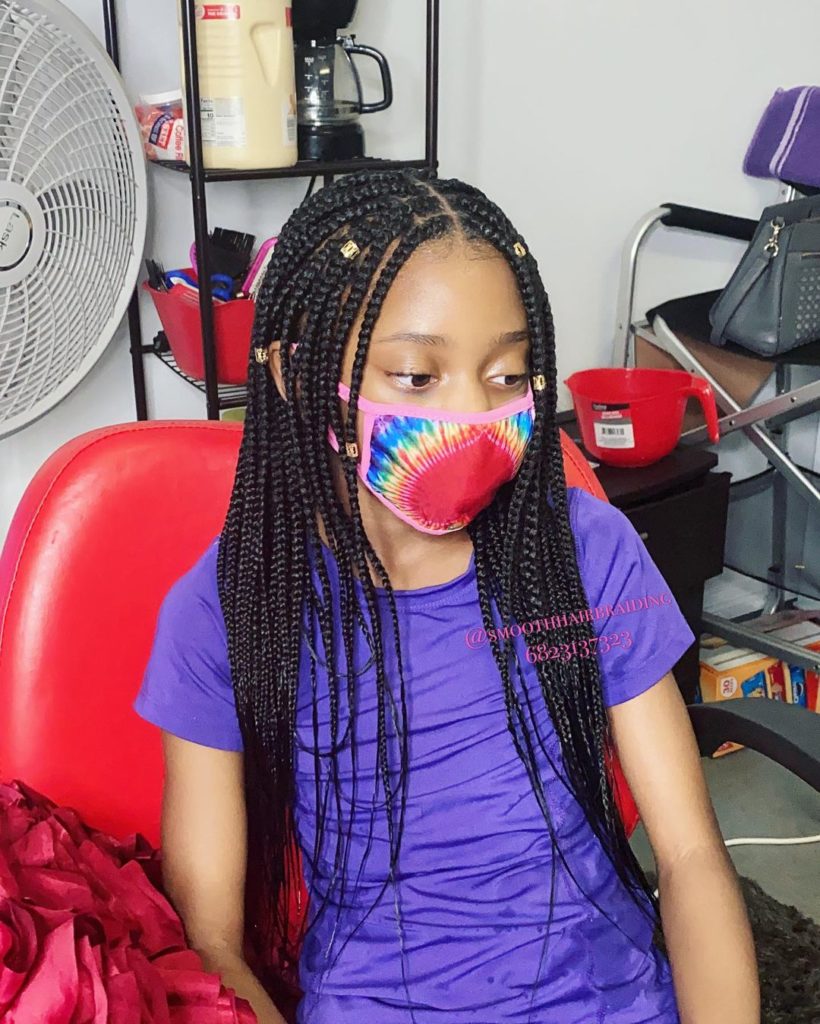 Box Braids for little girls have some adorable feel to them. It's best to keep the length short, so they can easily roll in up and if your kids like them long then above is just the perfect length for any little girl.
5. Box Braids With Cornrows
Here is another exciting braid your little girls are going to love. This is a great hairstyle, and it's simple enough for your little girls. This is an ideal hairstyle if you want something to keep your girl's edges sleek and prevent breakage too.
6. Knotless Box Braid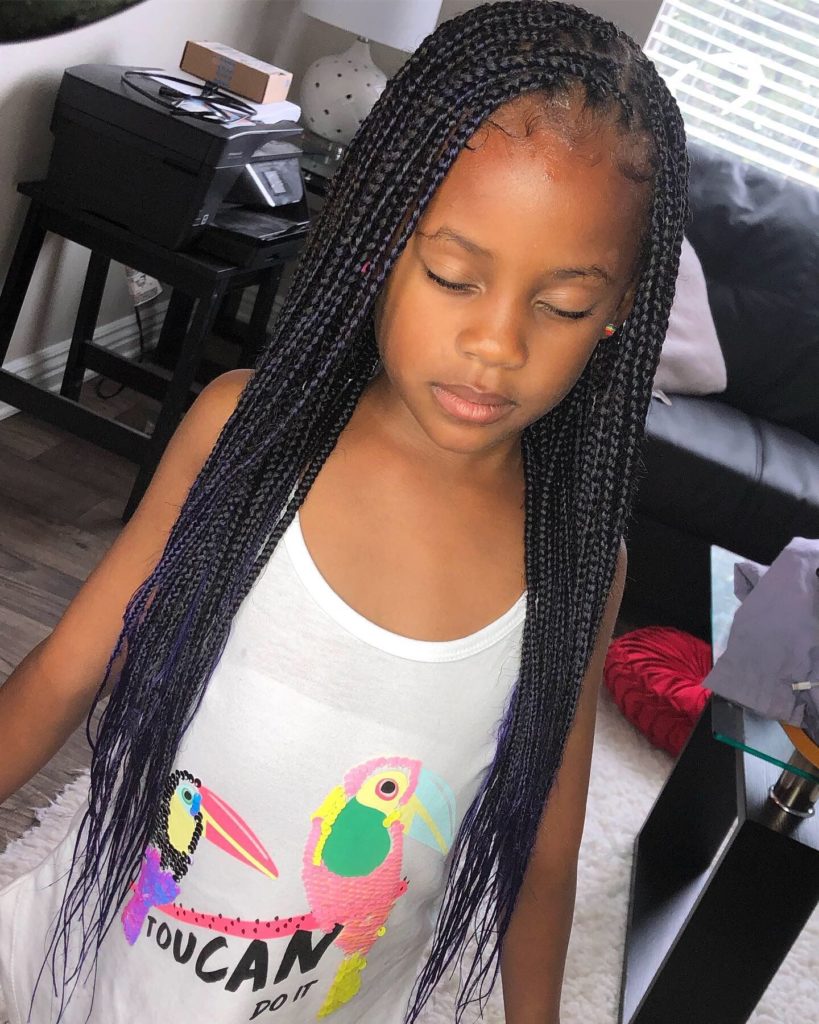 Knotless is another adult hairstyle your kids will love to rock. This hairstyle is a protective hairstyle that will last longer for your kids. There are also jumbo knotless braids that take less time.
7. Natural Hair Box Braids With Beads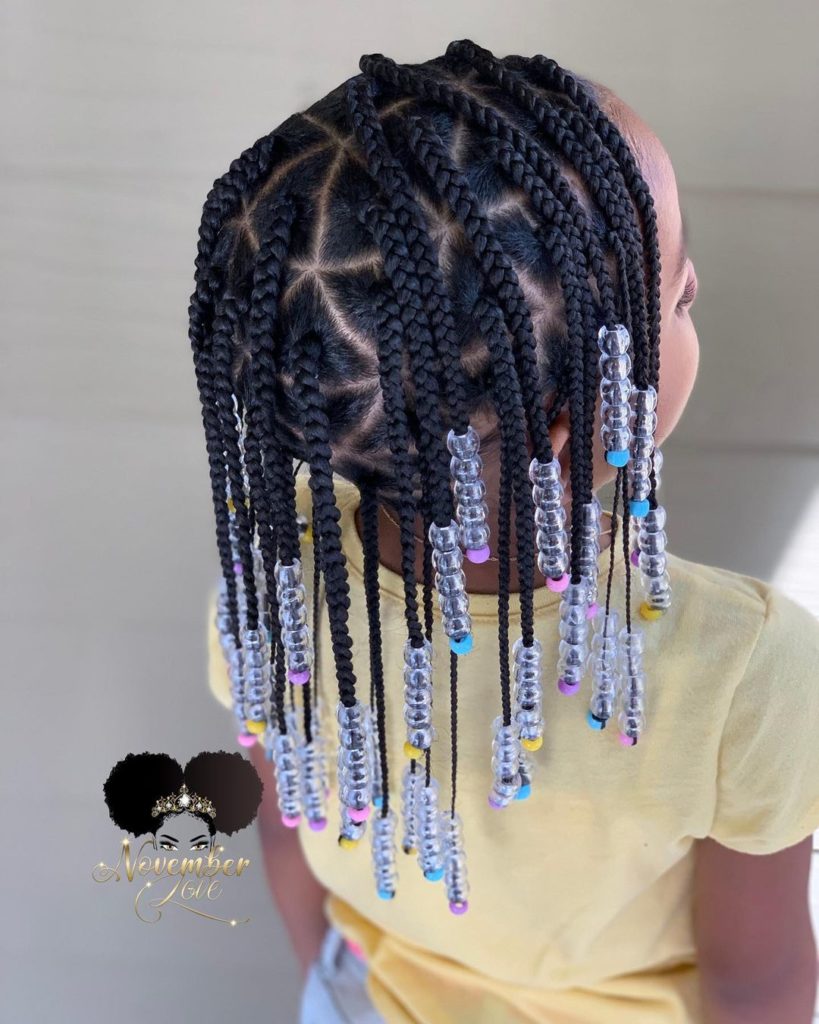 Simple box braids with their natural hair can be cool too. This can be a fancy hairstyle by just styling it with beads, and it's ideal for girls at any age too.
8. Short Jumbo Box Braids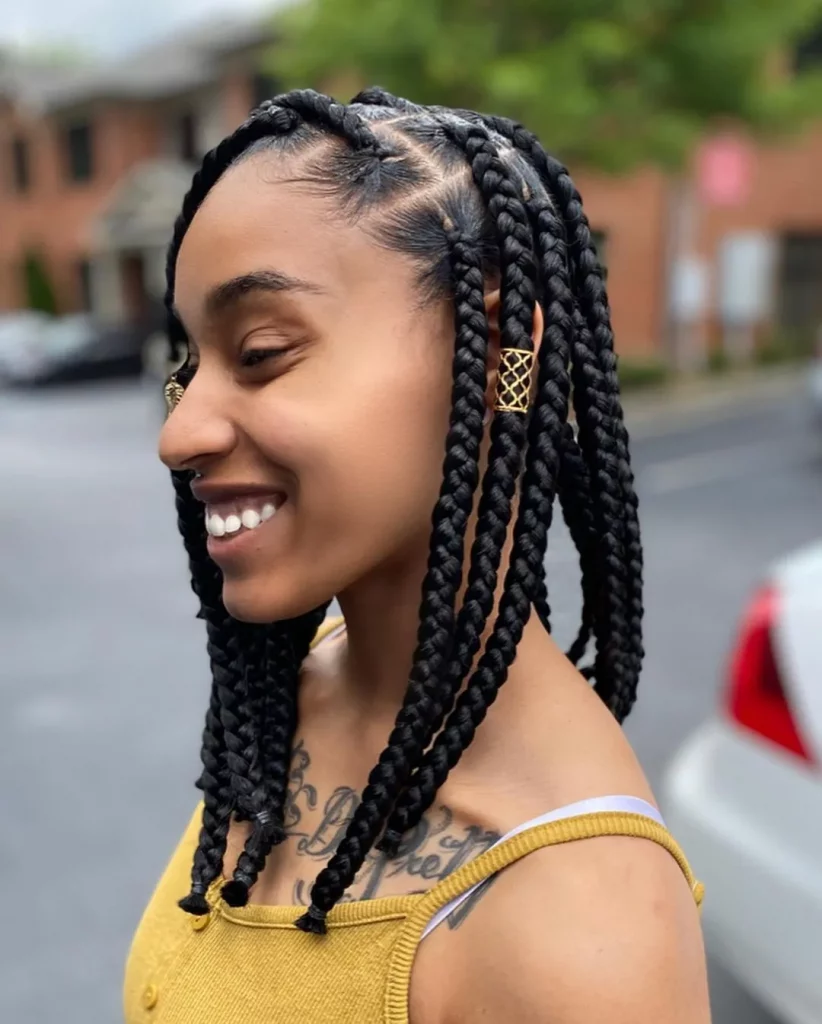 Short jumbo box braids are one of the latest short trendy hairstyles for little girls. This braid hairstyle is simple, and it's not overly dramatic either. It's a classy box braid too and won't take long to make.
9. Girls Box Braid With Pink Mix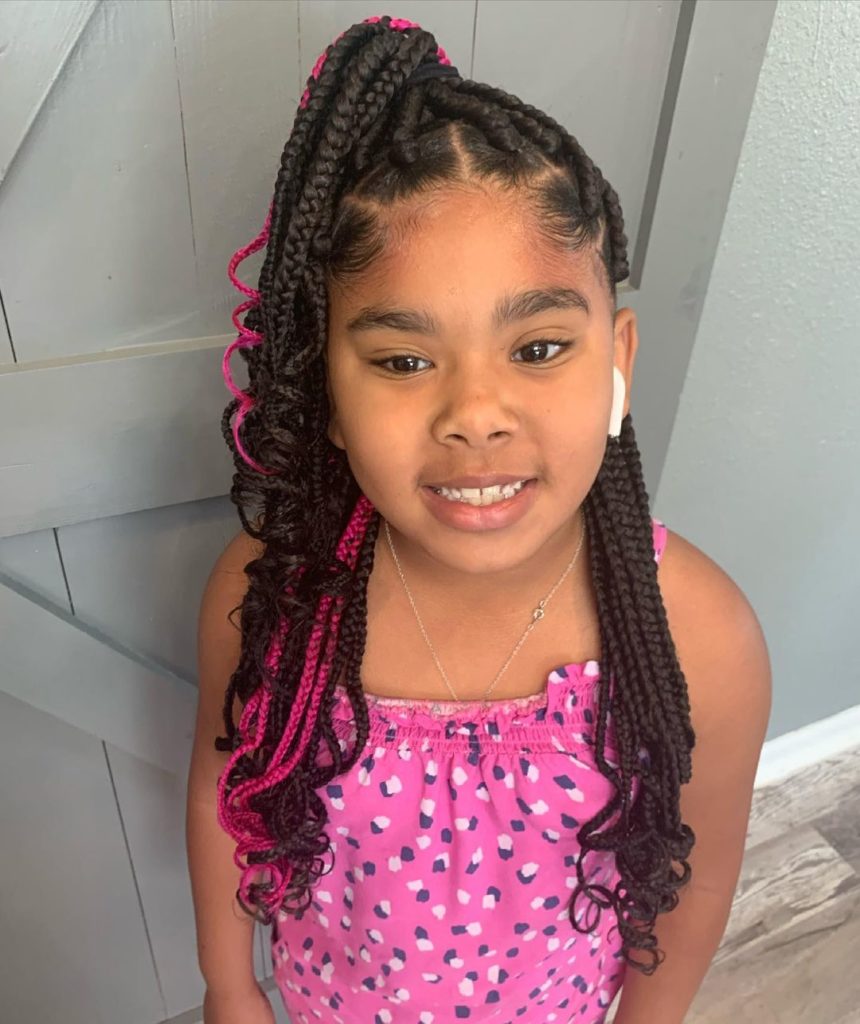 You can sneak in colour to make it exciting for your girl and knowing how much they love the pink colour then it's the perfect one to go for. The curly tip is classy as well.
10. Little Girl Ponytail Braid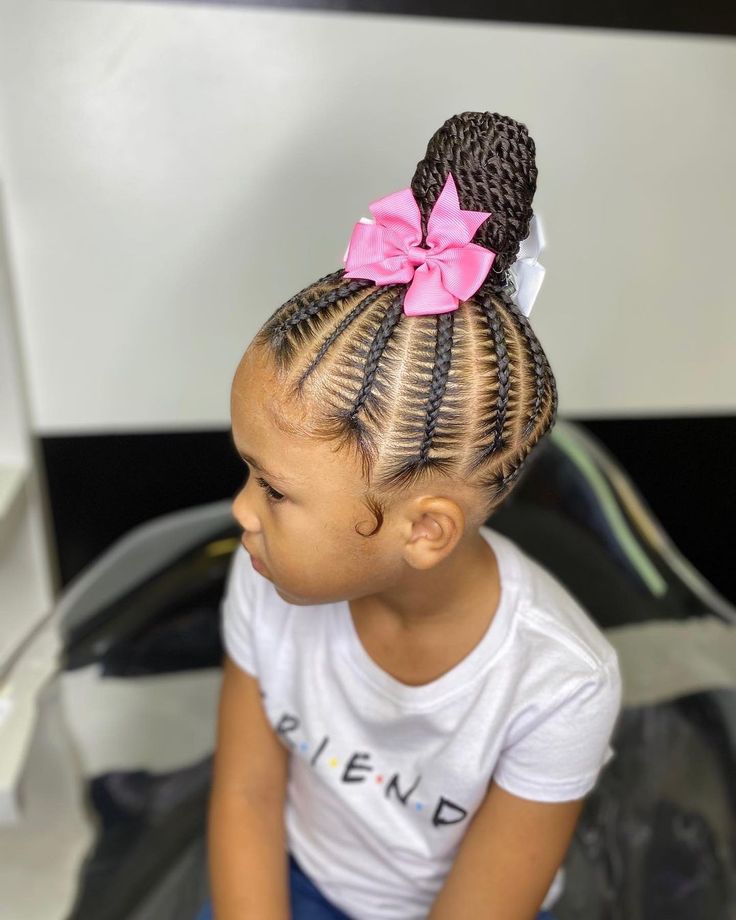 Ponytail braids can never go wrong, it is an adorable hairstyle and tends to look good on both little girls and ladies. This hairstyle is another common braid you should throw in for your little girl.
11. Lemonade Braid Hairstyle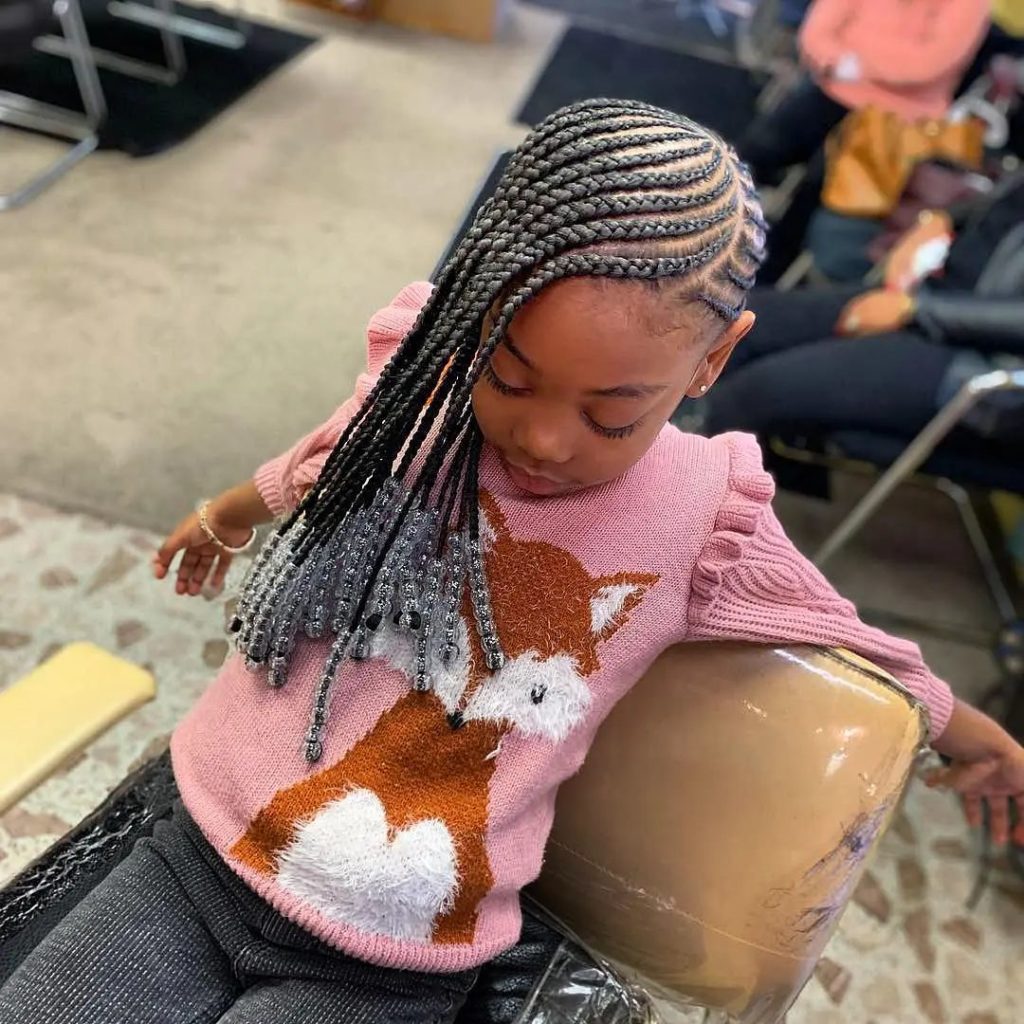 Lemonade braids are another fascinating braids any little girl can rock effortlessly. These braids can be as dramatic as you want them. Styling this with beads might not be for all kids as they are likely to become heavy and tilt to the side but if your girl is okay with it then they are cute.
12. Cute Feed-In Cornrow Braid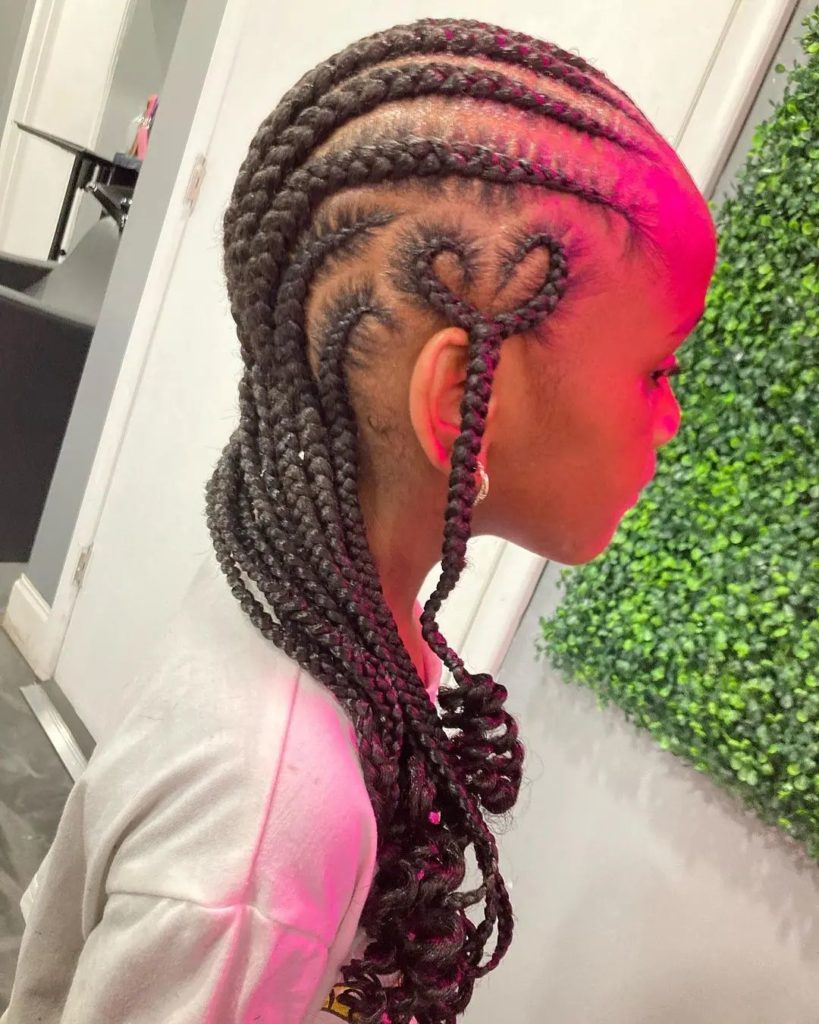 Straight all back cornrow is a really cute hairstyle, and it's perfect for kids. This keeps the hair from causing any inconvenience too.
13. Bob Braid With Curls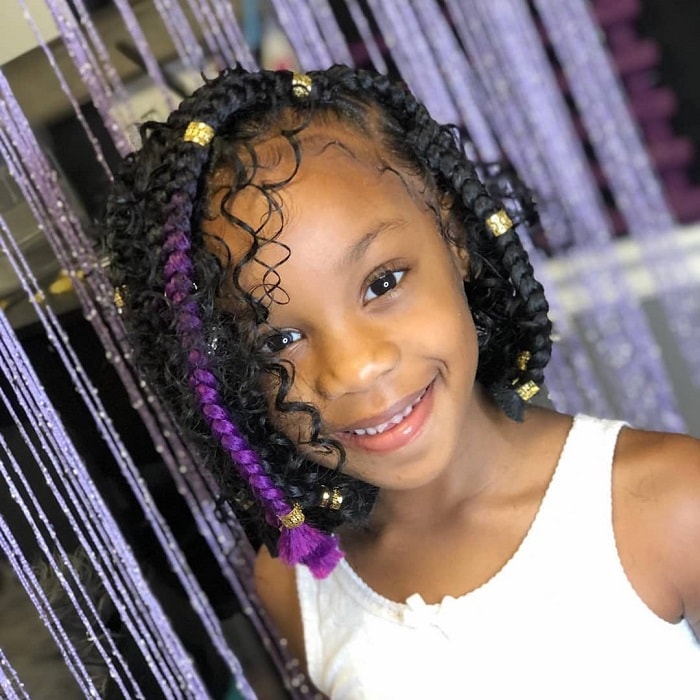 Bob braid with curls just like the one above is another simple but very fascinating hairstyle for little girls. It's easy to plait and suitable for kids who don't like staying in one place for too long.
14. Tiny Short Braid With Curls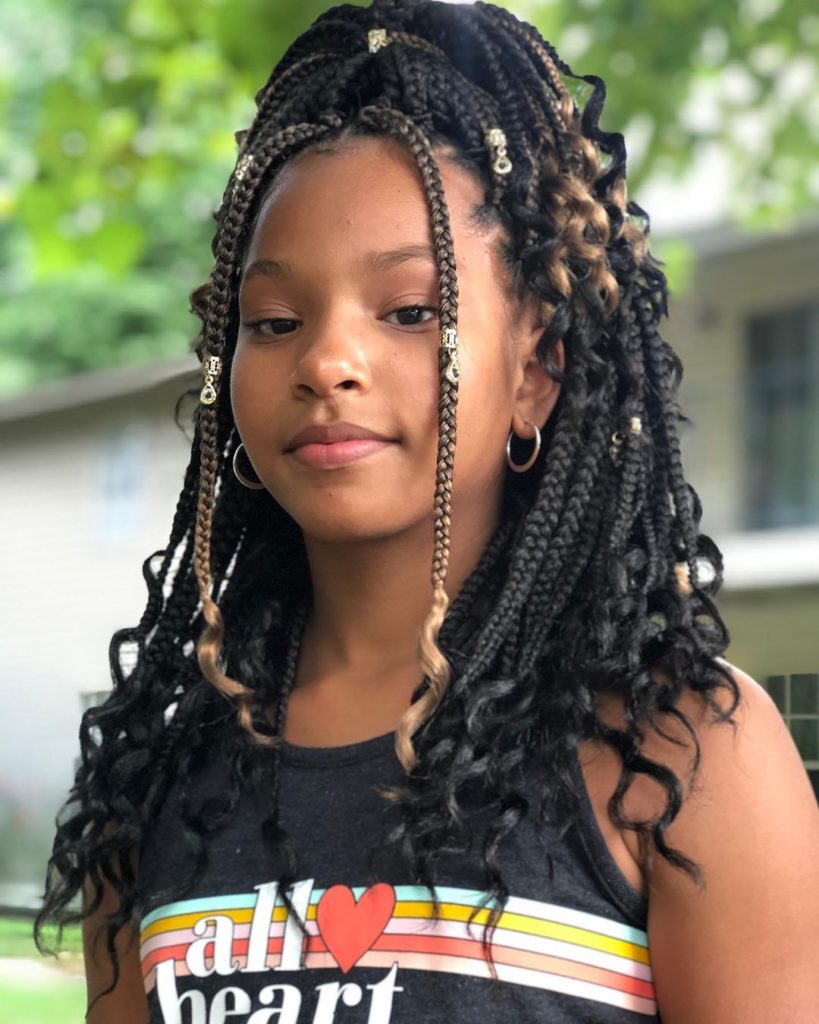 You can go for full braids with curls if your kid likes something fancy. This hairstyle tends to take time, but it is one hairstyle that can last for a month with proper maintenance.
15. Easy Cornrow Braid With Beads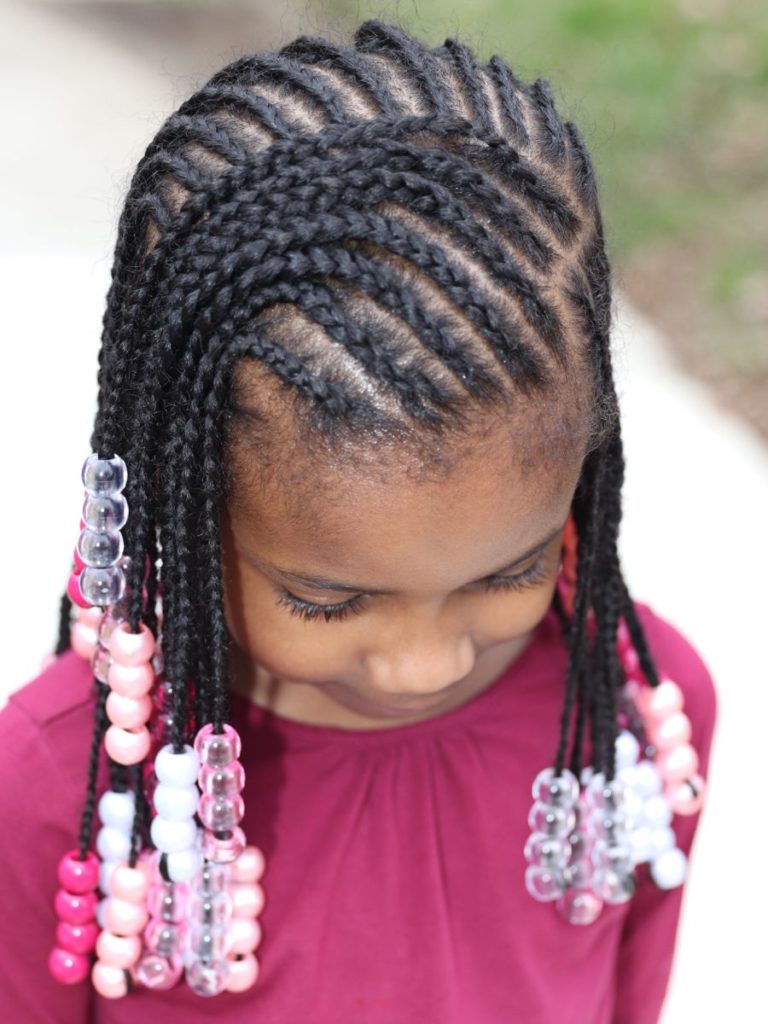 Beaded hairstyles have a way of capturing little girl attention hence you can be sure your girl will like this hairstyle above.
16. Two Colours Beaded Box Braid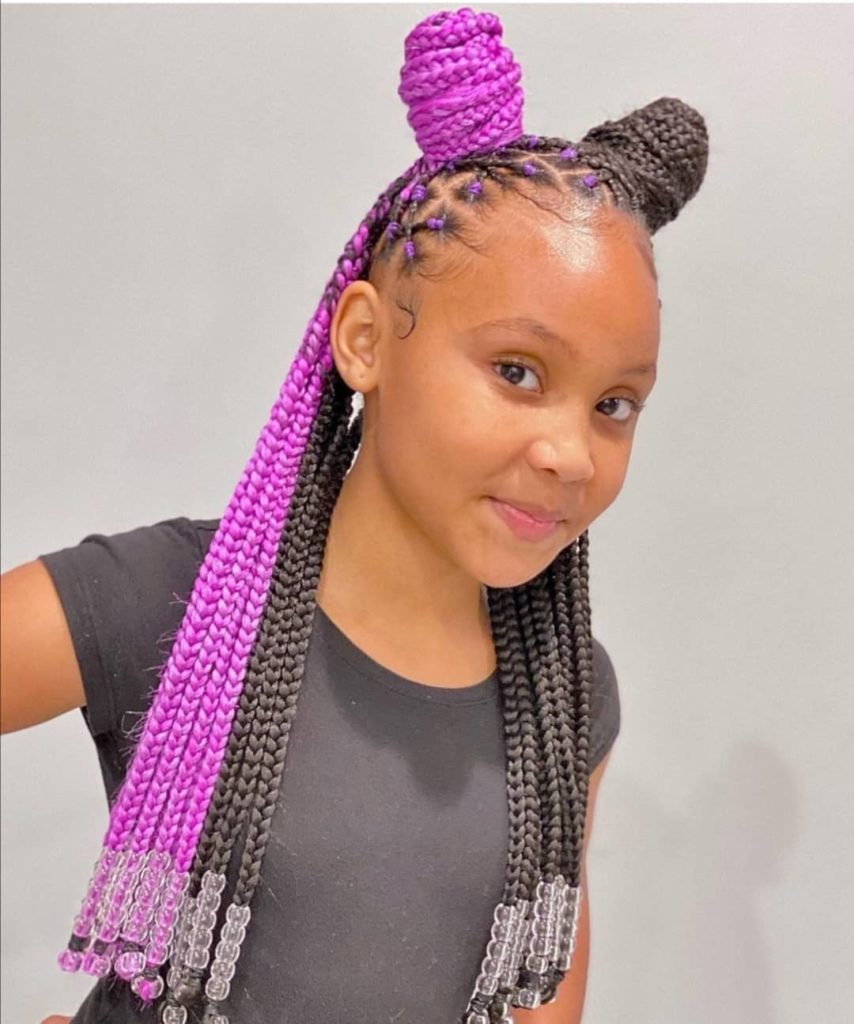 Two colour braid are classy hairstyles for little girls. It allows you to complement neutral colours with something bright, and they always love the combination. The stitch pattern at the front is also perfect for keeping it simple.
17. Fancy Stitch Braid Hairstyle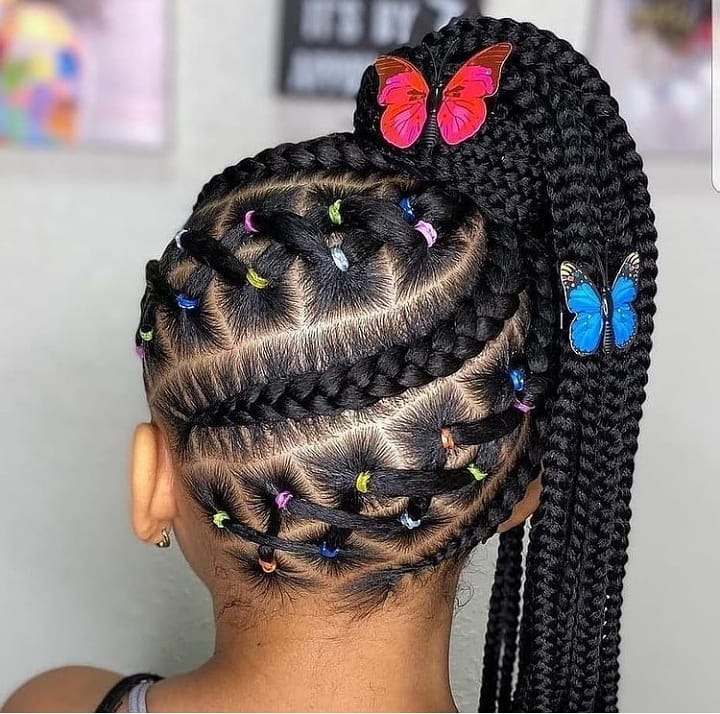 Every little girl loves something fancy hence you shouldn't hesitate to have fun with their braids. Something stylish and interesting like this is pretty perfect.
18. Medium Knotless Box Braid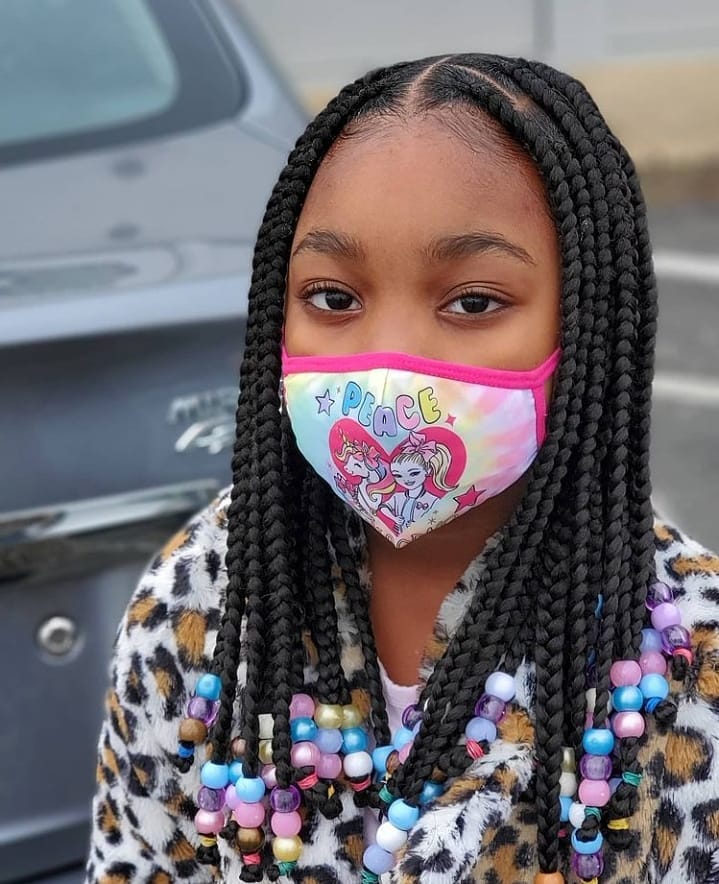 Little girls can slay medium knotless braids just like any adult. Choose something simple but adorable just like this one and there are many ways it can be styled too.
19. Little Girls Tribal Box Braid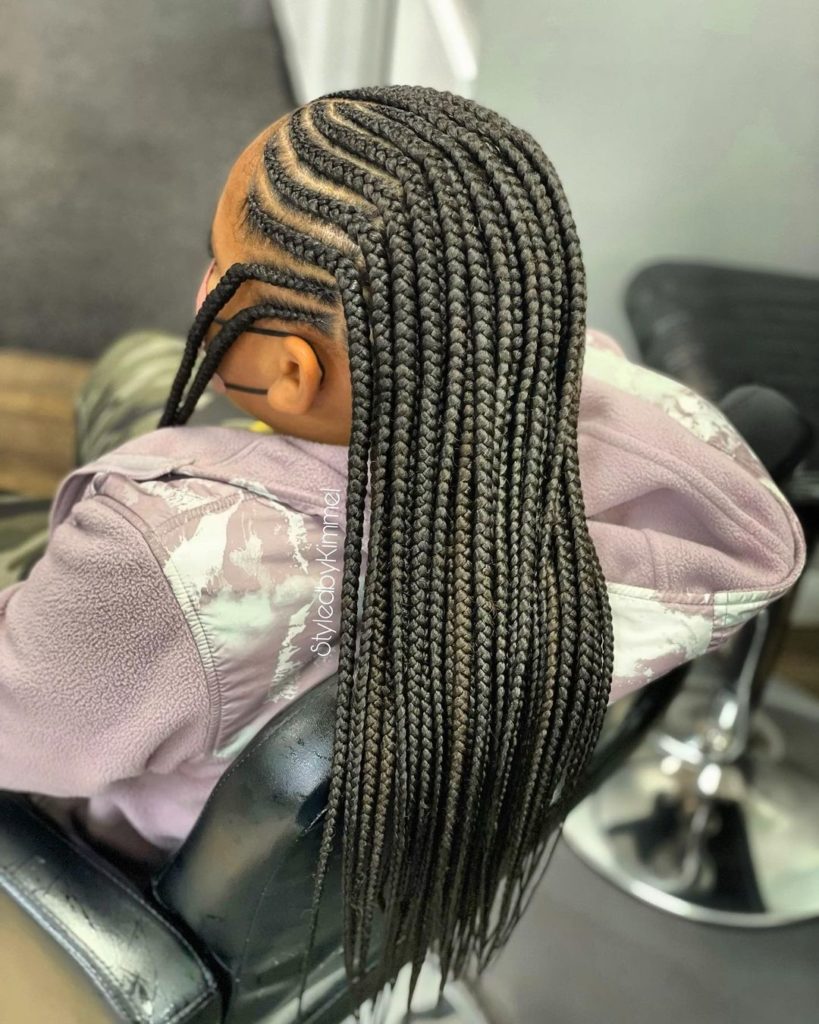 Tribal braids are fun hairstyles for little girls too, although it's best to keep it simple and not too tight. The design of this braid is also simple enough for them.
20. Simple Beaded Ponytail Hairstyle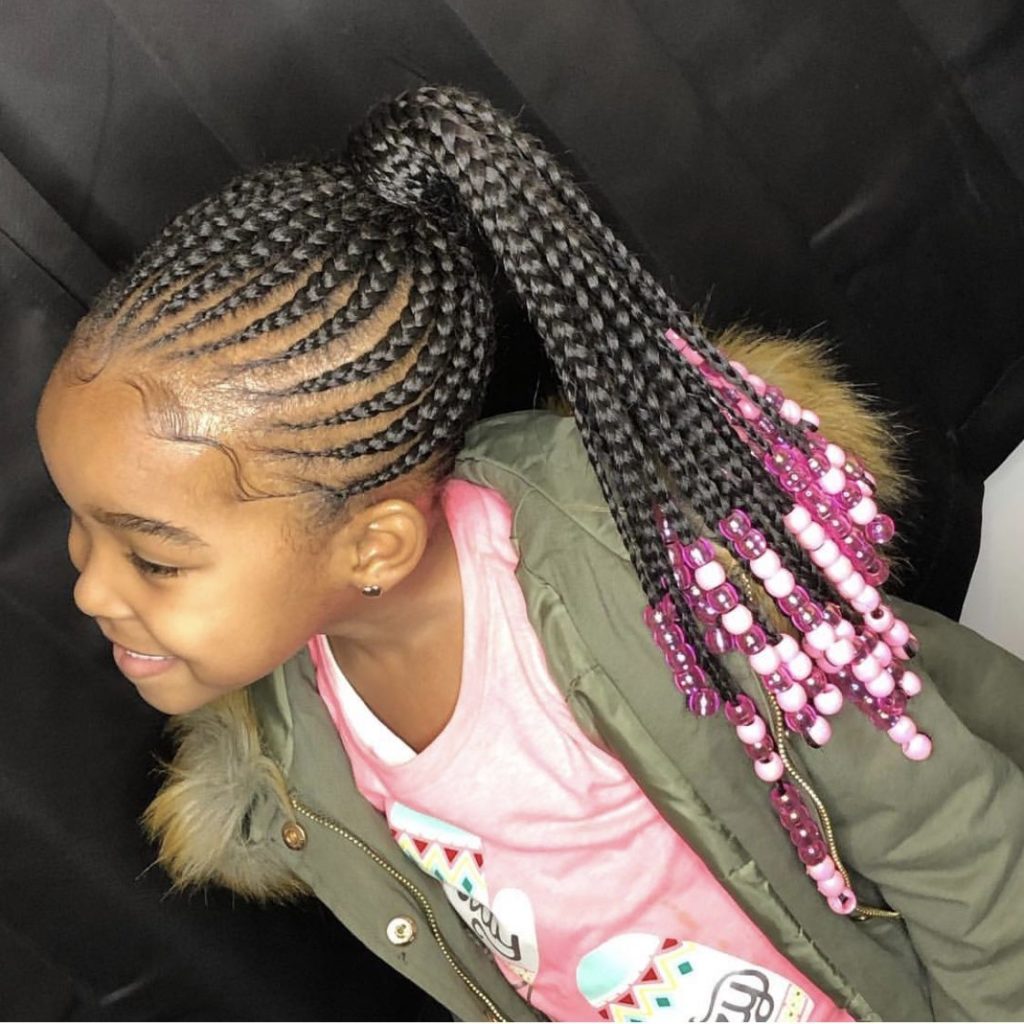 If you can't decide on any hairstyle, simple plait ponytail braid and style it with lots of colourful beads, this is one exquisite hairstyle every little girl loves.
21. Large Square Pattern Box Braid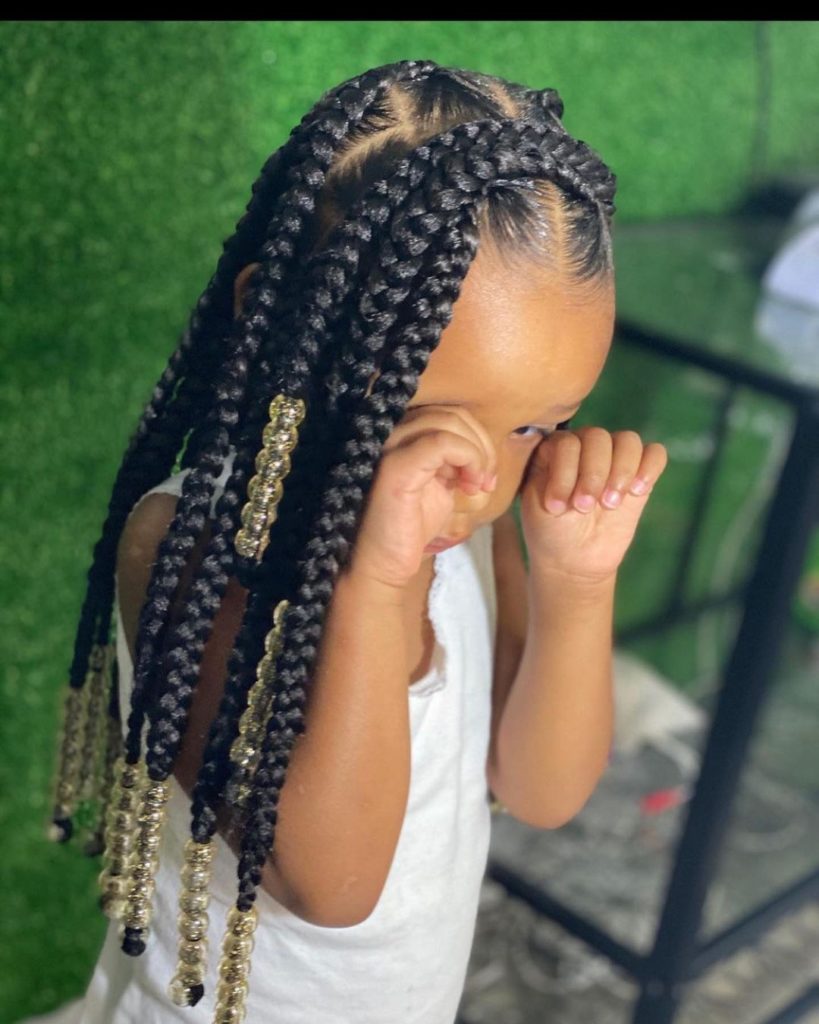 Jumbo box braids do have a way of standing out, and it's even more stunning when it's on little girls and if you are looking to make it more gorgeous, the square pattern and beads should be included.
22. Two-Layer Braid Style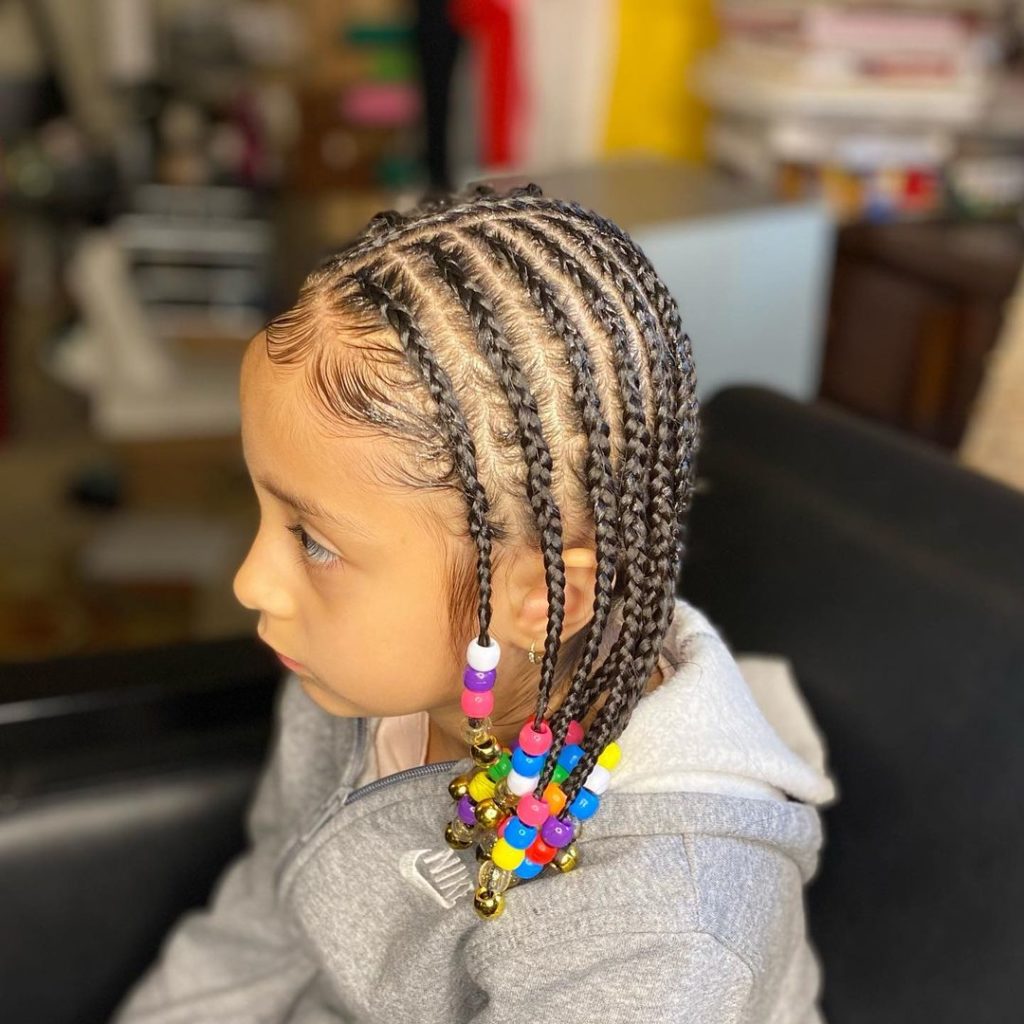 A two-Layer braid is another gorgeous hairstyle for kids. This hairstyle doesn't need any specific styling, and it doesn't take too long to plait either. Just like other braided hairstyles, you can plait it thick or thin and also style it with accessories.
In Conclusion
Braids are always going to be a popular choice of hairstyles for little and while box braids specifically are adorable for them, it's best to keep it simple by adding cornrows. Beauty matters can still be foreign to little girls and since their scalp might still be fragile, it's safer to go for any of the simple styles we have listed above.