Box braids are the ultimate hairstyles you can't help but love and they are even more fun when they are made with loose braids. Loose box braids are the type of braids that ended partway down the hair and they are great for natural tresses. These braids are fast becoming the hottest protective hairstyles for all hair types.
No matter your hair length, loose box braids are an amazing choice of braids and many celebrities have been spotted wearing box braids with loose ends. Cut your styling time in half with loose braids, it is an easy to manage protective style and the styling options are endless when it comes to braids.
Loose braids are really classy hairstyles and they are easy to style. Are you contemplating giving it a go? There is now a way to make your braids look more enchanting, keep scrolling for an example of these gorgeous loose braids.
Read this: The Best Natural Hair Detanglers Under $30 (Our Top Picks)
7 Examples Of Box Braids With Loose Hair We're Digging
How do you slay box braids with loose hair? Some loose braid styles might actually take time to make but they will last for weeks and you slay effortlessly with any type of loose braids. Here, we have rounded up 7 box braids with loose ends we are currently in love with.
1. Boho Platinum Loose Braid
While many prefer the complete finished box braids, it could be more interesting with loose ends instead. This boho platinum braid is an amazing protective hairstyle for your any hair type and you can opt for a wavy finish instead of the curly one above.
2. Medium Straight Loose End Box Braids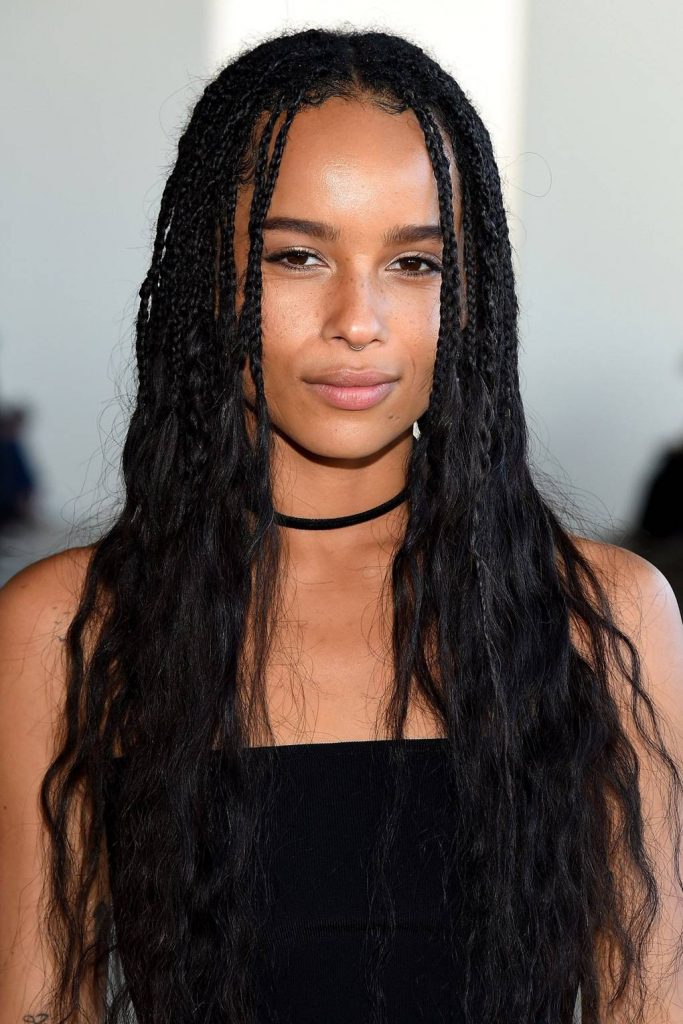 Forget the curls and keep the ends of your box braid simple and sleek. This choice of box braids keeps the ends of your hair from split ends and this show-stopping braid is definitely a winner when it comes to braids with loose hair.
3. Triangle Box Braids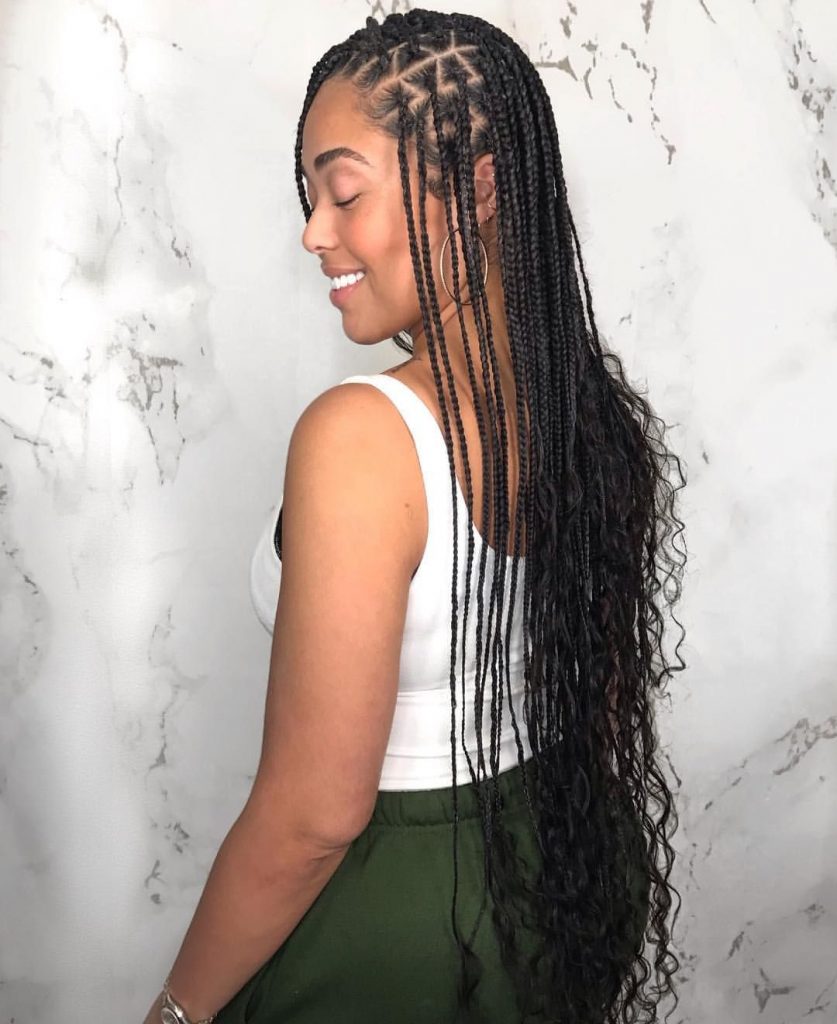 If you have really long curly hair then this is how box braids look on it. This has classy curls incorporated into them and they are great protective hairstyles to help you avoid manipulation on your curls.
4. Charming Loose Hair Chunky Box Braids
If you are choosing a chunky box braid and adding loose hair to it then we advise keeping it simple like the one above. Choosing a full chunky braid can be too heavy for fine hair hence it's best to keep it simple and charming.
5. Half Up Half Down Box Braid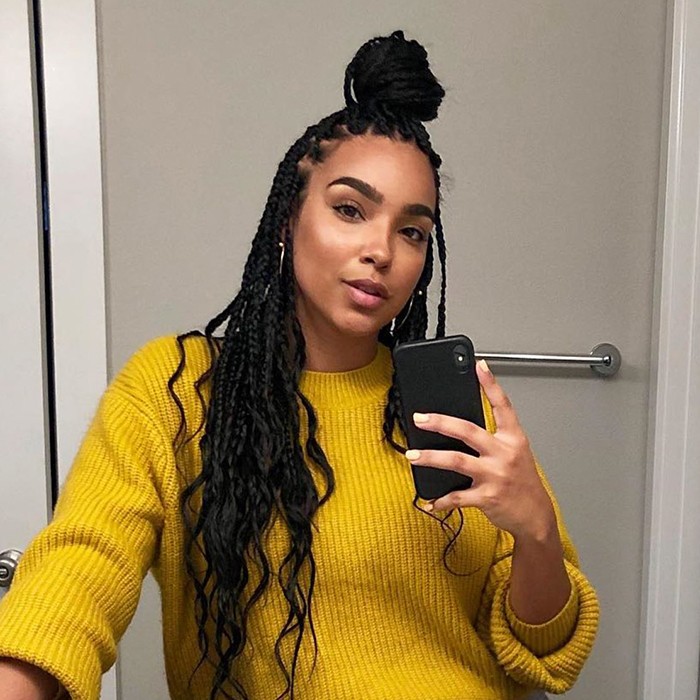 Box braids can be flexible if you want and all you need is this style above for that. This is great if you have fine hair and want to limit the styling and use of products. This box braids are sure to last 3 weeks with the right maintenance technique.
6. Blonde Loose Box Braids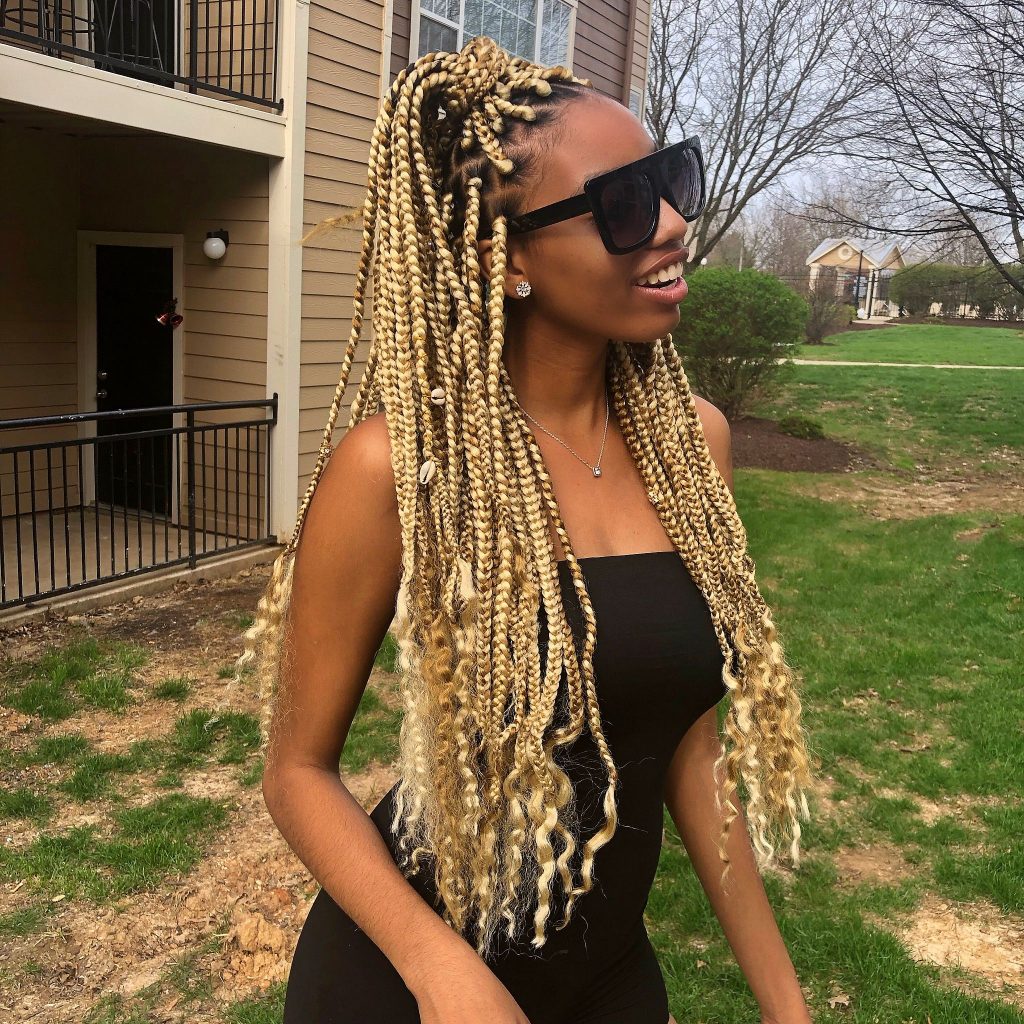 You don't have to keep it plain black colours if you don't want to. There are hair extensions of different colours to help you get what you want and these blonde braids are really fascinating. This might take time to make though as they are similar to micro braids but the plus side is that they last longer and are versatile.
7. Accessorised Loose Box Braid Ends
The best thing about loose box braids is that you can keep the end of your hair safe with accessories. This box braids on Solange Knowles have faceted crystal beads attached to them which adds to the beauty and great if you are trying to protect the ends of your natural hair from damages.
Conclusion
Loose box braids are slightly different from getting the regular goddess braids. This style gives you the ability to keep the ends of your hair out and not fully braid them which is really perfect for natural hair without adding extensions at the end. You can wear the look straight, curly, or wavy depending on your preference and hair type.
Read next: Why Is My Natural Hair Dry?