Box braids are great protective hairstyles and with shaved sides, they can look so edgy, and they can help develop some extra standards.
There are so many braided hairstyles to try, and the most popular ones recently are braids with shaved sides. Shaved hairstyles are not as complicated as it seems and can be cool with the right inspiration.
Are you tempted to get box braids with shaved sides? There are lots of lengthy braids and colorful braids but to get a bold and more confident box braid style, pairing it with shaved sides is the next ideal style.
Rocking semi-shaved or completely shaved hair like a diva isn't easy, it takes courage and quite a lot of confidence. Another cool way to rock semi-shaven hair is to have them rocked with box braids.
18 Shaved Sides Box Braids Hairstyle Ideas You'll Love
When it comes to bold shaved sides, they make less complicated hairstyles look extra daring. Here, we have featured some amazing shaved sides box braids, and hairstyle ideas you'll love.
1. Short Box Braid With Shaved Side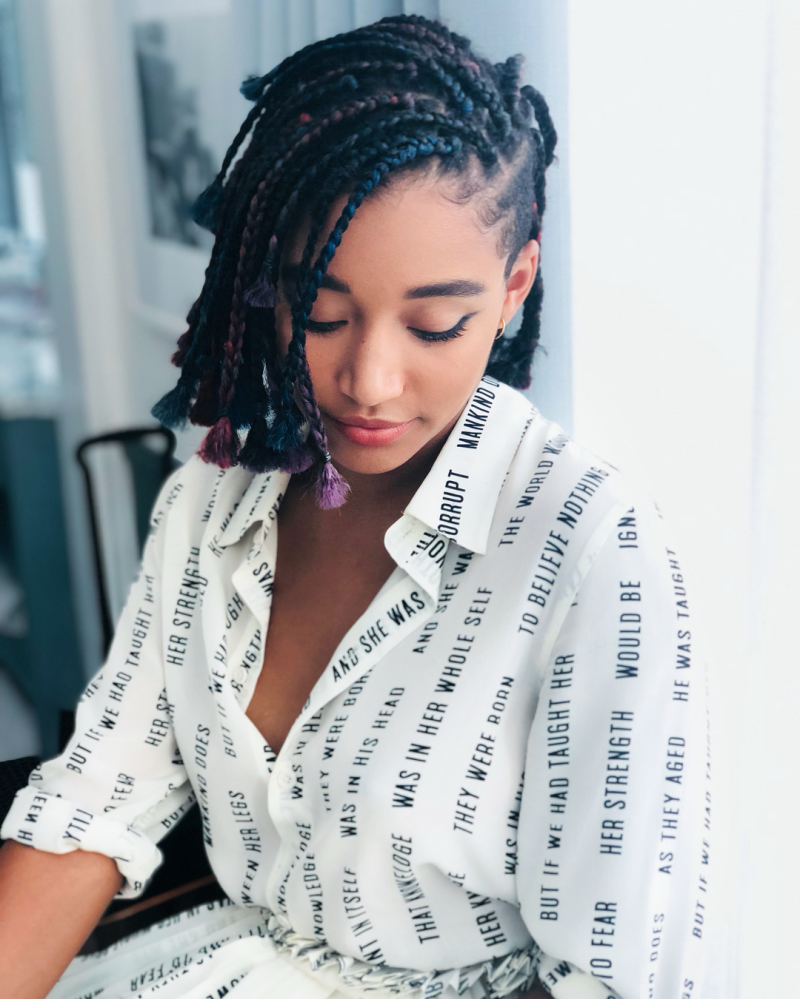 This is one of the classic hairstyles you really can't say no to making. It's quite classy without being too dramatic. You might not be able to style this due to the short length but it's a really cool hairstyle.
2. Knotless Braid With Shaved Sides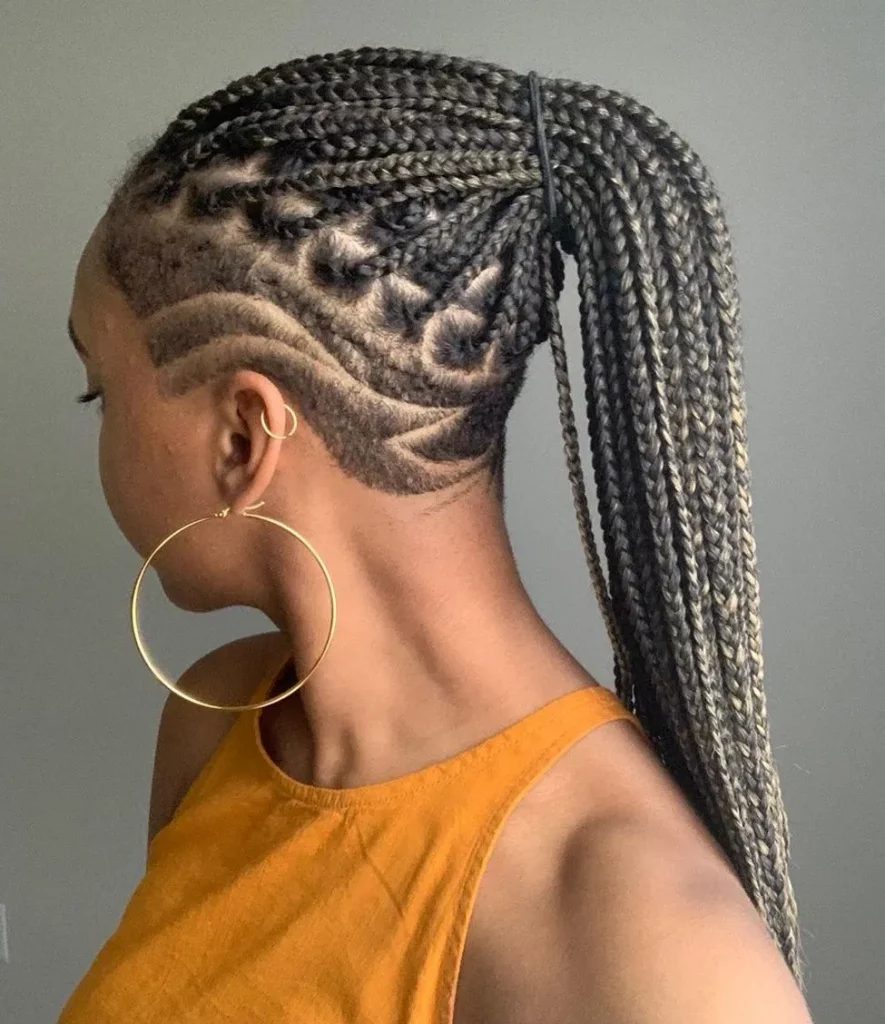 This can be regarded as subtle and fancy at the same time. The type of shaved sides can be rocked by any face shape and since knotless box braids are currently in trend then this makes it even more exciting to replicate.
3. Blonde Box Braid With Shaved Side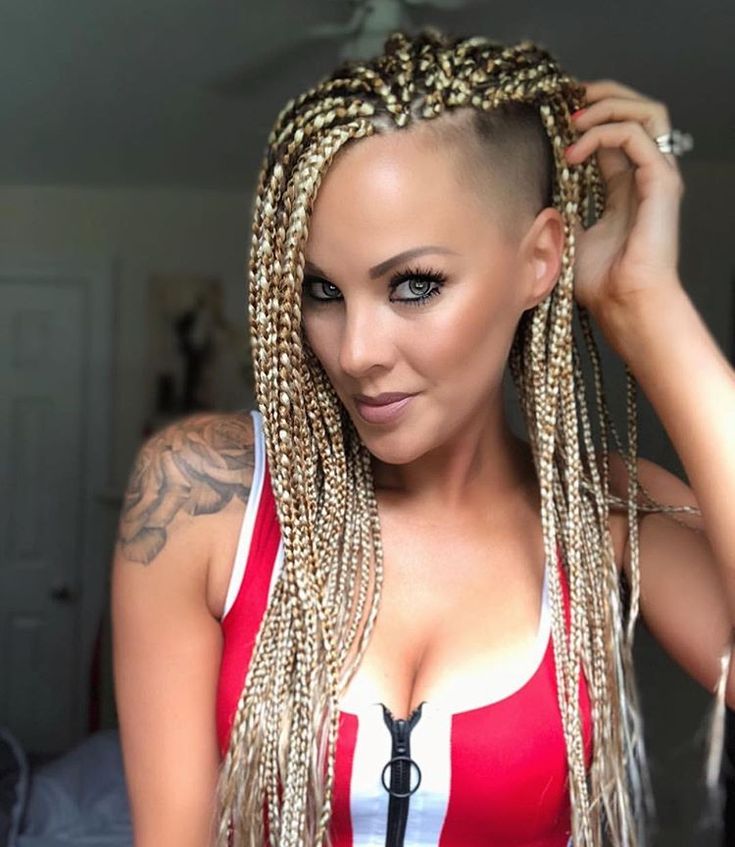 A smooth side shave is another popular shaved side that pairs nicely with braids. If you are into colored braids or dyed your hair then blonde braids should be perfect.
4. Medium Knotless Box Braid With Mohawk Cut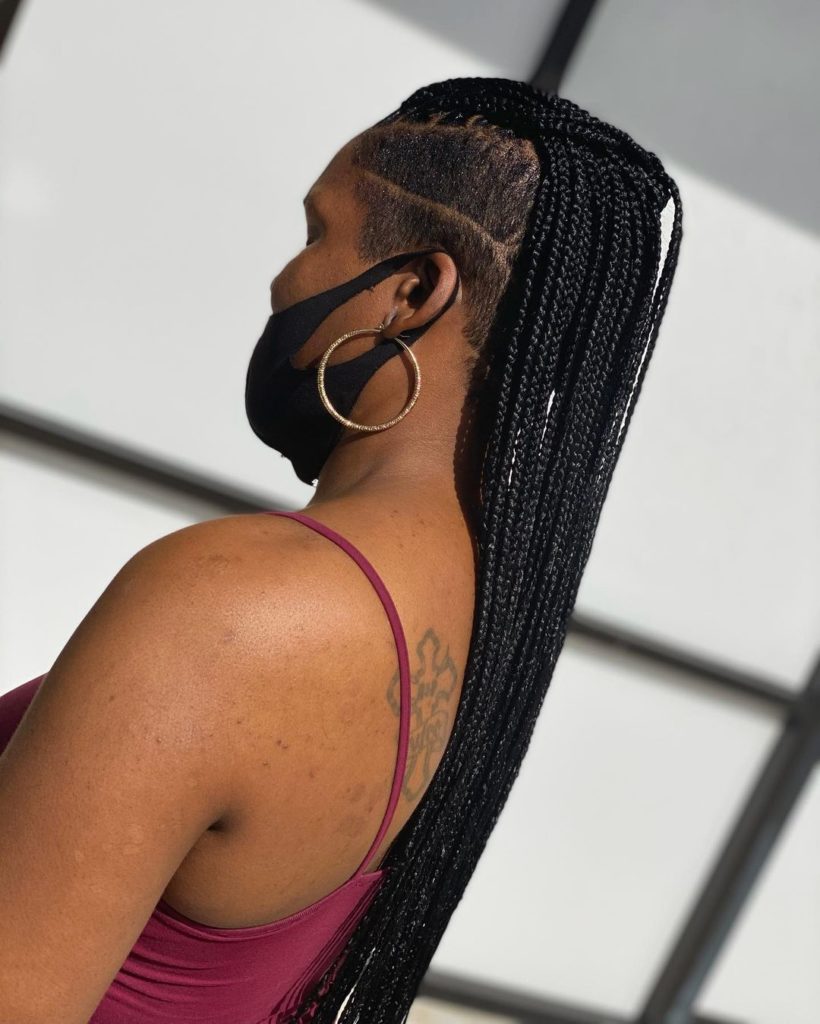 This is another ideal box braid with shaved sides to go for if you need something subtle and fun. The small knotless braids make it look even more fascinating.
5. Mixed Braids With Low Side Cut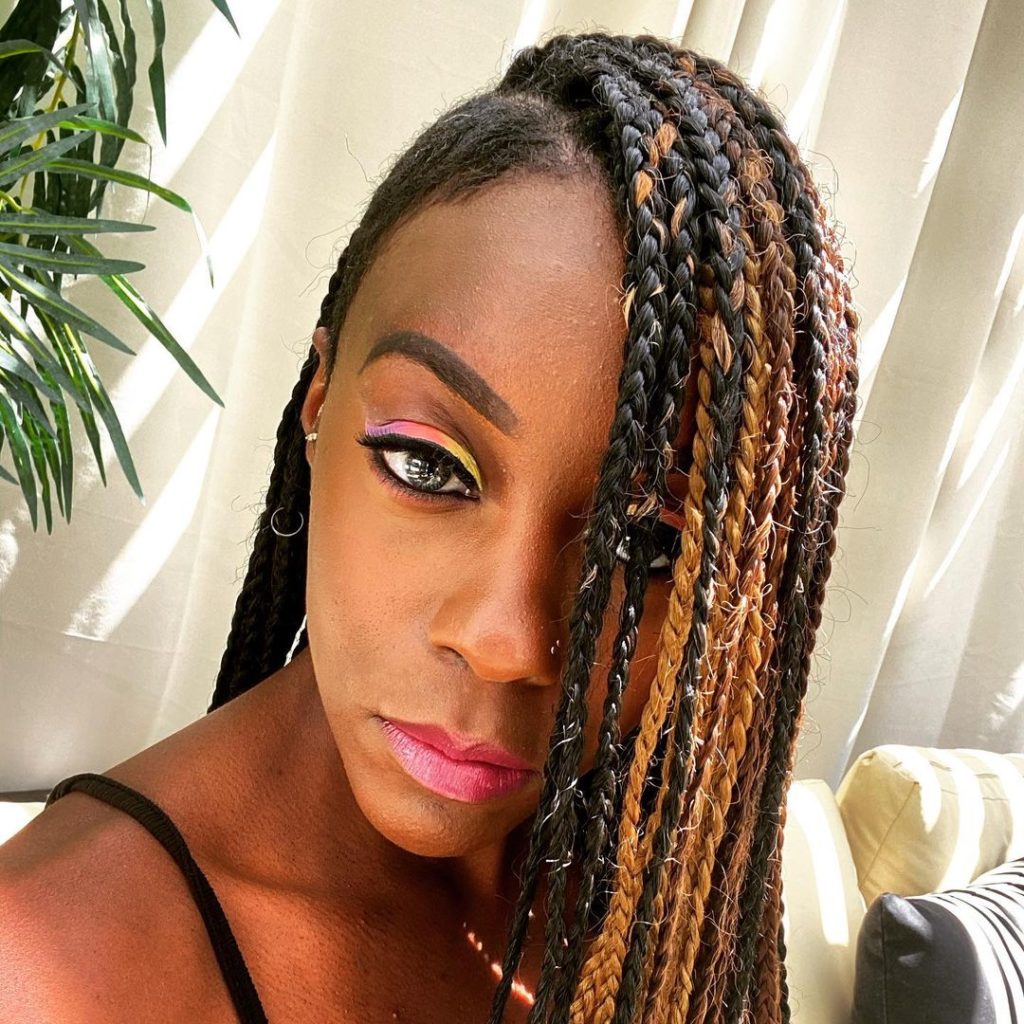 You don't have to shave it all completely to the look you are aiming for. A low-side shave will do the trick just fine.
6. Box Braid With Colored Ends And Side Shave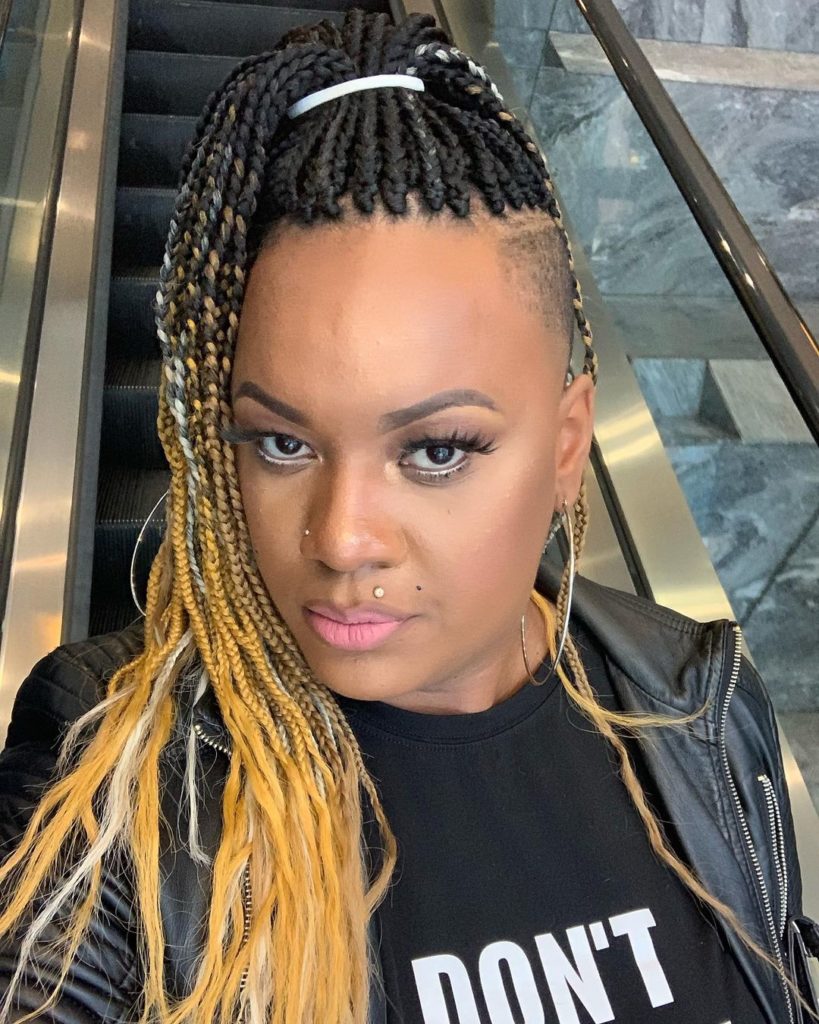 Here is another interesting small side buzz cut to pair with your braids. Color has been added to the ends of the braids to make them look even more pretty and fascinating.
7. Boho Blonde Braid With Tapered Cut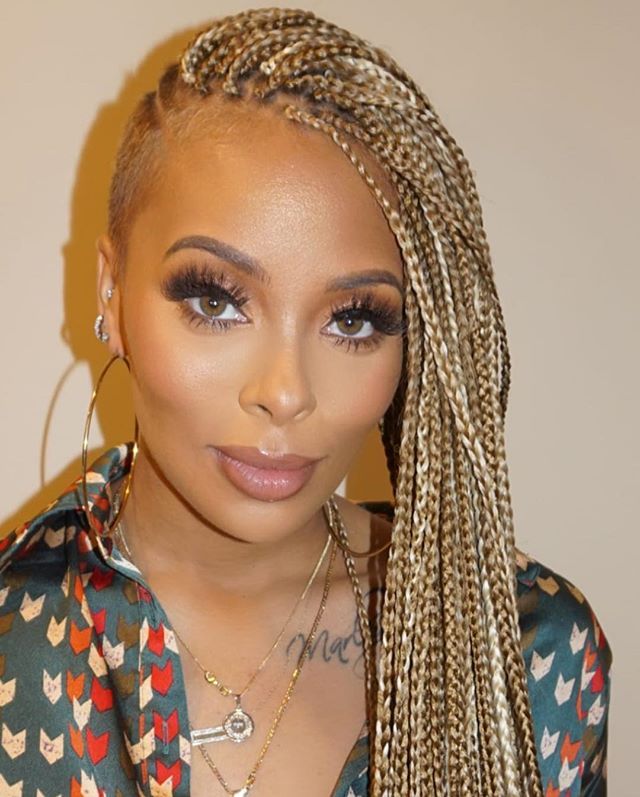 If you still can't figure out what kind of haircut or braid you want then this is sure to inspire you. It is one look that is sure to stand out on any occasion.
8. Top Knot Box Braid With Mid-Fade Shaved Side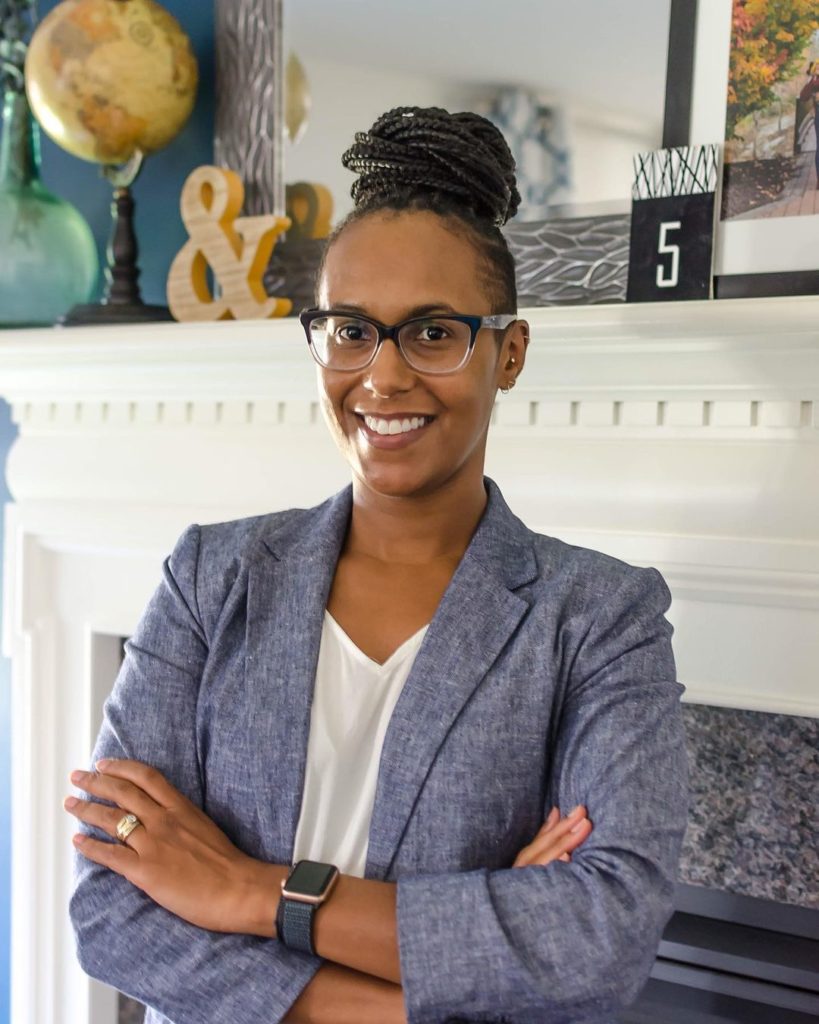 Here is another shaved side style that speaks volumes but is not overly too much.
9. Top Knot Bun With Undercut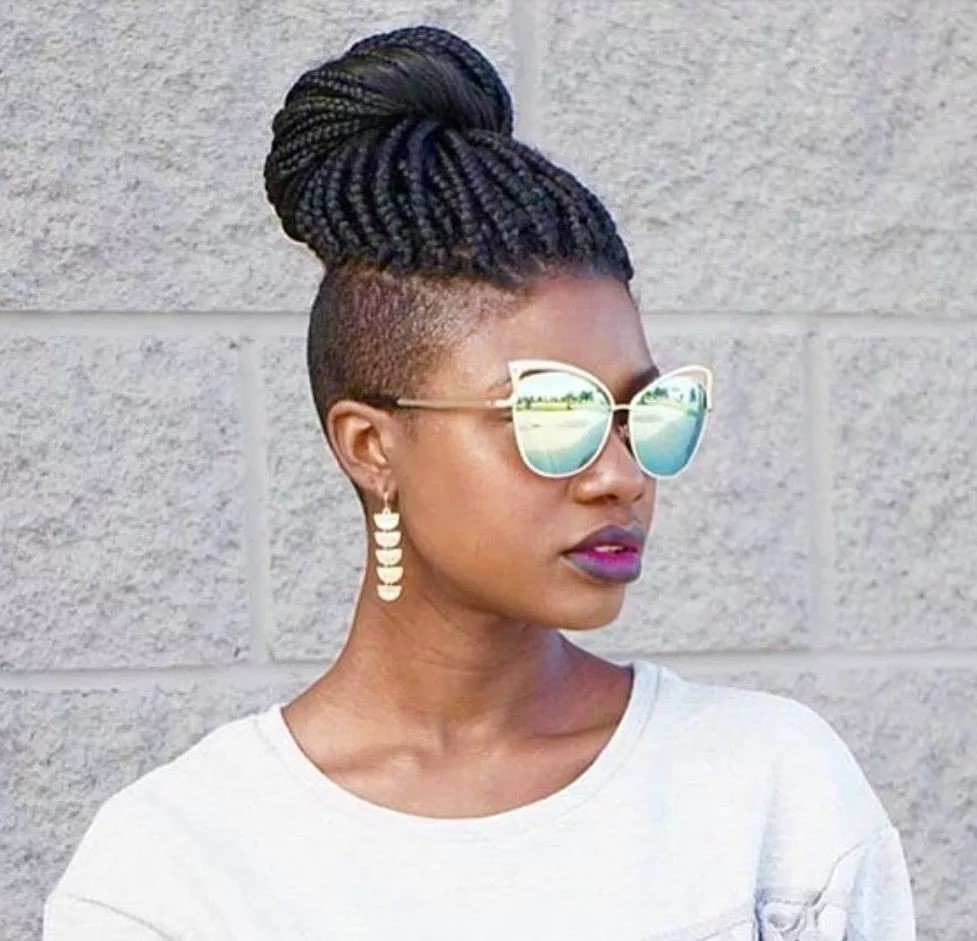 This is a completely shaved sides and undercuts hairstyle to rock with your braids. With this type of haircut, you can go with tiny braids or large ones.
10. Tiny Box Braid With Box Fade Mohawk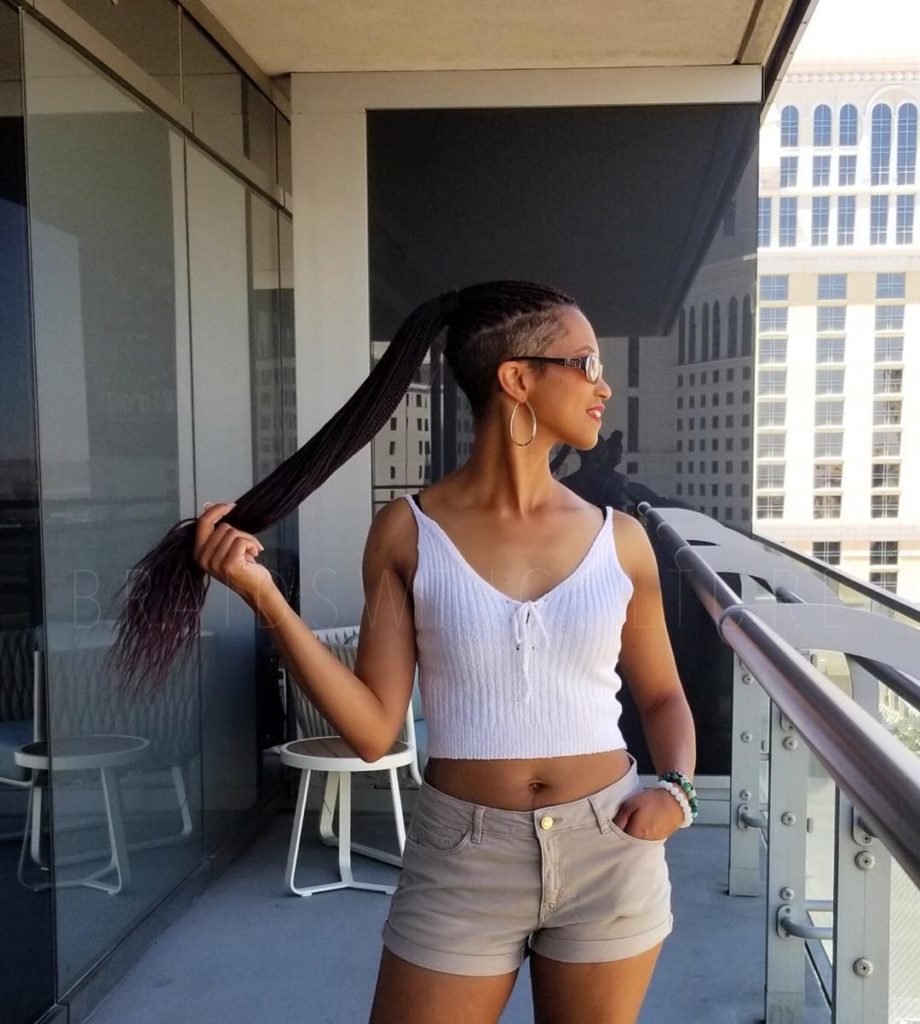 Braids can be lots of fun which must explain why it's a very popular hairstyle. This is another shaved side box braid hairstyle that won't take too long to make.
11. Braided Mohawk With Shaved Sides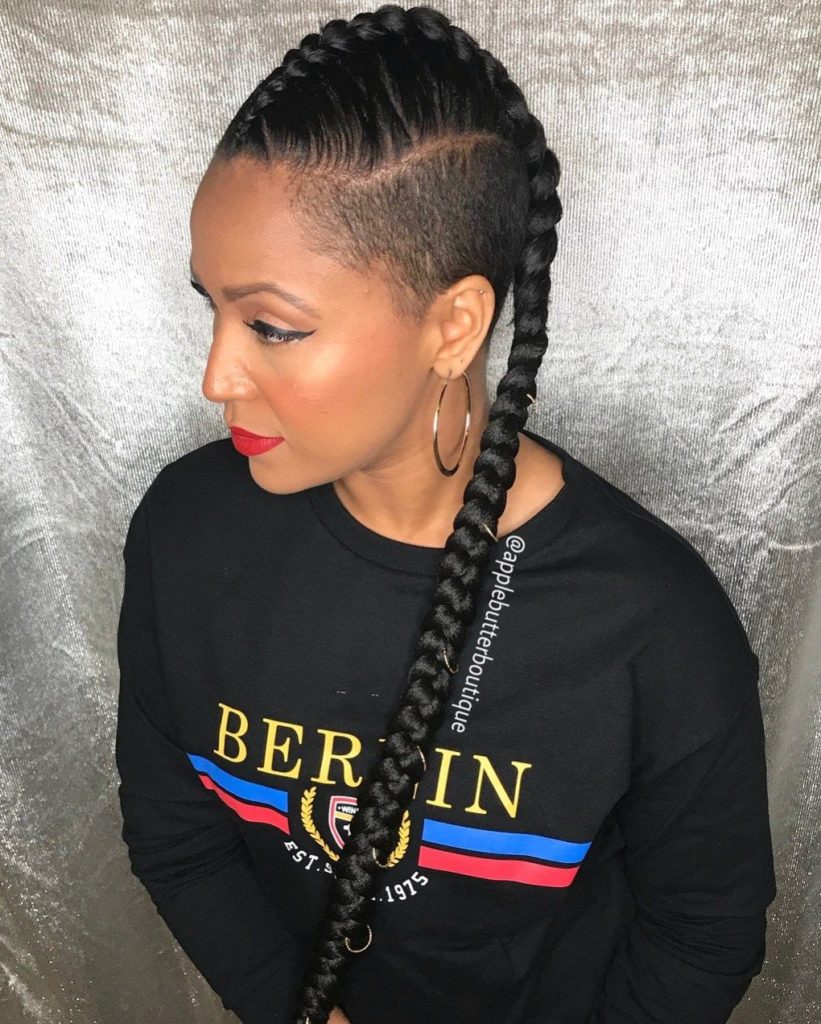 You don't have to go with full box braids when you have just one braided, and it will still complement your shaved sides perfectly.
12. Boxed Braids With Subtle Shave
Box braids are a way of making a statement and adding the shaved styles to it makes it more exotic and bold. If you are looking to keep it simple then here is the box braid with shaved sides to try, it helps to give your everyday style a bit of edge with a subtle side cut.
13. Half Up Shaved Box Braids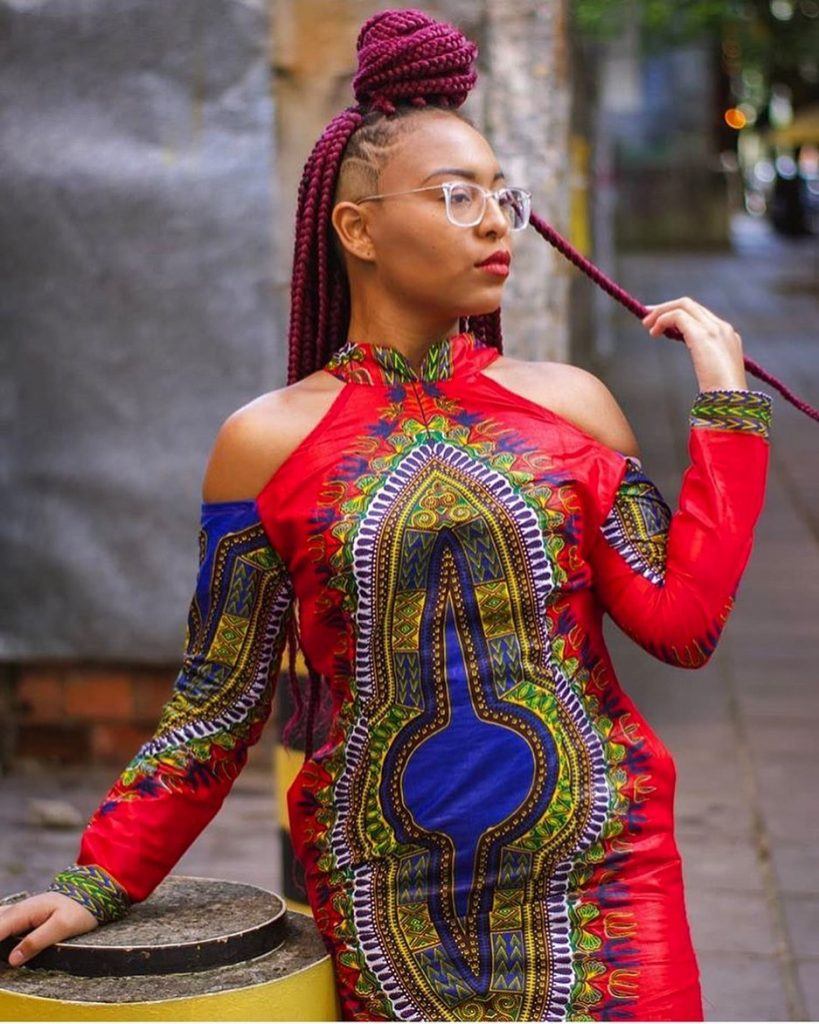 Try styling your box braid and shaved sides with an updo style. This is a fancy way to enjoy box braids, it is a polished chic way to keep your braids out of your face.
14. Blonde Box Braid With Shaved Side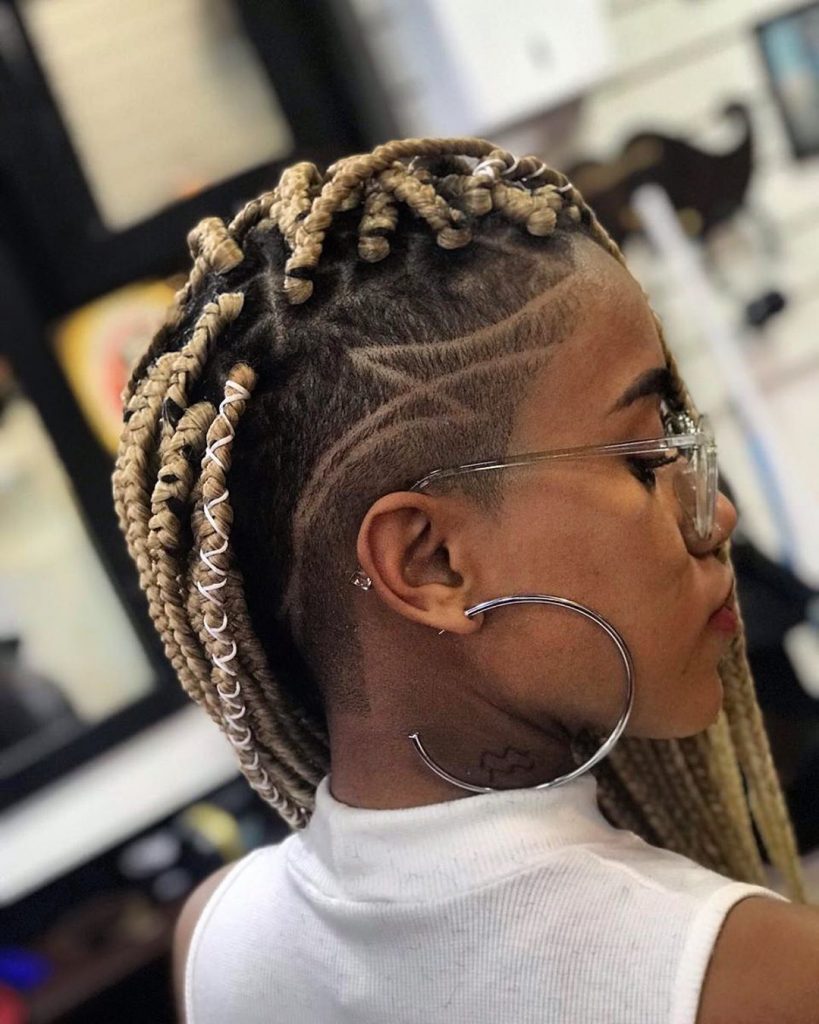 In case you want something sure to stand out, get a side buzz cut with a box braid. This is a fun way to spice up your box braids however you have to be sure that truly this is the style you want as it can take time to grow out the buzz cut.
15. Jumbo Box Braids With Shaved Sides
Jumbo box braids are a great protective hairstyle for your hair and with simple shaved sides, you can have your hair facing out from a group. One braid has been gracefully accessorized with white cords to add to the beauty of the hairstyle.
16. Under Cut Micro Braids With Shaved Sides
To get a bold dramatic shaved hairstyle with box braids, you can go for colors in case you love darling colors. This is one hairstyle that is sure to turn heads, and you can have it styled easily into a cute ponytail.
17. Feed In Braids With Shaved Sides
A simple box braid with feed-in braids and shaved sides can never go wrong. The crimson red is a standard hair color for ladies and pairing it with shaved sides is a daring strategy that is trendsetting and worth trying.
18. Red Box Braid With Side Shave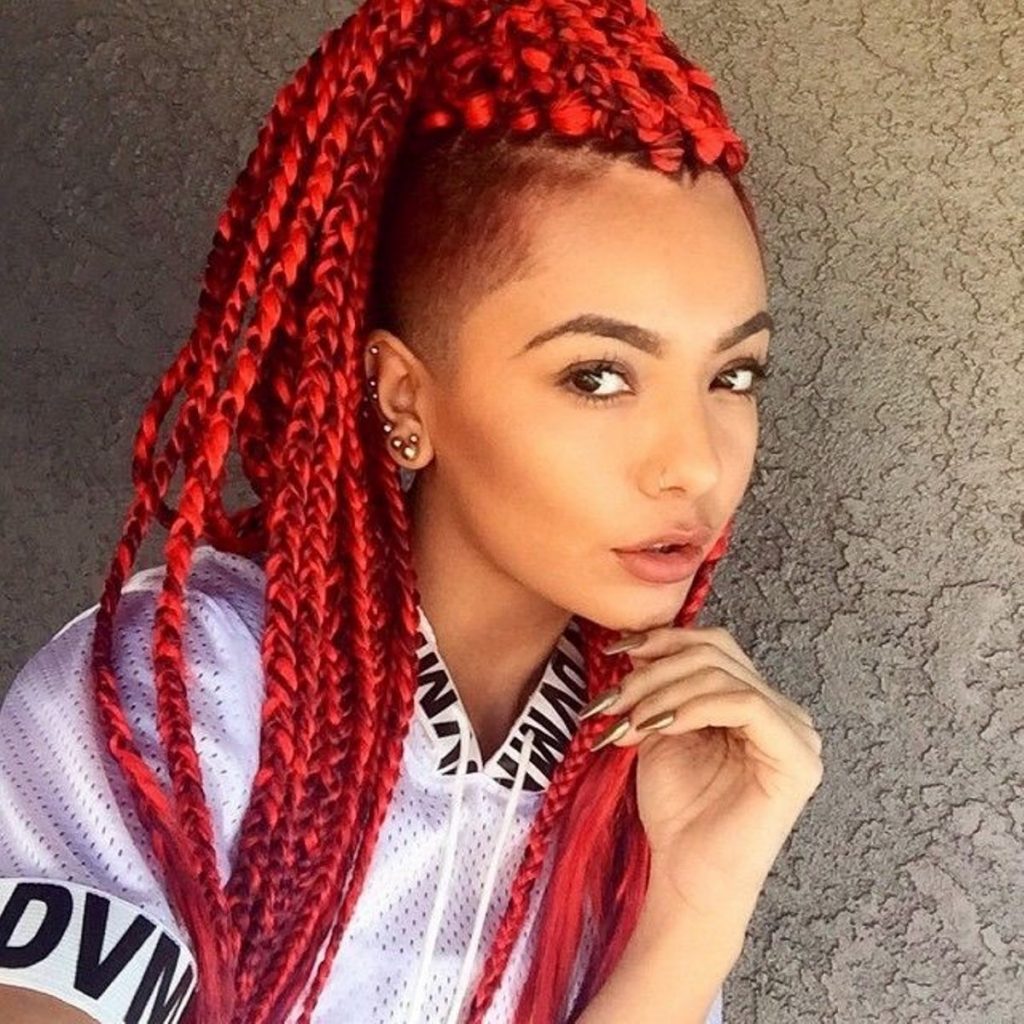 This undercut braid hairstyle has been around for a while and pairing it with a red box braid has been setting some interesting trends. This features medium chunky box braids, and you can easily have this recreated with a more neutral or distinct color.
Wrapping Up
Box braids with side shaves are one of the hottest hair trends, and it's the perfect hairstyle to help balance the feminity of braids and give them the punk-inspired look you can't help but like.
Shaved haircuts are cool vibe hairstyles and when paired with the right box braids, they can be stylish.
Read Next: Your Favorite Celebs Rocking Braids