Feed-In Cornrow hairstyles are everywhere, and it happens to be one of the most sizzling hot hairstyles out there. Feed-in cornrow hairstyle has been around for a very long time, and it's even trendier than box braids, however, people believed there is only one style for cornrows, but this is not true.
Feed-in cornrows can be just as interesting as box braids.
Even though feed-in cornrow braid is not a new hairstyle, it has continued to stay in trend and stylists find new ways to make it interesting. Feed-in cornrow is also known as feed-in braids and the name is gotten from the method of feeding in increasing pieces of hair to create cornrows.
While you can make feed-in cornrow with your natural hair, the regular one involves feeding in synthetic hair beyond the start of your hairline. It is used to create an illusion of naturally thick hair which has your natural hair tucked inside hence why it's also a great protective hairstyle.
15 Feed-In Cornrows Hairstyles For 2022
Feed-in cornrow hairstyle is everywhere on IG lately, and we must admit, this hairstyle does have lots of history backing it up. This hairstyle has lots of meaning historically and if you are looking to make a statement or simply have fun with this hair. Then, here are 15 feed-in cornrow hairstyles we want you to see.
1. Feed-In Lemonade Cornrow
A common type of feed-in cornrow includes the straight all back, but recently lemonade was introduced, and it turns out to be just as gorgeous. This is a cool feed-in cornrow style, and it doesn't take much time to make it.
2. Simple Feed-in Cornrow
This is perfect if you need to keep things simple, and it won't take much time either. This can be done with your natural hair but if you want it sleek and long-lasting then, we recommend using synthetic hair.
3. Cool S Pattern Goddess Feed-In Cornrow
Goddess feed in cornrow is another interesting braid style currently in trend. Adding the s pattern to it is another way to make your cornrow stand out, and it might look complex to style, but it's easy, and your hairdresser should understand it with this to show her.
4. Ponytail Feed-In Cornrow
Instead of having your hair packed for a ponytail, you can have the feed-in cornrow ponytail instead. This tends to last even longer, and it's more of a protective style than gel styled ponytail. If you are feeling fancy then accessorize it with beads, barrettes, or cuffs.
5. Cute Tribal Feed-In Cornrow
Tribal braids are classy hairstyles, and it happens to be one of the most popular cornrow braid styles too. This is a suitable all occasion hairstyle and if you don't like it plain then here is one with trendy designs you should try.
6. Feed-In Two-Step Braid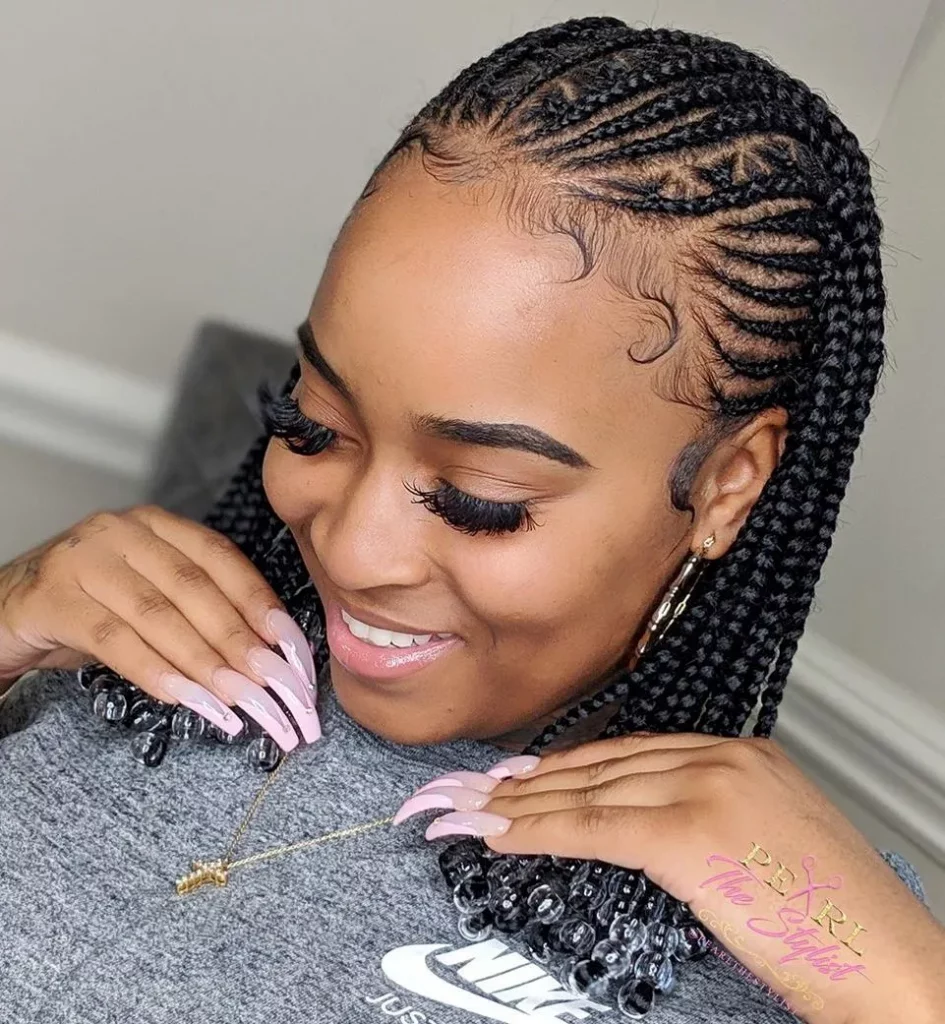 This is ideal if you are not into long extension hair and love beads. It doesn't take that much time since it's short, and you can create thin signature cornrows or thick ones, depending on your preference.
7. Tiny Goddess Lemonade Cornrow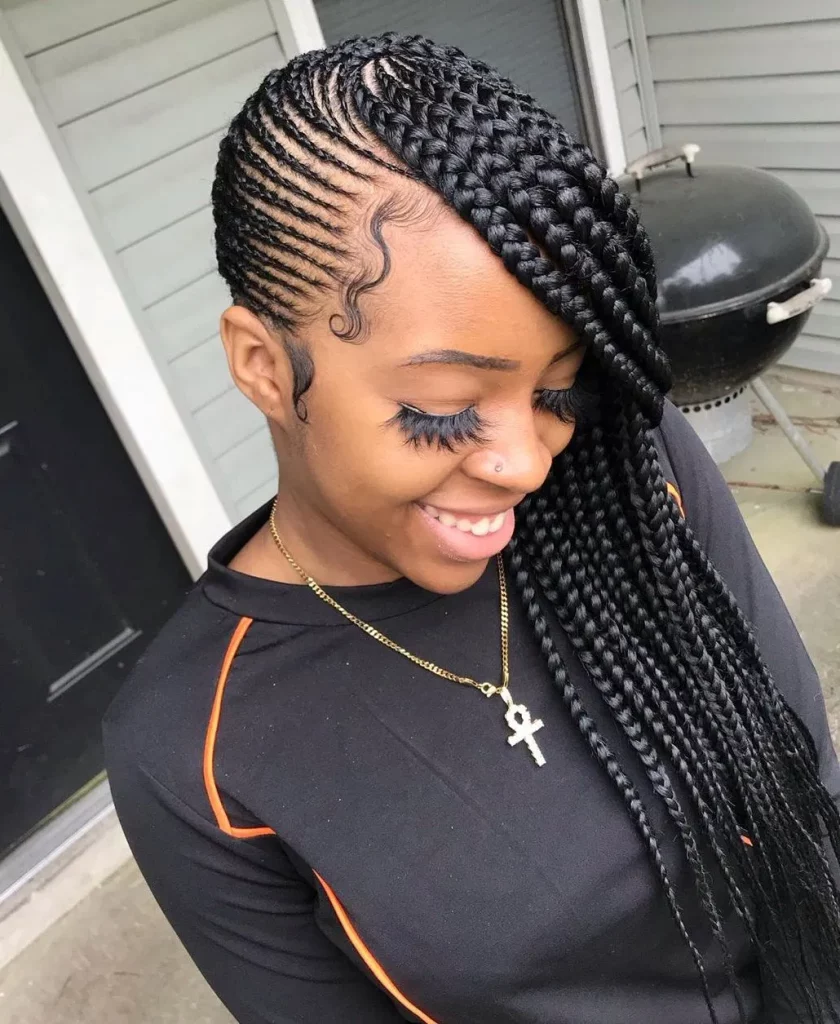 Every cornrow has its reason for standing out and with this one, it's the thick base that frames the face. Although this will work for any face shape, it accentuates long and oval face shapes even more.
8. Fulani Cornrow Ponytail
Here is another cornrow that has been getting lots of attention lately, this is a combination of trial braids and ponytails in a less dramatic but fun way.
9. Straight All Back Cornrow
This is the first way the feed-in cornrow hairstyle was introduced, and it's not going out of trend anytime soon. This hairstyle has lots of fun designs you can add in the middle.
10. Stylish Cross Feed-In Cornrow
This is another exquisite feed-in cornrows hairstyle you should know about if you are into something dramatic and stylish. This would stand out on any occasion.
11. Blonde Half Up, Half Down Cornrow Hairstyle
If you want more fun and stylish cornrow braid then here is one that is currently causing a buzz on Instagram. This style is another protective feed-in braid you can style any way you want and it tends to last for 3 weeks or more depending on maintenance.
12. Simple Baby Blue Feed-In Cornrow
The most interesting thing about feed-in cornrow is that you can keep it as simple as you want it to be. This is the simplest type of feed-in cornrow hairstyle you can get.
13. Yellow Feed-In Cornrow
Yellow is regarded as a bright color, but you can keep it cool with a simple feed-in cornrow hairstyle. This hairstyle can work on any skin tone.
14. Stitch In Braid With Feed-In Cornrow
Stitch-in braid is very similar to feed-in cornrow and both happen to be protective hairstyles as well. This is the perfect styling if you want to try something new.
15. Zigzag Feed-In Cornrow
Zigzag is a pretty classic hairstyle, and it has been around just as long as any other braid style. This style allows you to lay only your front baby hair, and it's a cute option if you need to keep your side front hair tucked in.
In Conclusion
Feed-In cornrow is a great protective hairstyle, but they are not considered a lasting hairstyle especially if you have natural hair. However, depending on your choice of cornrow style, some last up to 4 weeks or longer.
The feed-in cornrows are also known as knotless braids since they do not have knots which makes it a great hairstyle for minimizing breakage.