What are the cool ways to wear two-layer braids? Two-layer braids have been around just as long as box braids, but they don't get the kind of popularity they deserve until recently. These braids are quite awesome, and you just need a compilation of the best ones to inspire you.
Two-layer braids are just like every other type of braid and also work with weaves or extension, another great example is this trendy butterfly locs styles. This time of braid serves as any kind of season type of braid, and you don't have to be worried, it is too much during summer.
There are so many stylish ways you can rock two-layer braids, and it can also be a great protective style if it is well maintained and cared for. If you are searching for a new black braided hairstyle then we have the perfect ones to inspire you.
25 Two-Layer Braids Styles For 2022
When it comes to two-layer braids, there is always something for everyone and another reason this is an exciting braid to get is that it can transform your look. Two-layers braids are always going to be in trend hence we have compiled a list of the best two-layer braids inspiration to wear now.
1. Cross Two Layer Fulani Braid
The cross two-layer braid is a lot similar to the butterfly two-layer braid however this is simply just cross. It's a really cool hairstyle and shouldn't take a whole day to make, this is also known as the Fulani braid hairstyle. It's one of the most popular ways you can rock cornrow braid.
2. Long Knotless Two Layer Braid
The knotless two-layer braid can take a really long time to make especially if it is long and tiny like this. However, it's a great protective hairstyle and can last for a month if it is done properly.
3. Jumbo Two Layer Box Braid
We all love a neat jumbo braid hairstyle and here is a chance to make it look cuter. Adding box braids to straight feed in braids has been around for a while, and now it has been discovered that it makes a great two-layer braid. This is really perfect for many of us who do not like small braids.
4. Two Layer Blend Braid Hairstyle
Two-layer braid hairstyle can range from simple to classy and fancy. If you are looking for one that combines everything about braid hairstyles, you should consider choosing this one.
5. Feed-In Cornrow And Box Braid Two-Layer Braid
This is often the first type of two-layer braid that comes to mind, and it is also known as Ghana braids. This is a cool protective style, and you can use any kind of extension to achieve this. It takes less time too depending on how small the cornrows are though.
6. Blonde Side Parted Two-Layer Braid
The subtle blonde braid always looks fascinating at all times. This is a classy hairstyle, and it also works for any occasion. This only has one form of styling, or you can have it packed at the sides too regardless it is still a great hairstyle.
7. Jumbo Two-Layer Center Parting Braid
Jumbo Two-layer braid is ideal for keeping it simple, and it's a suitable protective hairstyle for any hair type. It can help prevent split ends and keep your hair tucked in for a while.
8. Two-Layer Tribal Braid With Beads
The tribal braid is an exciting and very popular hairstyle, it is ideal if you don't want it too thick or too thin either. The beads added to it is another way to make it look classic and sassy too.
9. Butterfly Two-Layer Hairstyle
This is giving your hair a subtle makeover. This is another ideal hairstyle that is simple enough for your stylist to recreate, and it doesn't take as much time as box braids either.
10. Medium 2-Layer Braid
This is a very easy style to wear no matter how long it is, it can be rocked in summer, and it's an ideal style for formal events too. The hairstyle is quite stunning, and the hair colour suits any skin type too.
11. Cool Pattern Two-Layer Hairstyle
Here is another two-layer braid with side parting, it's a common type of two-layer hairstyle with a simple pattern. This can also be styled with the three-layer hairstyle to give you an interesting update.
12. Straight Cornrow Two Layer Hairstyles
You can choose to go for a simple stylish two-step braid which is just as fascinating as the usual Ghana weaving hairstyle. This is another classy style that stands out on any occasion, and it's perfect for summer too. You can style it with any hair accessory you like too.
13. Tribal Two-Step Braid With Curls
A two-step hairstyle allows you to add box braids to it, and you also create curls from it as well. This is an interesting hairstyle that is currently in trend and the choice of color makes it look even more beautiful. You can style this whichever way you want.
14. Two-Layer Ghana Weaving Hairstyle
Two-layer Ghana weaving has been around for a very long time and although there are not so many ways it can be styled, it is still a classy hairstyle. This hairstyle tends to take time except if you are going for the big feed-in cornrows.
15. Purple Two Layer Feed-In Hairstyle
Purple is a common color for braids, and we must admit the color makes any hairstyle look more stunning. This is a neat two-layer raid considering how styling with colored synthetic hair can e. This is a cool choice of hairstyle for those who are into colors.
16. Half Up Half Down Two-Layer Twist Hairstyle
The top knot bun and Senegalese twist is another fancy hairstyle that happens to stand out when it comes to two-layer hairstyles. This also allows you different styles option which is rare in hairstyles like two-layer.
17. Blonde Pattern Feed-In Cornrow Two-Layer Hairstyle
This two-layer hairstyle sets the perfect ground for both cornrow and box braids. The blonde synthetic air makes it even cuter, also the medium size makes it suitable for anyone's preference in braids.
18. Beaded Top Knot Two-Layer Braid
The two-layer technique can be used for creating many braid styles, and it also works for packing your hair in the top knot layer style as well. This is another cute and fancy way to rock the two-layer hairstyle.
19. Tribal Two-Layer Cornrow Hairstyle
Here is another exciting two-layer braid that changes everything about this hairstyle. It is fancy enough for any occasion and seems to be the perfect all-season hairstyle too.
20. Half Up Half Down Cornrow And Box Braid Hairstyle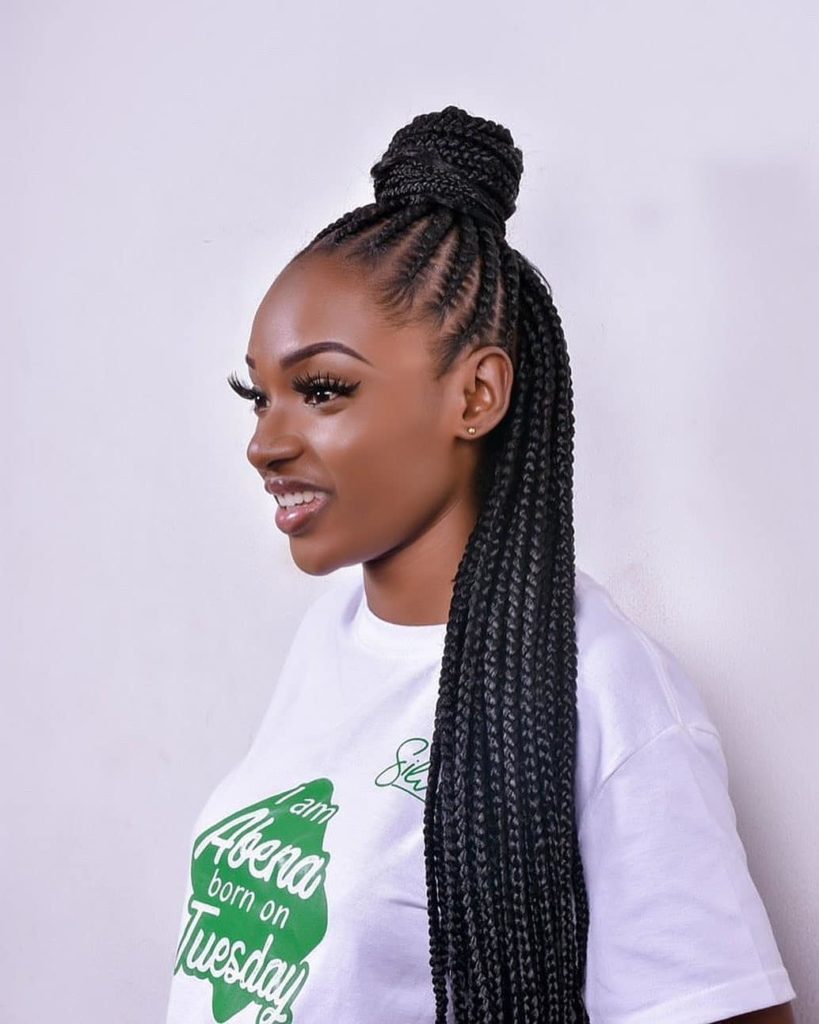 This is quite a creative two-layer hairstyle, and we have the twist already but if you prefer box braids then here is one to inspire you.
21. Chic Cornrow Two-Layer Hairstyle
You can keep it as simple as you want by going for larger jumbo braids. Jumbo braids sure have a way of making braids faster and the simple cute space in the middle makes it look fancy and cool.
22. Beaded Fulani Two-Layer Braid
Beads sure have a way of adding glamour to any hairstyle and just like this hairstyle above, it makes it look even more exotic. This is a great summer and winter hairstyle and the colour combination gives it an interesting variation.
23. Tiny Two Layer Hairstyle
Patterns and intricate designs are common in two-layer hairstyles and since they are just like Ghana braids then you can go with any design you want. This is a cool hairstyle even though it tends to take time.
24. Bantu Knot Two Layer Hairstyles
The horizontal way is not the only exciting way you can create two-layer braids. This classy two-layer braid is sure to stand out on any occasion and to create something different with it, the Bantu knot is perfect.
25. Intricate Pattern Tribal Two-Layer Braid
This hairstyle is far from being casual and can rather be called fancy. It's hard not to love a two-layer hairstyle like this. The intricate pattern adds some glamour to the style and the box braids are full enough for you to roll into a bun.
In Conclusion
Two-layer braids go beyond simple corn-row or box braid variation. You can have lots of fun with this hairstyle and frankly, you just need to find what you like and show it to your hairstylist. The hairstyle is simply classic, trendy and perfect for any season.