Middle part tribal braids are also known as Fulani middle part braids, and it happens to be a common type of braid. The ringed middle part braiding has some interesting chic appeal which explains why it's a popular type of hairstyle.
While many are used to the regular part in the middle style, there are lots of other ways you can rock this hairstyle.
Middle part tribal braids have been around for a very long time. Extensions are needed to make tribal braids, and you can go with any color you fancy.
If you are looking for a classy hairstyle that gives some princess vibe, tribal braids generally are the ideal option. The pattern for tribal braids is not as complex as they sound but can take quite a long time to make.
25 Middle Part Tribal Braids Ideas
Tribal braids are not just lovely but have got more interesting since they made a comeback. This braid type has been making history for years and adding some color to it is a way to make it look dramatic. So, check out the list of the latest middle part tribal braids we have for you.
1. Medium Middle Part Tribal Braid
The medium middle tribal braid is one of the hairstyles that always make an interesting comeback every year. This hairstyle is simple enough to be styled by anyone and it's pretty much the ideal hairstyle for any face shape. If you are into jumbo braids but don't like them too big or without space then here is one worth trying.
2. Jumbo Pop Middle Part Braid
Tribal braids do have a unique way of framing the face and this is one that does a really good job. The part in the middle is large enough to pair with the jumbo braids hence the name pop jumbo middle tribal braid. It's a cool protective hairstyle but not for 4c natural hair due to its coarse texture.
3. Tiny Middle Part Tribal Braid
One of the exciting things about middle part tribal braids is that they can be just as small or as big as you want and still look gorgeous. If you are the type that wouldn't mind spending long hours at the salon to achieve this gorgeous hair then you shouldn't hesitate to have your hairdresser make it for you.
4. Blend Tribal Braids
Blonde brown blend extensions are really cool and they work for any braid look you are going for. This color works for any skin tone and you can go with long length as shown above or short if you prefer. There are also alternative blend colors if you are not into blonde.
5. Blonde Pattern Braid With Curls
Here is another tribal braid hairstyle worth trying. This is a lot similar to the feed-in braids but you can have it styled with beads or hair accessories to make it all tribal and fun.
6. Shoulder Length Tribal Braid With Feed-in
This is considered the ideal summer girl braid hairstyle to get. It turns out great no matter the color of extension you use and shouldn't take long to make either.
7. Shoulder Length Braid With Beads
Shoulder-length tribal braids are great if you are not so into long braids. This happens to be the most popular middle part of tribal braid. The chic look it gives is another reason to have it done, it works for all face shapes too.
8. Parted Braid With Elastic Accessory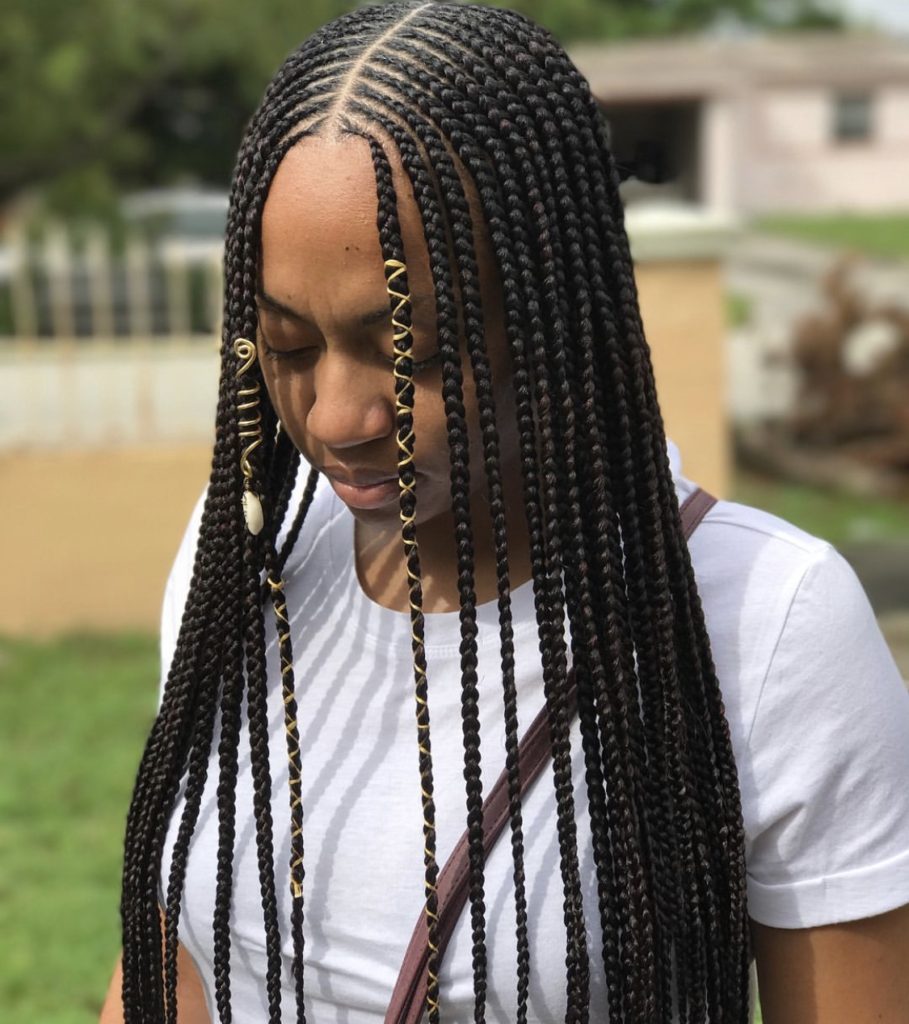 It doesn't have to be Fulani braids before you find it fancy enough. This works for you if you like it simple and fancy at the same time. The middle parting is quite old which makes it suitable for round and oval face shapes.
9. Burgundy Tribal Parted Braid
Here is something for those who love burgundy hair extensions. You should have lots of fun with this hairstyle, and you can have it short or adorned with beads.
10. Lemonade Middle Parted Braid
This is another dope middle part braid you should add to the list. This can also pass as a jumbo Ghana weaving hairstyle. It's pretty bold and classy at the same time.
11. Tiny Middle Part Braid
Pretty hard to like spending time at the salon but with a hairstyle like this, it's definitely worth the wait. It is exquisite and a great protective hairstyle for your natural hair.
12. Jumbo Middle Parted Braid
The Jumbo tribal braid hairstyle is another protective hairstyle you can make at home yourself. As earlier stated, sitting in the salon for too long is not for everyone so here is another hairstyle that saves time.
13. Simple Pattern Middle Parted Braid
Two-layer braids are a lot similar to middle-parted braids hence why they are on the list. If you are getting a middle-parted braid for the first time, the one above is the best to start with.
14. Two Layer Tribal Braid
Here is another two-layer middle part braid you can't say no to. It's really cute and gives you just the right highlight you need for your face.
15. White Feed In Tribal Braid
One of the best things about braids is the number of colorful extensions you can choose from. White tribal braids sure have their appeal and the above is the right one to inspire you.
16. Chic Pattern Tribal Braid
Go for something even more dramatic as this gorgeous braid. This is a complete tribal braid, and you have the middle parting done with a feed-in cornrow to make it look more fascinating.
17. Tribal Braids With Rings
Tribal braids with rings are currently in trend and they are great protective hairstyles too.
18. Double Bun Middle Part Braid
Another hairstyle on the list ladies are enamored with is the double bun tribal braid. The love for this hairstyle is quite understandable.
19. Bob Middle Part Tribal Braid
2O22 is sure getting more interesting with new hairstyles to try and some are simply making a comeback. This hairstyle is on the list of revamped hairstyles and pretty hard not to love it.
20. Ponytail Tribal Braid
If you are not so into a double bun then not to worry, you can have just one ponytail tribal braid and a feed-in middle part to pair with it.
21. Small Middle Part Layer Braid
Keep it simple but fancy with another popular middle part braid hairstyle. This happens to be a great protective hairstyle.
22. Tribal Braids With Colorful Beads
Beads are not made for kids alone and with so many colors out there, you might as well have them design your hair, and above is the perfect hairstyle to try it with.
23. Blonde Fulani Braid
Still can't make up your mind? Not to worry, you can't go wrong with blonde extension.
24. Double Bun Two Layer Updo
Double bun is all over Instagram lately and if you are looking to make a difference with yours, this is the suitable one to choose. This is cool, and you can have it styled whichever you want.
25. Pink Middle Part Braid
Pink has always been one to stand out when getting extensions for braids. The color itself is cool so why not pair it with a cool braid hairstyle too. This should be the perfect go-to if you want it simple but bold.
Wrapping Up
Tribal middle part braids are just like another type of weaving, and they have been around for quite a long time. This is similar to two-layer braids and feed-in braids too.
This hairstyle allows you to be creative with the front styling so don't hesitate to tell your stylist how you want it done.
Discover more hairstyle ideas: