What type of bangs should I get? One of the trendiest and most refreshing hairstyles to get in 2020 is bangs and they are not going anywhere this 2021. There are different types of bangs for every hairstyle, from thick to thin hair type. Bangs may sound simple enough and they can look good on anyone but be sure to keep your face shape in mind when choosing a fringe hairstyle.
There are different ways to also wear your hair if you have bangs however this cut sure needs some inspiration before taking the plunge. There is a beautiful bang hairstyle suited for every face shape and you don't need to have smooth hair strands before getting bangs.
If you are thinking about having bangs cut into your hair then you should consider what your face shape is and here, we have rounded up different types of bangs you can get in 2021 to inspire you.
1. Shaggy Bangs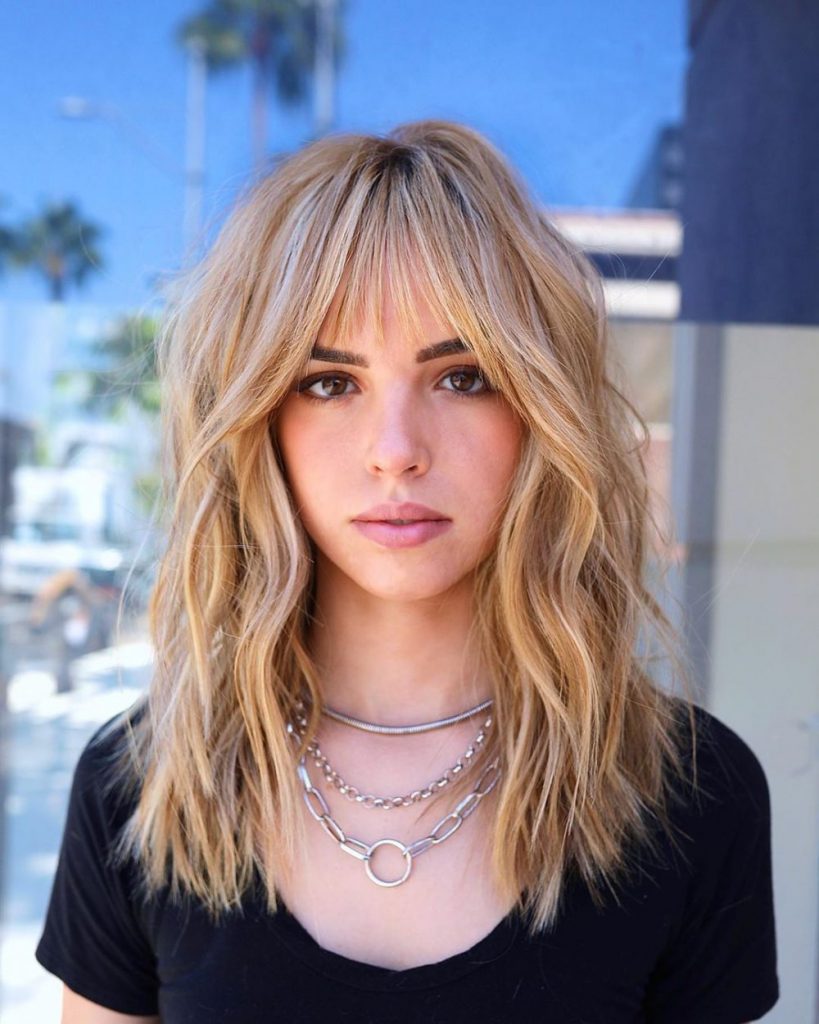 Shaggy bangs are the really cute types of bangs and although they are very similar to layered bangs but more of shaggy cuts to make them look cool and messy. This is a more versatile bang than you might realize and it's great for the oval and straight face.
2. Voluminous Bangs
Voluminous bangs allow you to be more creative with light hair. It is perfect for making your hair look thick and full. This bang gives a sweet edgy look you are sure to love.
3. Wavy Bangs
One of the hairstyles that always seem to be in vogue is the wavy bangs. They are not just cute but allows you keep your hair length which ever way you want.
4. Baby Bangs
Baby bangs can just be as fun and much easier to pull. These bangs skin just above your eyebrows and they are extremely great if you are on the lookout for a low maintainance hairstyle.
5. Side Swept Bangs
This type of bang is pretty low maintenance and really classy. Side-swept bangs are a type of bang that features a side part, it can help hide fine lines and wrinkles around your eyes. This type of bang is one of the most popular hairstyles out there.
6. Blunt Bangs
Blunt bangs are quite sexy. This style has a sharp fluid cut which means no wispy of feathered at the end. This hairstyle works best if you have an oval face, it is a really amazing choice of a bang if you want to appear younger and sexy.
7. Curtain Bangs
Curtain bangs are another great low maintenance bangs. This bang style is a softer take on the traditional fringe which can vary in length and with wispy ends that blend into the rest of your hair. This look is classy and very easy to maintain and there is a type of curtain bang for every face shape.
8. Choppy Bangs
Choppy bangs are a textured type of fringes with a different type of lengths. This bang style is a great way to balance long and round face shapes.
9. Curly Bangs
Curly bangs are the ideal bang type to get if you have a curly hair type. Curly bangs can work for any hair type and whatever your hair length is, curly bang is something you are sure to pull of.
10. Layered Bangs
The layered bang can work on absolutely any hair length. If you have short and thin hair, layering it with bangs can give the appearance more volume and you can experiment with short or long layered bangs to find the one suiting to your face shape.
11. Wispy Bangs
Wispy bangs are a softer variation of blunt bangs which makes them easier to pull off than blunt bangs. This bang type will flatter a longer face and they are a great choice if you do not want to commit to a full bang, Wispy bangs are currently in trend now because they are not extreme and it's a simple way to update your look.
Wrapping Up
All types of bangs are going to be even more popular in 2021. Whether your hair is thin, fine, long, medium length, wave, or short, there is a bang hairstyle for you without having to sacrifice the length of your hair.