How do you wear a side fringe? A side fringe starts from a side parting and it often covers only one part of the forehead and it's a really flattering hairstyle to wear. A side fringe gives you an ultimate flattering look and it has been making an epic comeback in 2021 and apart from it being trendy, it is a great way to completely change up your look.
It doesn't matter whether your hair is long, short, layered, or a short bob, you can practically wear side fringe with any of it plus it's a super sly way to alter your face shape without being too drastic.
Side fringe hairstyles are great and have recently been introduced back in trend with more creative styling. Side fringes are also a cool way to accent any face and it instantly highlights your eyes and cheekbones.
7 Side Fringe Hairstyle Ideas For 2021
Your face shape is going to determine which side of your face your fringes will look great on and it can be tailored for just any hair type hence we have rounded up 7 side fringe hairstyle ideas for 2021.
1. Side Swept Fringes For Broad Forehead
This side fringe is making a comeback this 2021 and seems to be the trendiest side fringe broad forehead and oval face shape. It is a super easy-to-style fringe and very as classic as well, you can have it rocked to practically any occasion and you can also try having the fringe parted for another trendy look.
2. Short Wavy Bob With Side Fringe
A short wavy bob with a side fringe is another stylish way of keeping your fringes looking cute. This short hairstyle allows you to embrace your hair and style your fringes easily.
3. Angled Wavy Layered Lob With Long Side Swept Fringe
Medium hair length is one of the most versatile lengths and when paired with side-swept bangs, they can be really fascinating. The fringe here is super easy to style and gives you that effortless look without you trying too hard.
4. Shoulder Hair Length With Fringe
Another medium hair length hairstyle you should try with fringe is this hairstyle above. The medium-length adds to the beauty and the long fringe makes it a cool sophisticated look thick-haired. It adds volume to short hair as well.
5. Bob With Side Fringe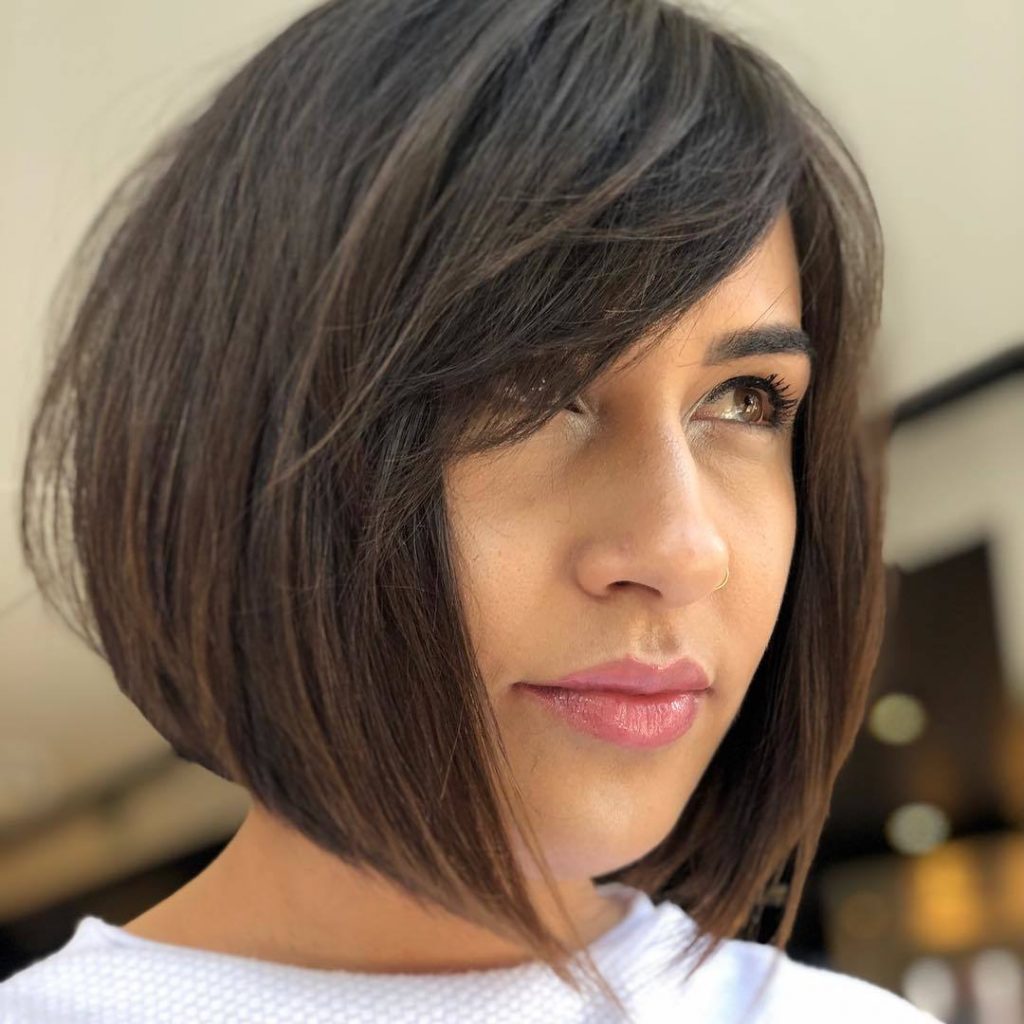 Bob hairstyles are another trendy way to keep your hair away from your face during summer however you can have it styled with fringes to add structure and draw more attention to your face. Not only does this hairstyle looks cool but it's also flattering on most face shapes.
6. Layered Hairstyle With Side Fringe
Layered hairstyles have a deliberately undefined look and with sleek side-swept bangs, you can rock them with glamour to any occasion. This can go for either medium, mid-length, or hair that is not too short and they do look great with varieties of fringes.
7. Long Hair With Side Swept Feathered Fringe
The soft feathered fringe creates a laidback cool vibe that is best suited to this hairstyle. This side bang is not limited to one face shape and the side fringe is a classic as it frames the face and draws attention to the mouth and face in general.
Conclusion
Anyone can pull off a sweeping side fringe and this is why they are quite popular. Side fringes are soft, textured, and layered which prevents them from completely covering your eye as some full curtain bangs would do. When it comes to fringes, there is always a fringe that suits every face shape.