If you are not so into box braids due to how heavy they can get then the jumbo knotless braids are the perfect alternative. Knotless braids are a great protective hairstyle, it allows you to take a break from box braids and regular jumbo box braids.
Knotless braids were introduced in the early 2000 and while it can be pretty classy, making it the jumbo style makes it even more fascinating, and it also means you spend less time at the salon.
The term knotless in this hairstyle refers to the knot used in starting a traditional box braid but in this regard, no knot is formed at the base hence the knotless braid. The pain-free aspect of jumbo knotless braids is another reason to love them.
Another interesting reason people can't stop talking about jumbo knotless braids is how classy it looks especially when adorned with beads, like these butterfly loc styles, you'll really love these knotless braids adorned beads.
30 Jumbo Knotless Braids With Beads Styles To Inspire You
Jumbo knotless braids tend to require less maintenance and styling them with beads is even more exciting. Jumbo knotless braids can be done on any hair type, and it is a long-term protective hairstyle you need to try. So, here are jumbo knotless braids with head styles to inspire you.
1. Medium Knotless Braids With Wood Beads
You do not need flamboyant colors of beads and extensions to make this knotless braid hairstyle. This is one of the simplest options you can go for. This can be styled in a bun, and we have to agree the wooden beads add some glam to it.
2. Side Cornrow Knotless Braid With Beads
Jumbo knotless braids don't take much time however you can add side cornrows to make them even less time-consuming. This is another simple and very exciting hairstyle idea worth trying.
3. Brown Medium Jumbo Knotless Braid
One of the notable colors for making knotless braids is brown and this might be due to its simplicity and how it highlights one's face. This is a really cool and classy choice of knotless jumbo braids although it's a bit on the small braid side, it is worth all the time and effort involved in making it.
4. Loose Jumbo Knotless Braid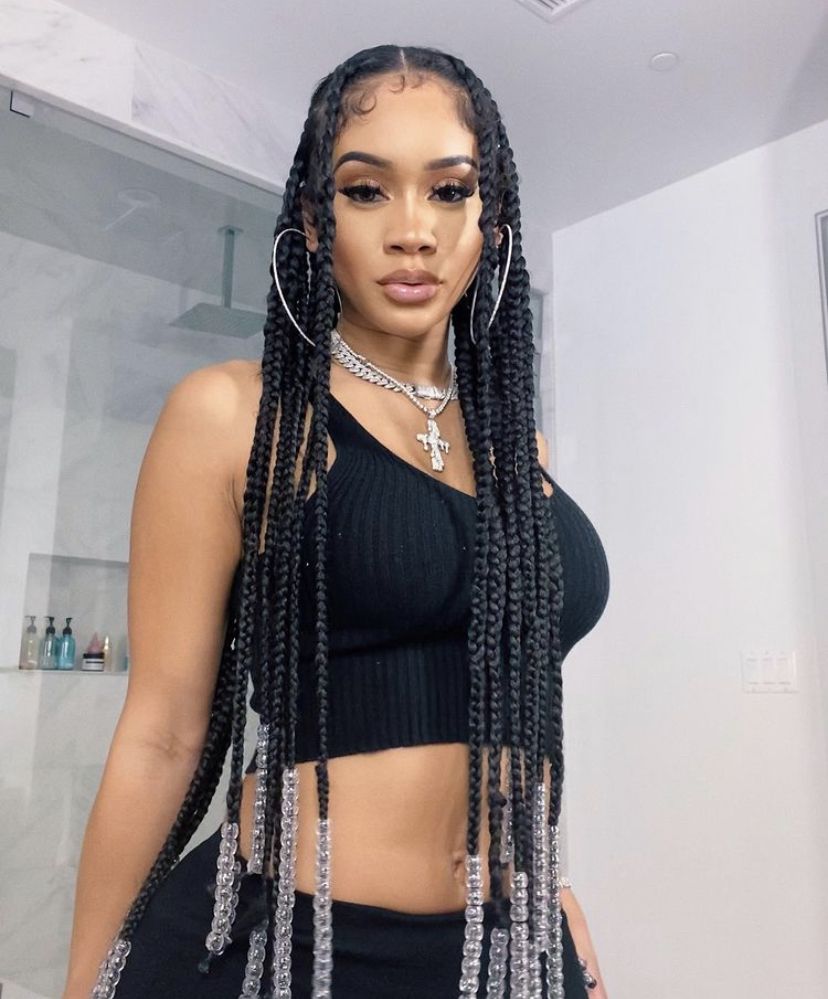 Loose jumbo knotless braids are perfect if you are trying to save your hair from breakage. This is a cool hairstyle and to make it more stylish, beads are arranged at the tip upward. You can add more accessories of your choice to it. The white bead makes this look classy.
5. Knotless Braids With Curls
Jumbo knotless braids with curls add some unique and classy attributes to anyone's face. To make this look even more gorgeous, you can try using the blend for the extension. Blend tends to give you a simple exquisite look no matter the occasion.
6. Knotless With Side Stitch Braid
If you are tired of simply braids but can't help but still fancy them then you can always add the stitch on the side. The stitch braid hairstyle has recently been introduced and it's really cool for those who want to maintain their edges.
7. Burgundy Jumbo Knotless Braids With Beads
The colored knotless braid can't go out of style and burgundy is currently causing a buzz in the jumbo knotless braid world. The wood bead is a modern accessory that makes your braids look fancier.
8. Lightweight Jumbo Knotless Braids
Lightweight jumbo knotless braids are similar to loose knotless braids, but this has a thinner tip, and it frames the face even more. With this hairstyle, you won't be spending much time at the salon, and you can choose to make it long or short.
9. Short Jumbo Knotless Braids
Short knotless braids are ideal for keeping the hair out of the way and with beads, you can have the ends tucked away too. This is a cool hairstyle that makes a statement on any occasion.
10. Red Jumbo Knotless Box Braid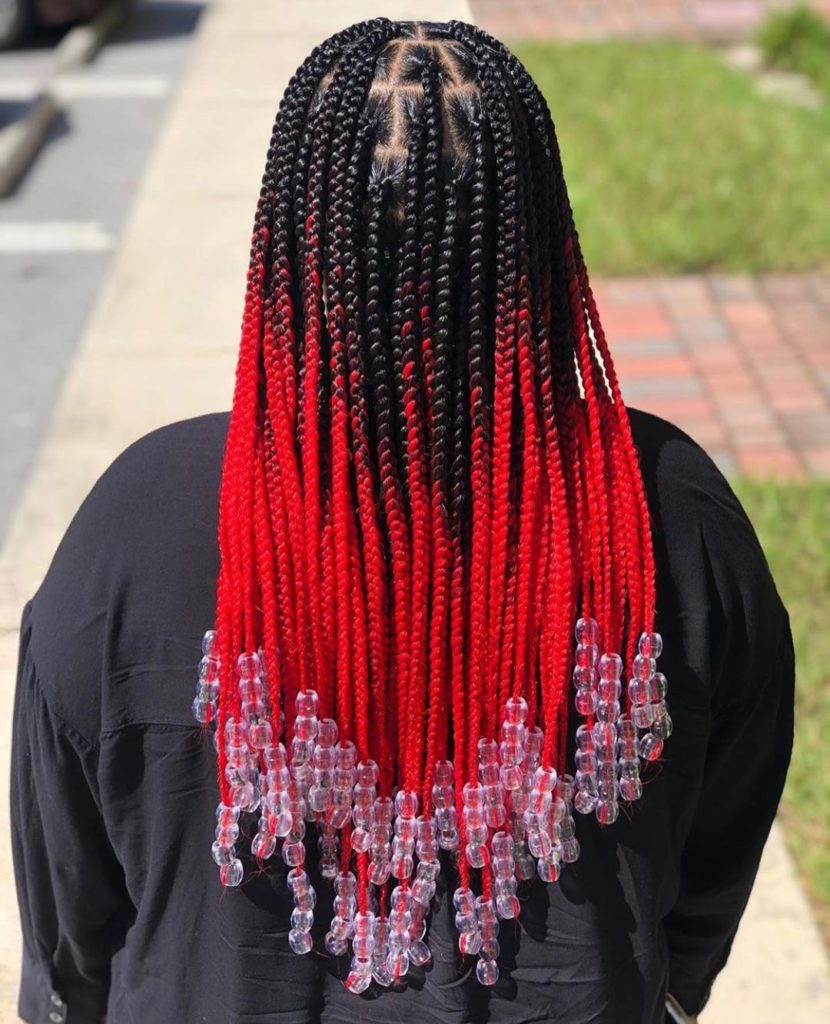 Red is another interesting color and if you like your braids bold then here is the perfect one to choose. While the base of this braid is knotless, it is also similar to that of a box braid for those who like the edges of their hair tight and a bit loose.
11. Knotless Jumbo Braid With Pink Beads
Here is another cool protective hairstyle you can slay with as long as you want. This is a scanty jumbo knotless braid, and it works perfectly for any face shape.
12. Shoulder Length Knotless Braid
This shoulder-length knotless braid works for basically anyone who doesn't want something too long and the beads complement the whole look perfectly.
13. Medium Jumbo Knotless Braid
One thing to love about knotless braids is the different sizes and lengths you can go for, and they will still be pain-free. This is a medium jumbo knotless braid for those who like it not too thin and not too thick either.
14. Short Jumbo Knotless Braid Adorned With Beads
There are lots of fun ways you can add beads to your jumbo knotless braids. This is a cool way to style your knotless braids and not to worry, this is not a heavy beaded style and anyone can rock it.
15. Brown Jumbo Knotless Braid With Mixed Beads
Here is another short hairstyle you can go for if you want something simple. This is the ideal hairstyle if you are currently transitioning to natural hair since this tends to last longer than long knotless braids.
16. Long Brown Jumbo Braid
If you are rocking on braids, it doesn't mean you have to limit your beads. You can have it adorn all the ends and wood beads of different shape is perfect for this look.
17. Jumbo Knotless Braid With White Beads
Here is another less dramatic hairstyle you can add to the list of gorgeous jumbo knotless braids. The big white beads add more to the fancy look of these braids.
18. Jumbo Knotless Braids With Halfway Wood Beads
While the usual way is styling your braid with beads at the end, you can have more fun by styling it with wood beads halfway instead. This is ideal for long hair and it's quite stylish.
19. Cute Jumbo Knotless Braids With Glass Crackle Beads
There is no limit to how long your knotless jumbo braids can be and since it's not heavy, you can choose a glass crackle bead to go with it. This braid style shouldn't take much time and due to the triangle pattern, you won't be able to roll it into a bun but not to worry, it works perfectly like this.
20. Knotless Jumbo Braid With Brushed Edges And Beads
Another alluring way you can rock jumbo knotless braids is to style them with a brush cut at the front. This method will protect your edge from breakage, and it is also a great method if you are trying to make it look like there is a feed-in cornrow at the front.
21. Medium Length Jumbo Knotless Braids With Beads
The medium-length jumbo knotless braid is one hairstyle that is suitable for anyone, and it's perfect if you don't like it short or long either. The brown extension is a great choice if you have dyed your hair, and it works with glass beads too.
22. Long Jumbo Knotless Braid With Color And Beads
Long knotless braids tend to have a way of standing out, and you don't need to go for colored synthetic hair when you can just infuse a bit of blond hair on the side. You can go for the glass beads or the pony beads.
23. Bob Jumbo Knotless Braids With Seed Beads
When it comes to jumbo knotless braids, there is always something new to try. This braid hairstyle has a combination of everything from goddess braid styles to a mixture of beads are all interesting reasons to install this braid.
24. Square Pattern Braids
Here is another way to rock those gorgeous knotless braids. The type of pattern you are getting for your jumbo knotless is another very crucial thing to watch out for. The square pattern is the current one in trend.
25. Short Burgundy Knotless Braids With Beads
Burgundy is a really cute color just like blonde colors, and it does prevent your hair from looking messy too soon, so you might as well go for it.
26. Natural Hair Jumbo Knotless Braids With Wood Beads
There is no reason you can't make jumbo knotless braids with your natural hair and the above is the perfect example that you can. You can go for fancy colored beads or the wood ones if you want it simple.
27. Medium Lob Jumbo Knotless Braid With Beads
You can keep it simple and fun at the same time. This is the ideal hairstyle to go for if you are just going out your hair. It enables your hair to grow faster and lasts longer too.
28. Large Knotless Braids With Neutral Beads
Classic large jumbo knotless raids are the easiest to make, and you get to spend less time at the salon as well.
29. Small Jumbo Braids With Crackle Glass Beads
The beads used in styling these knotless braids make them look even more stylish. It is also suitable for keeping frizz and flyaway at bay.
30. Jumbo Knotless Braids With Pink Beads
This is a large jumbo knotless braid but a less thick base than the regular jumbo braids. This is a lot easier and gentle on your scalp. Pairing it with pink beads also seems to make it look more fascinating and since it has a flat base, you can style it any way you want.
In Conclusion
Jumbo knotless braids are very versatile protective hairstyles. One of the reasons this hairstyle is perfect as a protective hairstyle is that it is not as thick as ox braids or even the regular jumbo braids which in turn won't weigh your hair down.
It also comes without the usual traditional knot at the beginning hence it is pain-free.