Can natural hair do knotless braids? Yes, natural hair can do knotless braids, and it happens to be one of the easiest hairstyles for natural hair. Knotless box braids can take longer to install compared to regular braids, but it's considered a safer option to box braids.
Knotless braids are causing a buzz everywhere, and this might be attributed to how stylish the protective hairstyle is.
While traditional braids are easy to maintain, knotless braids tend to last longer, however, there are speculations on the effects of knotless braids on natural hair. Maintaining healthy natural hair does require lots of attention and care.
To get a fine hair strand, you need to be conscious of the kind of protective hairstyle you get.
The term knotless in knotless braid refers to the knots used to start traditional box braids, and it has been around for quite a long time. This hairstyle tends to take longer than the regular braids, as this is created with a feed-in method to secure the braids tightly to your scalp.
Knotless braids are just as fascinating as box braids. While box braids can be heavy and put a strain on your scalp, the same can't be said with knotless braids. There are lots of reasons to install a knotless braid, however, read on to know if this is suitable for your natural hair.
Knotless Braids
– What You Should Know
So you are preparing to get knotless braids but still don't understand the hairstyle. Whether you are going to a stylist or doing it yourself, there are a few things you need to prepare for. Knotless braids have been around since the early 2000s and recently have become just as popular as box braids, this is a protective hairstyle for any hair texture.
Knotless braids tend to take longer to style compared to any other braid style, and this is due to the process used in forming the braids.
The braid is started using your natural hair and braiding hair is slowly fixed in as you braid it. Knotless braids can also be referred to as micro braiding, however, keep in mind that the process of getting knotless braids can be a bit long.
If you have a very fragile scalp, then knotless braids are the ideal option. Knotless braids require less tension on your scalp, and a typical knotless braid can last from four to six weeks. Knotless braids are not new, but the techniques used have gotten better.
Can Natural Hair Do Knotless Braids?
There are different types of natural hair and texture, however, any natural hair type can get knotless braids. Knotless braids are fast becoming the new standard of braids to get, and not only is this hairstyle cool, but it also means less tension on your hair.
To keep your scalp healthy and prevent breakage, knotless braids are the ideal braid style to get, and it's the right protective style to get.
Not only is knotless braids less painful compared to box braids, but since it's not braided directly to the scalp, it allows easier access for washing and moisturizing your hair. Braids are great protective hairstyles and knotless is a much-preferred option if you have a fragile hair texture, and they are pretty light compared to box braids.
While this hairstyle is ideal for natural hair, It can take longer to install. How long it takes to make knotless braids depends on the stylist, but an estimate of 4 to 6 hours is where to start. You will also want to treat them like any braided hairstyle, and experts suggest using apple cider vinegar to clean your scalp weekly.
Do Knotless Braids Last Longer?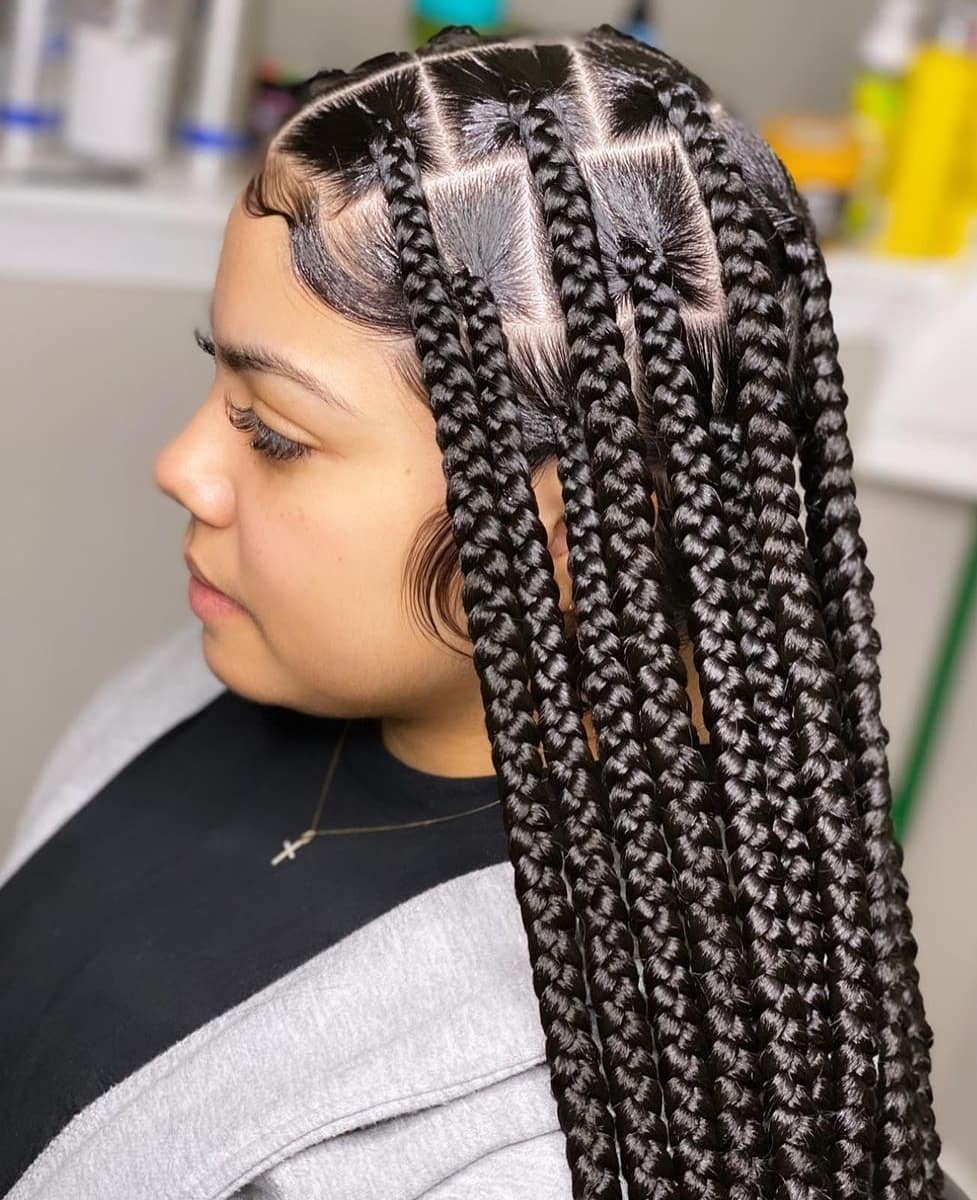 The structure of your hair and how you can for your braids both determine how long knotless braids last.
For coarse hair textures with tit curls, knotless braids tend to last longer, which can be up to 2 or 3 months. Knotless braids have the potential to last longer than box braids, with maintenance, knotless braids can last up to 2 months. However, on silkier and finer textures, knotless braids might not last long.
Wrapping Up
Knotless braids can be found in the long history of protective styles. Experts agree that the long process of getting knotless braids is more exciting than getting painful tight knot braids.
The pain-free aspect of knotless braids is enough reason to install it, and with it, you can instantly wear your hair down and sleep without worrying about any scalp pain. Knotless braid is surely the new standard of protective hairstyle.