Braids are definitely one of the most popular and practical hairstyles around, they have continue to stay in trend every year. Once they have been installed, they are low maintenance and you can forget styling your hair for months.
Braids make space for creativity hence it comes as no surprise when celebrities are found rocking braids for different occasion and we must say they are actually good for glaming things up.
Every year, world famous designers experiment with braids at fashion show and there is always something new and exciting to offer. Braids are great protective hairstyles, they are easy to style especially if you are planning om swimming.
Hairstyles are just as important as your choice of outfit and if you are on the lookout for trendy hairstyles, check out your favourite celebrities. A handful of celebrities have been showing off their braided tresses and we have rounded up 7 of these braids to inspire you.
7 Beautiful Celebs That Rock Braids Gracefully
Braids are a great way to give your hair a break from the constant combing manipulation. They are truly the get-up and go hairstyles however not everyone can pull off a braid. So, here are beautiful celebs that rock braids gracefully.
1. Chanel Iman Shows Off Loose Braid
Chanel Iman braid game is definitely on point, she rocks it with grace and you are definitely going to love the casual outfit paired with it. Loose braids are always fun and you can have it installed for practically any occasion, you can easily have it styled into a low ponytail or high bun for a more sophisticated look when attending a formal occasion.
2. Rihanna Cornrow Braids Are Red Carpet Worthy
Cornrow braids look even more enchanting on Rihanna. This is the perfect red carpet look if you are trying to recreate a modern braid trend, it is sassy and perfectly complete the event look she is going for.
3. Jhene Aiko Box Braids Are Quite Stylish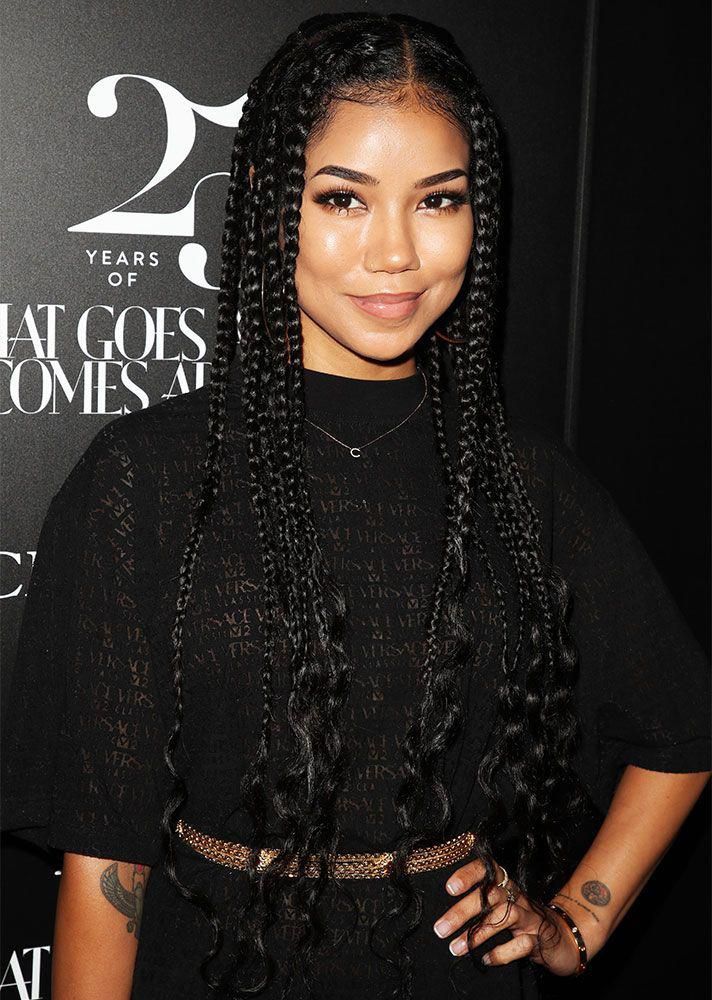 Box braids allow you to slay effortlessly and Jhene Aiko sure adds more glamour to this braids. This box braid happens to be a very easy braid and there are also many amazing ways it can be styled.
4. Justine Skye Knotless Braids Are Sleek
Knotless braids are the best hairstyles spotted on celebrities in 2020 and Justine Skye sure did justice to those braids. You can make knotless braids with any hair length, they are simple and can last close to a month if they are well maintained.
5. Alicia Keys Blonde Box Braids Are Simply Stunning
Alicia Keys is famously referred to as the queen of African box braids and this is due to how unique her braids are. She does have her own braids which is a cornrow braid with zigzag partting and it is well known as the Alicia keys braid. Time and time again, she has continue to walk us through her jaw dropping braids.
6. Issa Rae Makes Magic With Medium Braids
Here is another sleek braid to compliment any outfit. Issa Rae is another gorgeous celebrity that rocks braid gracefully. This is a simple but very unique braid hairstyle and there are other fascinating ways it can be styled.
7. Melanie Brown All Back Braid Is Quite Classy
Braided all back is one of the most practical hairstyles and Melanie Brown does rock this hairstyle with ease. This is a really low maintenance hairstyle, once they are in. You can rock this hairstyle for any occasion and they are perfect to turn to when recreating a casual boho look.
Conclusion
Sometimes all you need is a unique braid to make a statement, they are great for all kinds of occasion and all you need is to find one that suits you.
From winter to summer, celebrities have brought fun and class to braid hairstyles and it's definitely not going out of trend any time soon.