Acrylic nails are out and very hot on the beauty market, this is a clear sign that they've come to stay. There is an endless list of designs you can choose from when it comes to acrylic nails, that's what makes them so desirable and in constant demand.
How could you possibly go wrong with acrylic nails? It lasts longer than other artificial nail types, and it is a blank canvas where you can recreate anything you wish.
As long as your nail artist is trained and knows just how to recreate whichever look you choose, you're going to get hooked on acrylic nails.
16 Cute Acrylic Nail Designs We Love
The decision on which cute acrylic nail design you would like to try next does not have to be a one-person thing, let's give you a hand by providing these gorgeous acrylic nail designs you're sure to fall in love with.
1. Extra Long Acrylic Nail With Love Design
This is often known as the Cardi B nail and if you are a fan then you know why. This nail is extremely long and fancy for all occasions, it can be designed whichever way you want but that length stays. However, if you are not into long nails, go for short and go with the design.
2. Pink And White Acrylic Nail Design

This set is exceptionally beautiful because it manages to combine different designs and still not look too busy. It shows perfectly that you can't go wrong with pink, the little smile on the index finger is a genius move.
3. Nude And Brown With Petals Design

With the calm shades of brown and nude, this acrylic nail set is nothing short of lovely. The doodles of pretty little flowers in the middle and index finger are the stars of the design, it goes ahead to prove that nude doesn't have to look plain or boring.
4. Cute Valentine Themed Acrylic Nails.

This is a simple yet adorable set, it has pretty little red hearts resting on the tip of each acrylic nail that makes it give off the valentine vibe. The tips are either a deep red or pretty pink, and despite being short, this nail set fits the cute description perfectly.
5. Nude Acrylic Nails With Cute Heart Tips

The first thing that catches your eye when you look at this set is the pretty little nude-colored hearts scattered on the tips of each nail, and you should be captivated by such a simply marveling design. This nail set is simple and goes with any outfit because of its nude and brown colors.
6. Neutral Acrylic Nail Polish With Heart Designs

This set is the kind you never want to part with when you get it done, it reaches right above the bar for anything nude and adorable. The nails are a calm and alluring nude with pretty colored hearts in the middle and index fingers, these cute hearts even have eyes as well.
7. Swirly Green Nail Art

Your nails do not have to be wild to be cute, this set is proof of that. It has random yet matching green swirls that are artistically lined across each finger, there's no way you're not falling in love with this.
8. Blue Lovely Abstract Nail Art

If you've ever battled with getting cool nails or cute nails, this set pretty much sums it up. With these, your nails can look cool and cute at the same time. The lovely abstract designs take you out of this world, we're sure you'll love them.
9. Black Acrylic Nails With Blue Heart Swirl

Don't just keep staring, do yourself a favor and get in line with this unique nail set. This set has pretty hearts in a bigger heart on the ring fingers and beautiful swirls on the other nails as well, it's love at first sight.
10. Rainbow And Goofy Faces Nail Design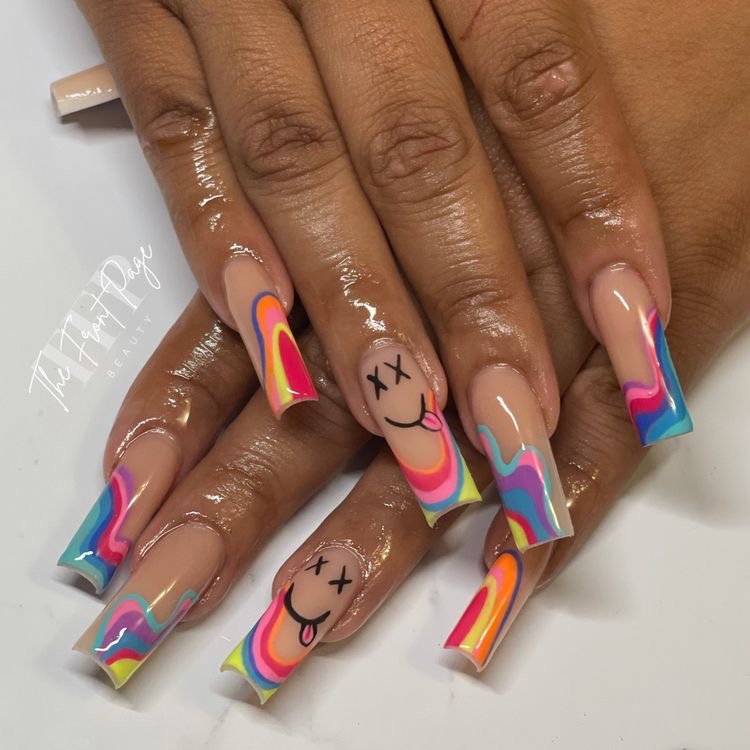 This one is an easy favorite, it's simply captivating, at first sight, especially those goofy faces drawn on the ring fingers. The rainbow swirls also show that you can have it all, you can use all your favorite colors and get an amazing design that's not too busy.
11. Snowflakes Acrylic Nail

Did someone say icy? Yeah, we all heard it. If you love the entire icy vibe going on here, you are going to love having this one. The snowflakes resting on the base of the ring finger and index finger are eye-catching and beautiful.
The tips of each nail look like ice on the brink of breaking, yet it makes so much sense, it's a nail set to die for.
12. "XO" Acrylic Nails With Golden Heart And Gems

If you want pretty princess vibes, you should be setting your sight on this nail set because it is a winner in that aspect. The "XO" is drawn out using pink decorative stones on the middle finger and ring finger, while the pinky and index finger are decorated with some pink stones as well as pretty gold hearts.
13. Cute Pink Acrylic Nails With Gem

This is a simple pink adorable acrylic nail set. I'm not sure what does it for you but we can all agree that the three pretty stones on the ring finger are the stars of this design. If you want to look glammed up with a minimal design, this is definitely for you.
14. Acrylic Nails With Flowers

This is a "YES!" if you're on the lookout for simple and cute nail designs. There's no way you've not already fallen in love with the pretty pink flowers scattered on all the fingers, it seals the deal when it comes to anything cute you have in mind.
15. White And Pink Acrylic Nails Crown Design

We're all thinking the same thing, I promise. This nail set would go so well with a little pink princess dress, it is so princess perfect. The beautiful princess crown charm on the middle finger is what makes your heart melt, let's not get started on the pretty pink hearts, this set is truly perfect.
16. Kitty Themed Nail Design

"Hello, Kitty" nails are a lovely theme to go with when you want to try a cute acrylic nail set. This set is simple, painted baby pink to go with the "Hello Kitty" theme, and adorned with pink stars and kitty charms to finish off the look. You can't possibly go wrong with this set.
Summary
Why would you go basic when you can choose any of these adorable designs, you can unlock whichever part of you appeals to cute and talented nail art like the 15 lovely acrylic nail choices we've provided.
Here's some amazing inspiration and a little push in hopes of getting you hyped up and ready to get a new cute acrylic nail set.