Nail design is one of the most creative ways you can paint, enhance and decorate your nails and there are so many nail arts out there, it can be confusing which one to go for however if you are looking to keep your nails cute and simple then the smiley face nail art might come in handy.
A lot of women take pride in their nails and you will feel a lot better when your nails look happy as well.
Smiley face nails are a way to seamlessly combine all forms of fashion into one, plus they are easily customizable, and you can have them done at home yourself from the shade, shape to the cute smiley face as well.
It takes a lot of talent to get a cute smiley face on your nails but worth every effort. Whether you plan on hitting your local salon to get it done or planning on painting them at home yourself, here are 15 cute smiley face nails in 2022.
1. Colorful Mismatched Nails With Smiley Face Design
Mismatched nails have always been fun and adding beautiful designs instead of colors is the updated version of it. Simply have your happy smiley faces tuck somewhere in between the nail designs, and it's perfect.
2. Funky Acrylic Nails
Funky nail designs are ideal if you like something fun and cool on your hands. Anyone can go for this nail art, and it's easy to get the press on nail stickers if you can't design smiley faces yourself.
3. Gel Nail With Smiley Faces
Gel nails are making a comeback every year and smiley faces are the ways to adorn it. This is another cool classy look that can work for any type of nail.
4. Stylish Almond Nails With Smiley Designs
There is no reason not to love almond-shaped nails. If you are not into acrylic nails and prefer simple nail designs then these are great options for you.
5. Square Acrylic Nails With Smiley
Square acrylic nails will always be in trend which is why we have something for you when you consider adding some smiley faces to it. You can highlight it as done above or cover the whole nail with it.
6. Hot Pink And Blue Smiley Face Nails
Pink and blue make quite an interesting pair. This nail design is classic and can just what you should go for if you like colours and less design.
7. Black And White Manicure With Happy Face
Just keep it simple if you can't make up your mind on the colour you want. lack and white has always been great colour and works for happy face art as we.
8. Lovely Blue Nail With Smiley
This is another classy nail design that looks great with a smiley face. You can go for any cool color and adorn it all with smiley face if you prefer it that way.
9. Press On Nails With Cute Faces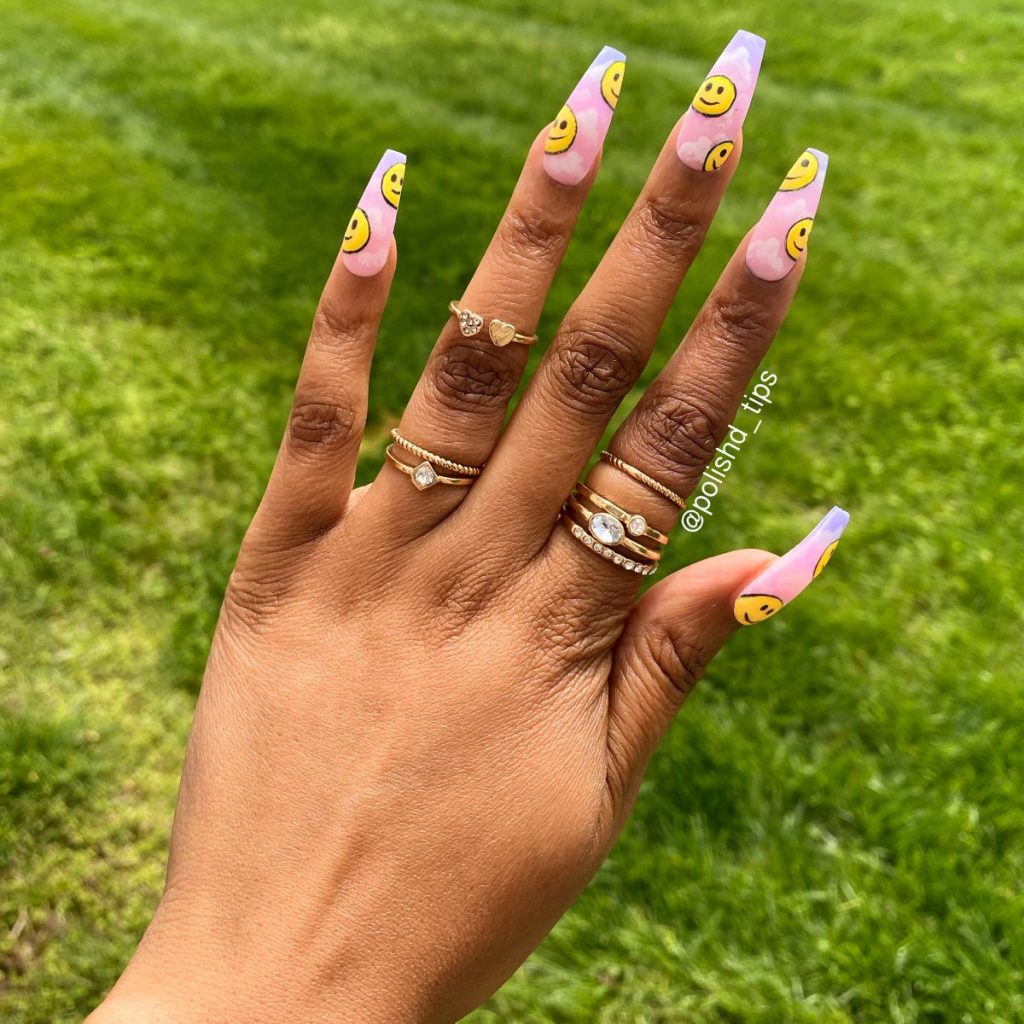 Press-on nails are one of the common nail types and smiley faces look great on them. This is a really cute and simple way to keep your nails looking great and those smiley little faces can be a great option if you are just starting with nail art experimentation.
10. Marble Meltdown With Cute Smilies
Marble nails are charming and a melting smiley face on those adorable nails going to be around in 2022 and beyond. There are times when you want to keep things minimal and quicker, peel some stickers and pop them on your nails.
11. Springtime Smileys
The springtime smiley nails are the perfect nail type you want when the temperature warms up. Pastel polish works well with a subtle smiley face and for something fancy, add bright colors.
12. Cute Yellow Smiley Nails
For a more classy and unique nail, opt for a short press on nails. A short press on nails is great for making bold statements and all you need is to choose the right color and have a smiley sticker on one of the nails.
13. Classic Smiley Nail Design
Why stick to one smiley on one of your nails when you can have it on all the nails. Mix colors and patterns to add some fun to it.
14. Cute Smiley Nail
A cute smiley on one of the mismatched nails keeps your nails design simple and cute.
15. Smiley Emoji Nails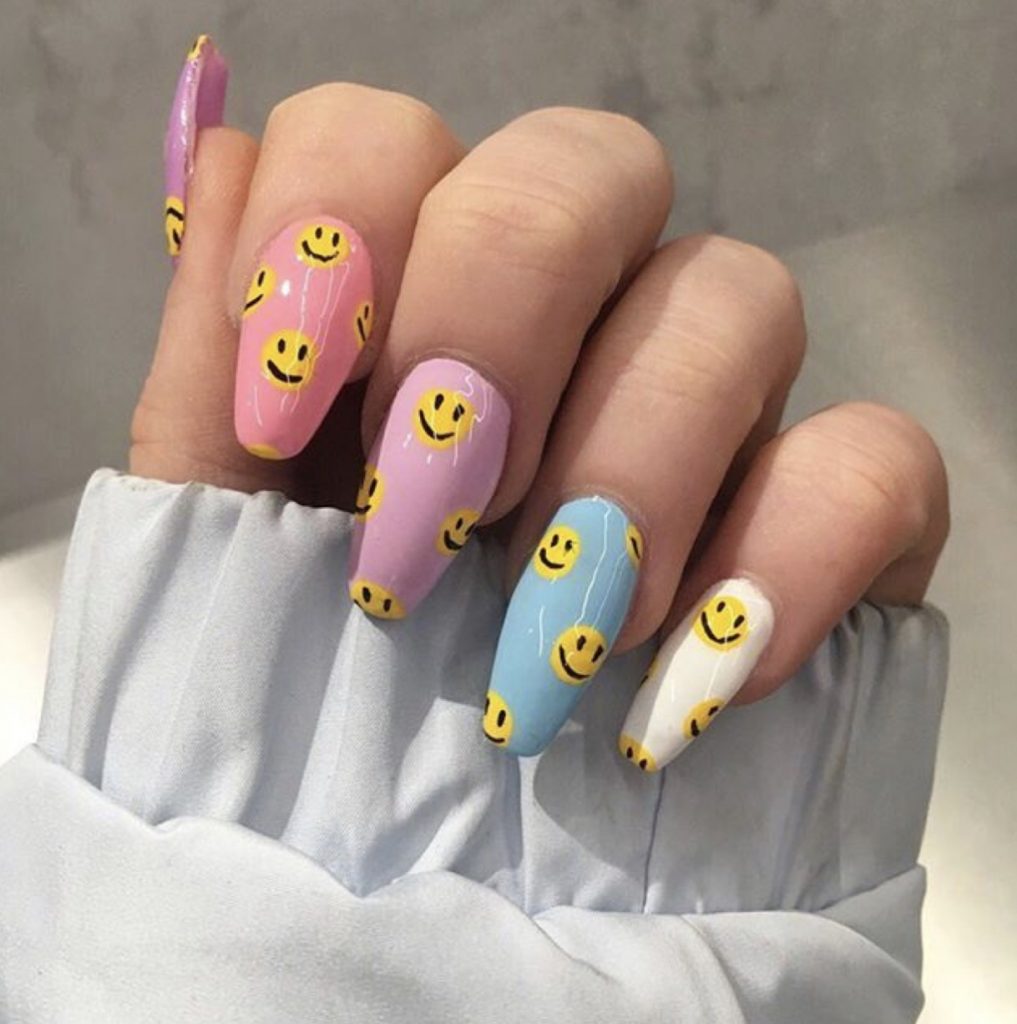 Smiley emojis are having a moment this year and the perfect way to re-create this trend is by keeping it colorful and simple. To get the most of smiley nail design, mix patterns in unexpected color combinations and you can also throw in some background shades o make the emoji pop even more.
Conclusion
Smiley face nails are a way to add a happy personality to your nails and these cheerful nails are also part of the "indie beauty trend". Smiley faces are simply amazing and not overly dramatic which is why they are regarded as a real mood lifters.