Bow nail arts are adorable nail designs for all seasons. This nail art design is versatile and there are tons of styles you can get, from cute and simple to bold and classy.
The world of nail art has become even more creative and innovative than before, there are countless chic and cool designs to try depending on the style you are looking for.
One of the hottest and coolest nail arts worth trying this 2022 is painting a bow on your hands. However designing these bows is not as easy as they seem but whether you plan to DIY it at home or take it to a technician, the beauty of it is always worth it.
You have to be an expert to design bow nail art but not to worry, with practice you can achieve a cool bow nail art yourself.
43 Bow Nail Arts Ideas For 2022
The regular natural nail art seems to be the old fashion way and with so many nail designs, it's not fun anymore to add to this unique nail art design is the bow nail art. Ladies love the unique and appealing way bow style is being designed on your nails and to keep pace with this trendy nail art, here are 43 bow nail art ideas for 2022.
1. 3D Stiletto Bow Nail
The perfect way to define this nail art is beautiful and fancy. This could be a great nail art design for a bride, the simple design tends to stand out and the crystals did make it ideal for a cool winter nail art design. Stiletto is an interesting nail shape that compliments any look as well.
2. Cute Pink Bow Nail
Cute bow pink design is one specifically designed to suit any lady's taste. This exquisite nail art helps keep things simple, and it's classy too.
3. Purple Glitter Bow Nail Art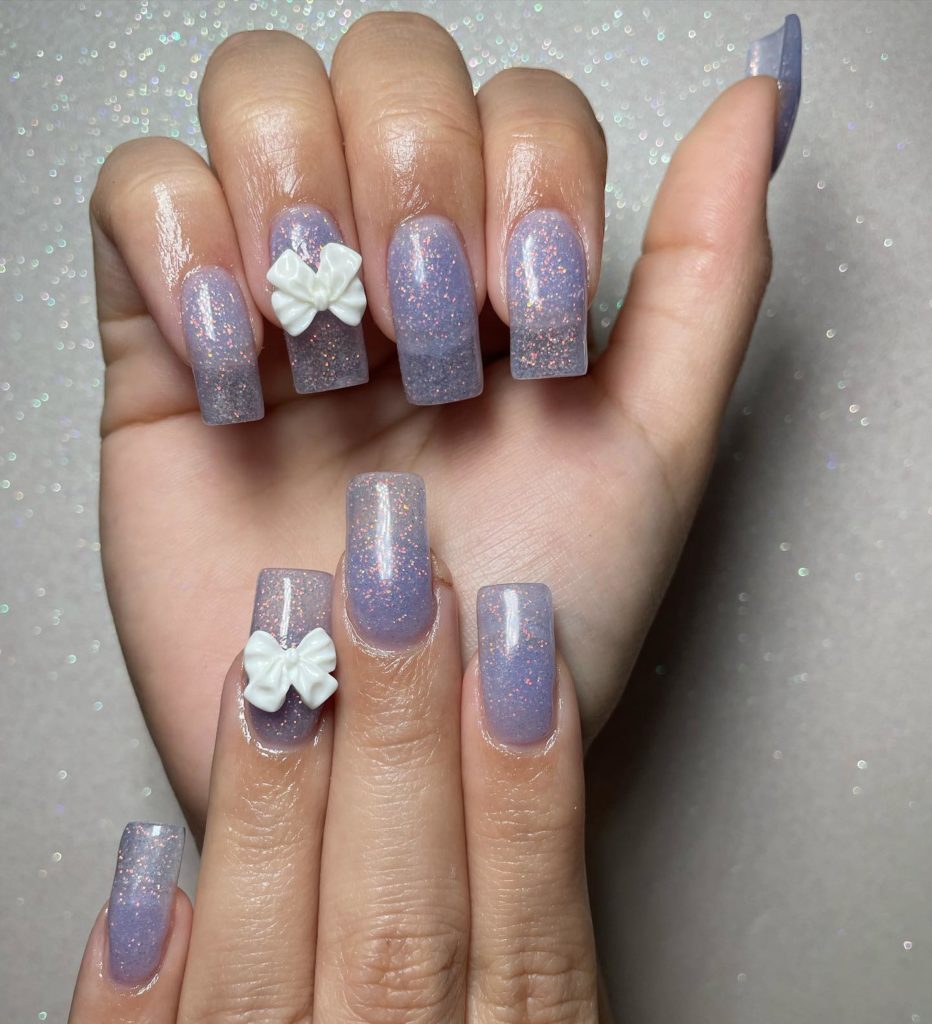 Here is another exquisite design worth adding to your list of bow nail designs. This works for a fancy occasion, and you can get the set easily to be fixed or have it made by a professional.
4. Neon Black Nail Art
Neon Black is simply stunning, and you don't have to worry about this blending in with the color of your hands.
5. Cute Bow Nail Art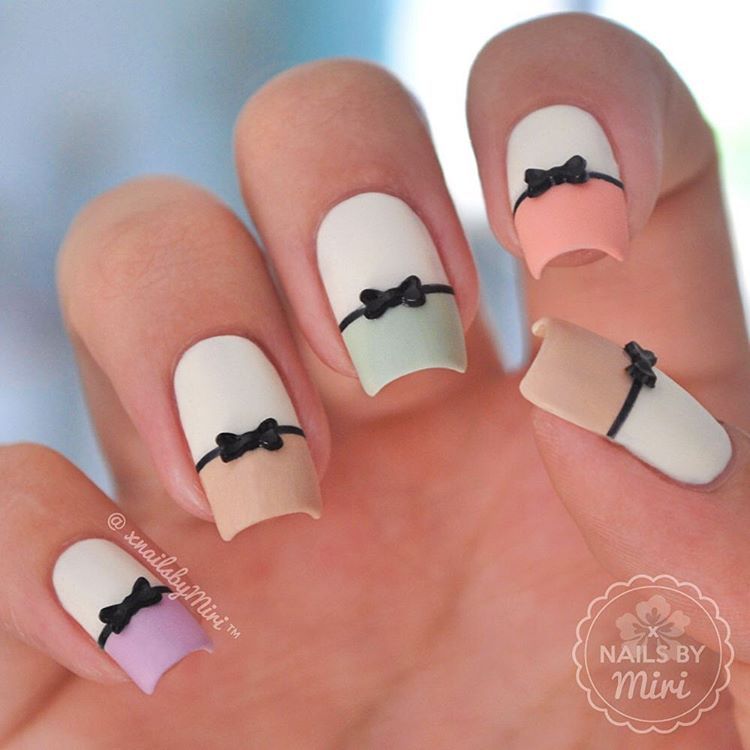 We all love cute simple nails. All you need for this nail design are colors of your choice and it's best to go for mismatched colors to make it look a little bit dramatic and fun.
6. Rhine Stone Bow Nail Design
Rhinestone is setting trends when it comes to nail art designs. They have a way of making things look fancy without the need for bright nail polish. You can have this with bows all over but for a more calm look, the bow is set in the middle.
7. Baby Pink Bow Art
Pink is that color we all love to have on our nails at some point and we have found a cool bow design that helps you keep things fun and classy.
8. Simple Cute Bow Design
If cute is what you are going for then here is a nail art design you ought to try. It is not just classy and interesting but simple to design as well.
9. Purple Polka Dot Bow Nail Art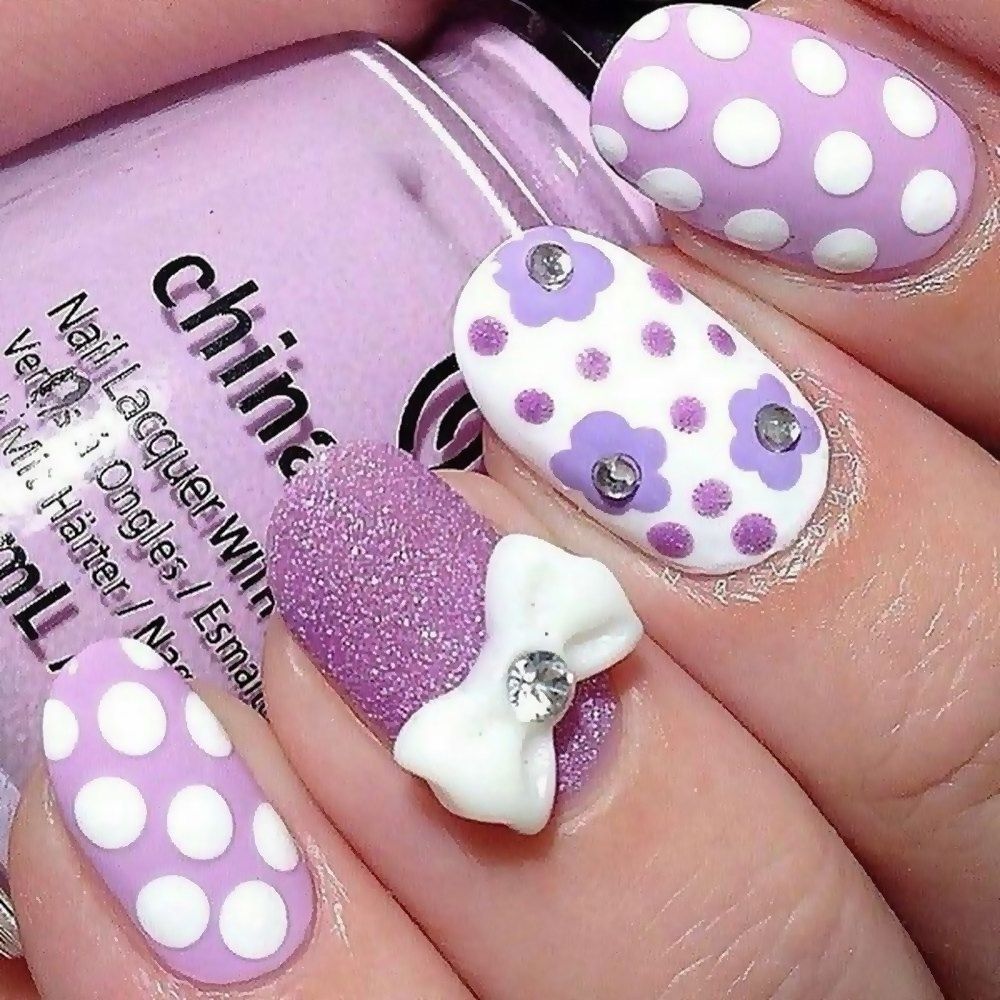 If you love purple and looking forward to designing a bow on it. Well here is the right one to inspire you.
10. Rhinestone Bow Design
If you can't figure out what pink you want or just need something bright then here is the nail polish you should try and the bow did add some glamour to it.
11. Rose Nail Art
If purple is the color then rose bow might look really great on it.
12. Top Nail Design
Here is another pink bow nail design in case you still can't decide.
13. Pastel Pink And White Design
Pastel pink and white are the perfect nail polish combination for cool and classy nail design.
14. Disney Nail Art
Disney nail art is all about having fun so you can go with any Disney design that you find fascinating.
15. Pink Black Nail Art
If simplicity is the theme and you want to add a bit of drama to it then you might want to lean a bit towards this cool nail art.
16. Simple Bow Nail
Keep it classy if you can't make up your mind.
17. Green Manicure
We really do find this look gorgeous. There is just something about green nail polish that gets you to fall in love with and it gets even better with a bow design.
18. Adorable White Nail Design
Adorable is the exact word that comes to mind immediately you set eyes on this gorgeous bridal nail design.
19. Tip Bow Nail Art
The tip of your nail does not have to be stiletto or French to be gorgeous. Keep it as fun as you can.
20. Bow Themed Nail Art
Bows have a unique way of highlighting any nail art. Here is a nail art design worth trying if you are up for some cool fancy look.
21. Yellow Bow Design
This nail design will be staying for a long while as it is setting quite an interesting trend on Instagram.
22. Out Of Place Bow
Keep the bow bold but in one spot to make it stand out even more.
23. Nude And Burgundy Nail
Nude is perfect if you are looking to keep it simple and with burgundy, you set a more interesting nail design.
24. Beautiful French Bow Art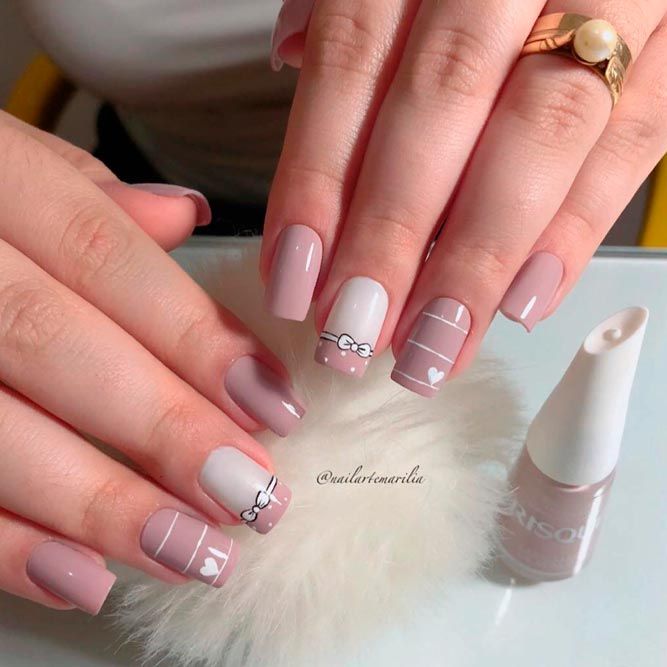 This is another exciting nude nail art design you can do at home yourself. It is simple and ideal for all occasions.
25. Cute Bow Gel Nail
You can easily create polka dot at the tip with one bow at the centre to keep things cool.
26. Matte Pink Bow Nail
There are tons of nail art designs but this happens to have a way of standing out even more. It is not just classy but really worth the trend.
27. Black And Gold Nail Art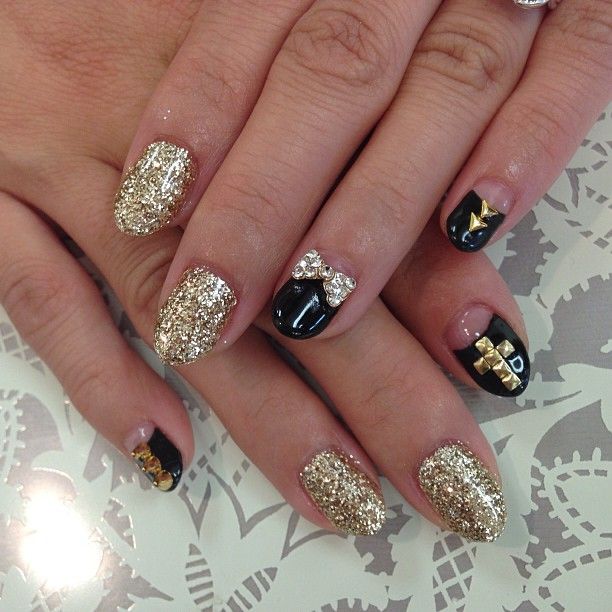 Black and gold is the ideal look if you are trying to create something bold and classic. The look is classy and stunning.
28. Ember Black And Gold Bow Nail Art
If you can't relate to the usual black and gold nail trend then you can go for something a bit darker and versatile. The bow look in this nail art is going here for a long while.
29. Nude Nail Design
You should keep your bow nail art simple most of the time to enable you have it last for a very long time.
30. Pink Coffin Nails
Pink is a common nail polish and it's bow design keeps getting better and interesting.
31. Gift Bow Nail Design
We can't help but love this art design. This can be easily gotten with a sticker for a long and more effective look, you should get the nail polish.
32. Mismatched Gel Nail
Mismatched nail design have a way of making your fingers look adorable.
33. Bow Tie Nail Look
A simple nail polish and a middle bow tie can't go wrong.
34. Stripes Polka Dot Nail Design
Polka dot stripes are winning and we really can't help but notice how fashionable it look with bow design.
35. Cool Bow Nail Art
The answer to your coolest bow nail design might be this gorgeous stiletto nail design.
36. Pink French Bow Manicure
Pink is a nail polish that makes sure you don't run out of options and this is really beautiful while simplicity is the theme.
37. Elegant Maroon, Black And Gold Bow Design
If you have a flair for fun and drama combined on your nails then this is the nail art for you. This nail art is made with black, maroon and gold then designed with bulk ribbons. This beautiful nail art design is sure to get you excited and fire you up enough to get creative with it.
38. Bling Bow Nail Art Design
Blings are the latest must-have nail art design. The bling for the bow might be a little to create yourself at home but a great technician will definitely be able to help you achieve this really cool design.
39. Matte Bow Nail Art
A matte polish with a bow nail art can never go wrong. Every woman loves a matte nail polish for it's a unique and elegant look. This is a really sophisticated nail art design and it is the perfect nail art design to wear anytime.
40. Black Bow Nail Art
This is a simple but exotic nail art that has bow nail art design to new heights. You can get this sassy and fashionable nail art at the comfort of your home, this is a design that can easily be paired with any outfit.
41. Polka Dots Nail Art Design
Here is a retro theme nail art design you are sure to love on your fingernails. This nail art design comes with vivid and beautiful appearance and the ribbon designs add more to its unique appeal.
42. Cute Pink Nail With Bow
If you like keeping your nail arts simple but delicate then here is another nail art to add to your list this 2022. This nail art has been made attractive by using pink and more pretty by adding a large bow on the ring finger. Adding glitter stone to one hand with white base makes it more lively and fashionable.
43. Thread Bow Nail Art
This has been designed with real thread hence you might need a professional technician to get it done for you. Here is another bow nail art design that is sure going to capture your attention, the effect of using real thread is jaw-dropping.
Conclusion
Designing bows on the finger can be really cute although not easy but the effort is considered worth it. There are a lot of techniques that can help you design bow style on your nail art and it depends on your creativity and the right style to inspire you. The trick is to practice and for you to stay in trend, above are the perfect bow nail arts to try.