Valentine day is that time of the year where lovers express their affection with greetings and gifts and this might involve a date night and it's a fun excuse to deck out your nails with some cute nail arts. Whatever your feelings for valentine day might be, you must admit it is fun to have your nails looking colourful and showing off the Val day theme colour.
When it comes to valentine's day nails, everyone loves the cute heart-shaped designs. Whether you are the type who is into cupid or your idea of a perfect valentine is a date with Netflix and chill, the chance to get a lovely nail art is not something to ignore.
There are lots of unique valentine's nail art ranging from sophisticated to adorable and from simple to complex. In fact, there are plenty of nail arts you will want to wear well past February 14.
17 Valentines Day Nail Ideas to Copy In 2021
Your nails do not have to look plain on Valentine's day or any day at that. So we have rounded up 17 Valentine's day nail ideas to copy in 2021.
1. Red Gloss Valentine Nail Design
The first step to making sure you love any nail you get is to keep it simple at first and add more design if you want later. This is a subtle nail type you can rock not just on V-day but great for the Xmas season as well and we suggest the press on if you want a longer version of it.
2. XO Acrylic Nails
Acrylic nails give you reasons to stare at your nails and show them off all day long. Hot pink seems to be the valentine's theme color this year and it gets more fun when there are lots of ways they can be used to create nail art. You can easily have this made yourself at home or get press on.
3. Love Shaped Nails
While oval nails are amazing nail types but for a valentine nail design, you can go for something more dramatic as the love shaped nail.
4. Dramatic Valentine Nail Art
If you want it bold and you are feeling confident about your painting and nail designs then here is the valentine nail design worth trying, This might look complex to replicate but it's an effort worth it.
5. XO Design Nail For Valentine Day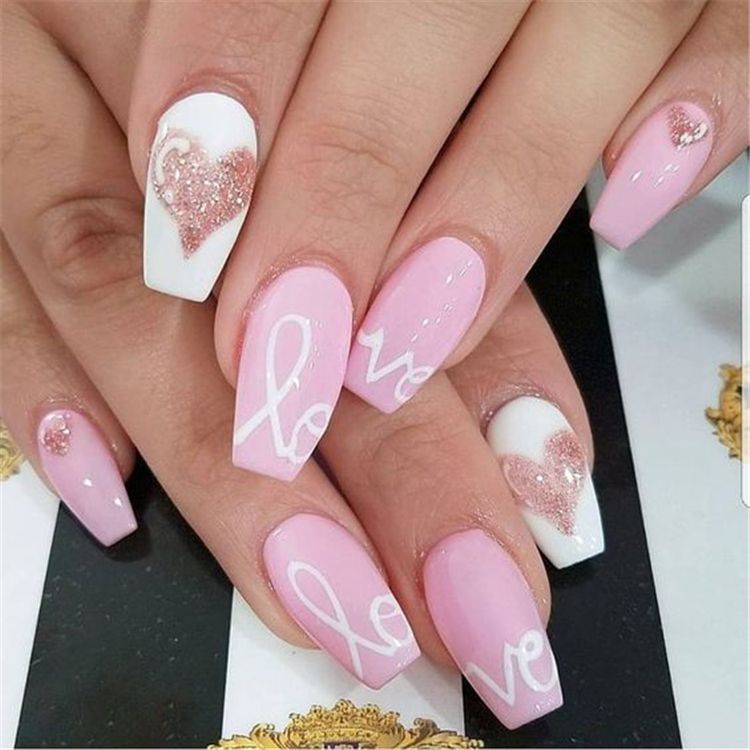 We are in love with this nail art design. You can use any color of nail polish for this and all you have to worry about is getting the perfect nail shape.
6. Mismatched Valentine Nail Design
Mismatched nail design gives you a chance to have different colors you love on your nails. This has been created with more red to depict the v-day with a simple love design hence it's the perfect nail design even after Valentine's day.
7. Pointy Nails
A pointy nail art can never go wrong anytime of the year. It's cute and keep things stylish.
8. Stripe Valentine Nail Design
Here is another really fascinating nail design to go. This is quite classy and the stripes can be designed with love or simple Valentine nail polish colors.
9. Hot Pink Valentine Nail Art
One of the tricks to making any nail art design simple and cute is to go with bold colors like pink and pair it with black for some elegant nail design.
10. Heart Shaped Valentine Nails
A simple black and pink nail polish with some heart-shaped on them are really cool valentine nail art designs you can't help but love.
11. Coffin Heart Nails
Here is the 2021 valentines nail art we are all in love with and this is due to the chic and classy vibe it gives. Coffin shaped nails are simply lovely and having them designed with the little love drawings suit the valentine themeand it's quite facinating.
12. Charming Valentine Nail Design
Here is a charming nail design to put the spotlight on your hands while you go out for a dinner date. Acrylic nails are quite trendy this year and to get it set for valentine, finish off the look by adding red love designs to the ring finger.
13. Charming Valentines Day Nail
This is a really beautiful valentine nail design, the pattern and nail polish keeps it on theme while still looking sophisticated. This should work on all nail shapes.
14. Cute Red Valentine Nails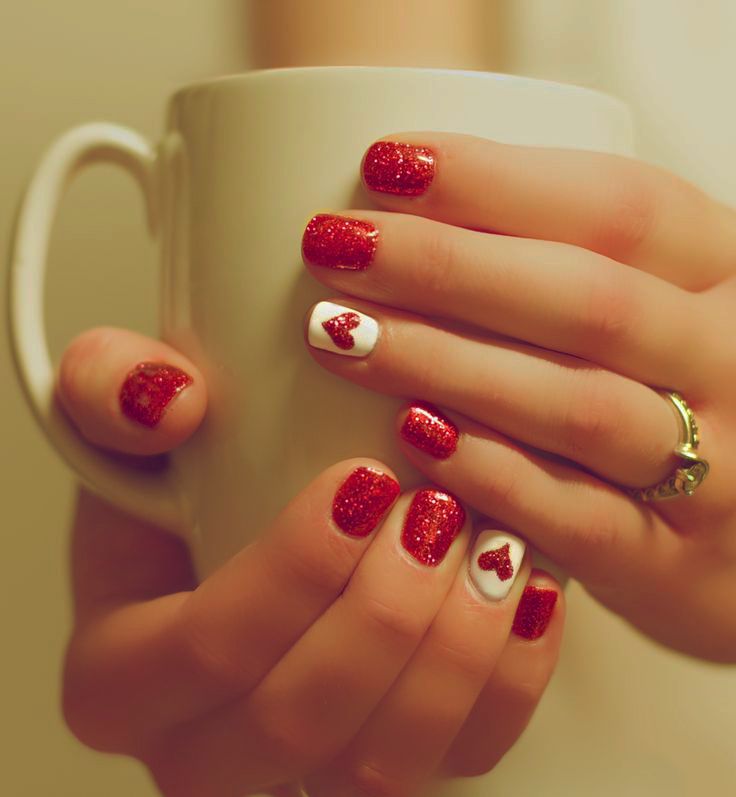 There are so many cute ways to play around and get the love theme design on your nails and one of the most loved is this simple look. The ringer finger is the only one carrying the love design while the rest have been painted in red to signify the valentine's theme as well.
15. Simple Nude Valentine Nails
Nude is a really cool nail polish colour and it's a colour you can't say no to. The colour also signifies chocolates which represent love and commitment. So, when you think of a nice little decoration for your nails this valentines day, this is just the look you might want to turn to.
16. Easy Valentine Nail Art
Keep it easy and smooth if you are not into acrylic nails. Your nails for valentines day does not have to be overly dramatic. Here is a minimalist nail idea with some love added to it to brighten up the love in the air while keeping your nails classy at the same time.
17. Neutral Valentines Design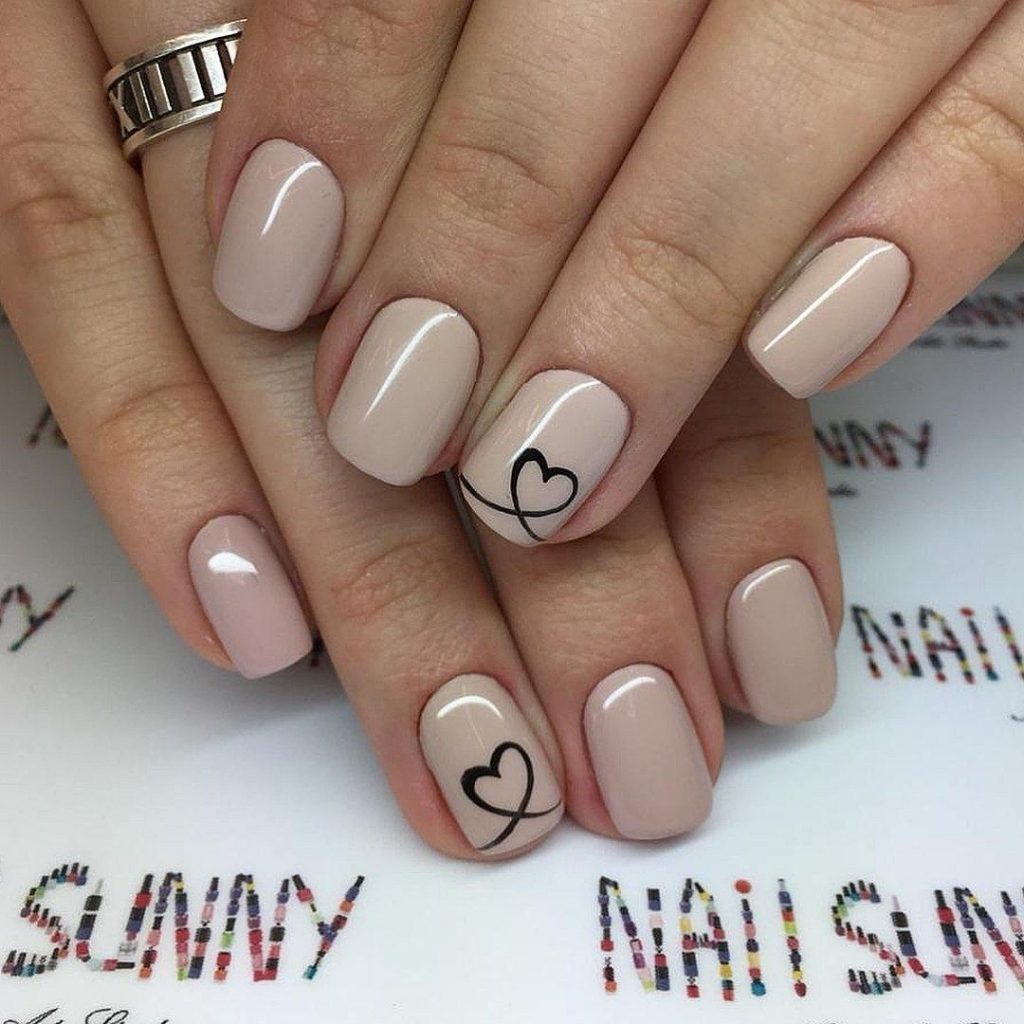 If you did like your valentines day nails to be a little subtler then above is a neutral nail design for you. Just keep the colours simple and stick to one colour then have hearts shaped on one or two nails. This sweet manicure can be accomplished at home.
Final Thoughts
Valentine's day might not be everyone's cup of tea but a chance to get a valentines day nails might be up for debate. We think v-day is an excuse to get an impeccable manicure as we must admit there are tons of nail arts dedicated to love.