Do you have a baby shower to attend or is it your baby shower and you have no idea how to style your hair?
It is important to choose a super cute hairstyle that stands out when it comes to baby showers, we understand that baby shower is an important moment for mothers and it is understandable that you want to look your best.
Regardless of the situation, the hairstyle is a major issue for women on every occasion, although when it comes to baby showers, pregnant women choose simple hairstyles to avoid chemicals.
Pregnant women are known not to fuss around about hairstyles in this state but baby shower hair styling and appearance isn't something to be ignored.
With so much excitement that goes into a baby shower, you will want to keep your hairstyle sophisticated and classy hence we have rounded up 7 hairstyles you can pull off effortlessly.
7 Cute Hairstyle Ideas For Baby Showers
There will be no shortage of pictures as you will want to document the occasion which is why looking good is vital. Baby showers are great opportunities to celebrate the upcoming arrival of their bundle of joy which means it's a great reason to dress up and here are some of the cutest hairstyles you might like to rock on that day.
1. Braided Bun
Braided bun is an appealing hairstyle you can't help but love. it is quite simple and keeps the hair away from your face which allows you to have fun and feel confident while taking numerous pictures to show off your baby bun.
This is a great hairstyle if you have very long hair and want a mature look for your baby shower, this is also nice for you if you want to keep things neat while showing off your feminine side.
How to style: Simple have your hair braided into box braids and pack in into a ponytail. Wrap the braids around the base of your ponytail until it is secured in place into a bun and a bobby pin can be used to hold it in place.
2. Braided Updo
Braided updo is another interesting hairstyle worth trying. This is a sophisticated hairstyle and it can be styled easily with no stress. Braided up is a compelling hairstyle to try on your baby shower especially if it's summer.
How to style: Make single braids from both sides your head and have them joined at the lower-left corner of your head. Leave a few strands at the front of your face to form stylish loose curls.
3. Low Messy Ponytail
Spice up your messy ponytail with some florals and you will be glad you did. This is a great hairstyle for baby shower, it is ideal for long hair and suits almost any face shape.
How to style: Start braiding from the right side of the head to the left and keep it messy for a voluminous look before tucking it in with a floral hairband.
4. Simple Cute Low Curls With Flowers
Here is the perfect baby shower hairstyle for long voluminous hair and it suits almost any face shape. This hairstyle is with graceful with gentle waves at the bottom and it is a hassle-free hairstyle as well. You can leave it free and simple or have it beautified with a tiara as done above.
5. Half Up Half Down Updo
Want to keep your baby hairstyle simple? Here is the perfect hairstyle to try. It is quite an elegant hairstyle and it is ideal for any length and texture.
How to style: Separate the upper half portion of your hair and place a puff under the upper section of the hair and hold it in place using bobby pin.
6. Bangs With Curls
When it comes to baby showers, keeping it simple is the highlight hence why this simple bang bob is ideal. There is a perfect type of bangs for every face and shape especially for oval and oblong face shape. This hairstyle is also going to accentuate your pregnancy glow.
How to style: This is a combination of bangs and long hair curls.
7. Half Up Half Down Soft Curl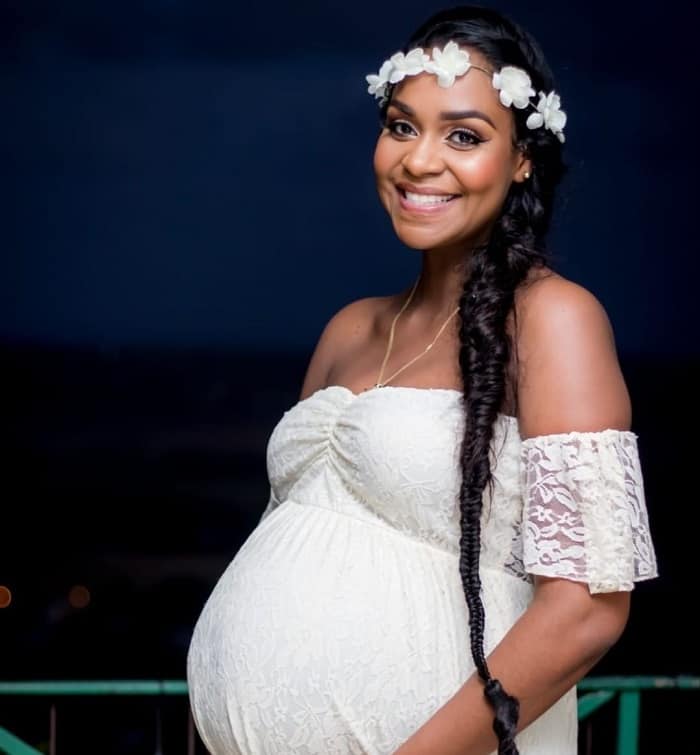 Fishtail braid allows you to flaunt your long hair. The long braid hairstyle is definitely the one for you if you want a mature look on your baby shower. You can have you fishtail braid fall to the back or side depending on your preference. Add a pretty flower crown for extra detail and to keep it cool in an outdoor setting.
How to style it: Smooth your hair into a side ponytail and start weaving the strands of hair together to create an intricate appearance.
Final Thoughts
When it comes to baby showers, looking good is important. Pregnancy is already challenging enough with the mental and physical stress hence looking confident and beautiful during your baby shower is essential.
We hope these hairstyles above do inspire you and make you look amazing during your baby shower.