Can heat-damaged be reversed? Heat damaged natural hair is tough to deal with and there is no denying that restoring damaged hair is a long process however you must restore your damaged hair to prevent breakage and have healthy hair again.
Heat damage can make natural hair appear dry and brittle, however, you can have a silk press or a blow out without having heat damage but if you do, this post is for you.
There are lots of misguided tips on how to restore heat-damaged hair and the long process can be quite discouraging. You may love your natural curls but it's hard to resist an occasional flat ironed straight hair or blow out and there is only so much a curl treatment can do.
Healthy hair is about keeping balance and restoring your heat-damaged natural hair, below are changes in your natural hair routine, and coupled with patience and diligence, you are going to get your curls popping again.
Hair Heat Damage Explained
Heat damage occurs when excess heat is used on hair and it results in stretched, elastic-less and straightened hair, it also exaggerates the appearance of split ends and makes it harder to lie flat, this can ruin the appearance of your curls and styling can be quite difficult in this stage.
Straightening natural hair with heat tools can be done but not when you already have major hair problems, this could cause further damages however hat damage can be reversed if it's not too severe.
How to Repair Heat Damaged Natural Hair
Heat damaged natural hair is the worst nightmare of every naturalist and the fact is if you use to high heat for a prolonged time, heat damage is unavoidable and it can be frustrating when you curl refuse to revert to its natural texture, some natural remedy can help hide the effect of the damages but below are simple hair care routine you need to adopt.
1. Stay Away From Heat
Time to take a long long break from heat, curly hair is extremely fragile and the more you continue to use high heat on it, the more irreparable damage that is caused. Staying away from heat is the next obvious step to take after discovering your natural hair is heat damaged, but the blow dryer down and instead air dry. You should try twisting and braiding for curl definition.
2. Clarify Your Hair Without Using Shampoo
Bragg Organic Apple Cider Vinegar With the Mother– USDA Certified Organic – Raw, Unfiltered All Natural Ingredients, 16 ounce, 2 Pack
BRAGG APPLE CIDER VINEGAR: The Bragg ACV Vinegar is made from organically grown apples, and offers various health benefits. To easily incorporate ACV into your diet, you can take a daily 2 oz shot, pour it over your salad, drink in a morning elixir with water and lemon, or add it to your hot tea.

ORGANIC INGREDIENTS: The Bragg ACV is raw, unfiltered, and crafted from organically grown apples. It is USDA certified organic, Non-GMO Verified, and Kosher certified.

MOTHER OF VINEGAR: The 'Mother' consists of strands of proteins, enzymes, and friendly bacteria that give the product its murky appearance. The 'Mother' is used for its natural cleansing qualities.
Prices pulled from the Amazon Product Advertising API on:
Product prices and availability are accurate as of the date/time indicated and are subject to change. Any price and availability information displayed on [relevant Amazon Site(s), as applicable] at the time of purchase will apply to the purchase of this product.
Clarifying your hair without shampoo could be the answer to restoring your curls, shampooing every day is not good for your natural hair texture regardless of how kinky it is as it locks out moisture which is mostly needed by curl hair.
We recommend using baking soda for healthy cleaning or apple cider vinegar, which is a great natural ingredient for cleaning your scalp on your off day, this helps clean your scalp of any build-up so that you are ready to moisturize.
3. Give Your Hair Protein Treatment/Hair Mask
You need a protein treatment for your natural hair and even though you can't undo the whole damage with protein treatment or hair mask, it helps smoothen and straighten your heat-damaged hair cuticles to lock in moisture.
The use of protein treatment strengthens your damaged hair inside out, you can make a protein treatment for natural hair with natural ingredients like egg, avocado, coconut oil, or yogurt.
4. Wear A Protective Style
A protective style will prevent you from manipulating your hair as the less manipulation then the less likely is it to break.
There are lots of protective styles for natural hair to try, wear low manipulation hairstyles like a twist or invest in wigs, weapons, or crochet braids. You should avoid changing your hairstyle daily or pulling your hair back to prevent breakage and keep your natural hair curls in their state.
5. (For Severe Cases) Cut Your Ties With The Damage
For severe heat-damaged natural hair, you might have to cut your hair to restore your natural curl, after trying the tips listed above and there are no traces of your curls popping, there is nothing else to do except to cut your hair.
Many do dread the big chop but before you scream at the idea of it, your hair will grow back quickly as there is no damaged hair weighing it down and you get to start from scratch with healthier and shiny curls.
How long does it take for the curl pattern to come back after heat damage?
Your curl pattern is likely to bounce back after two to three years of following the right hair care routine and avoiding heat tools however this does not mean that your curls do not have more growing to do and you do still have to keep up with regular trims but two to three years is the benchmark to get your curls popping again after heat damage.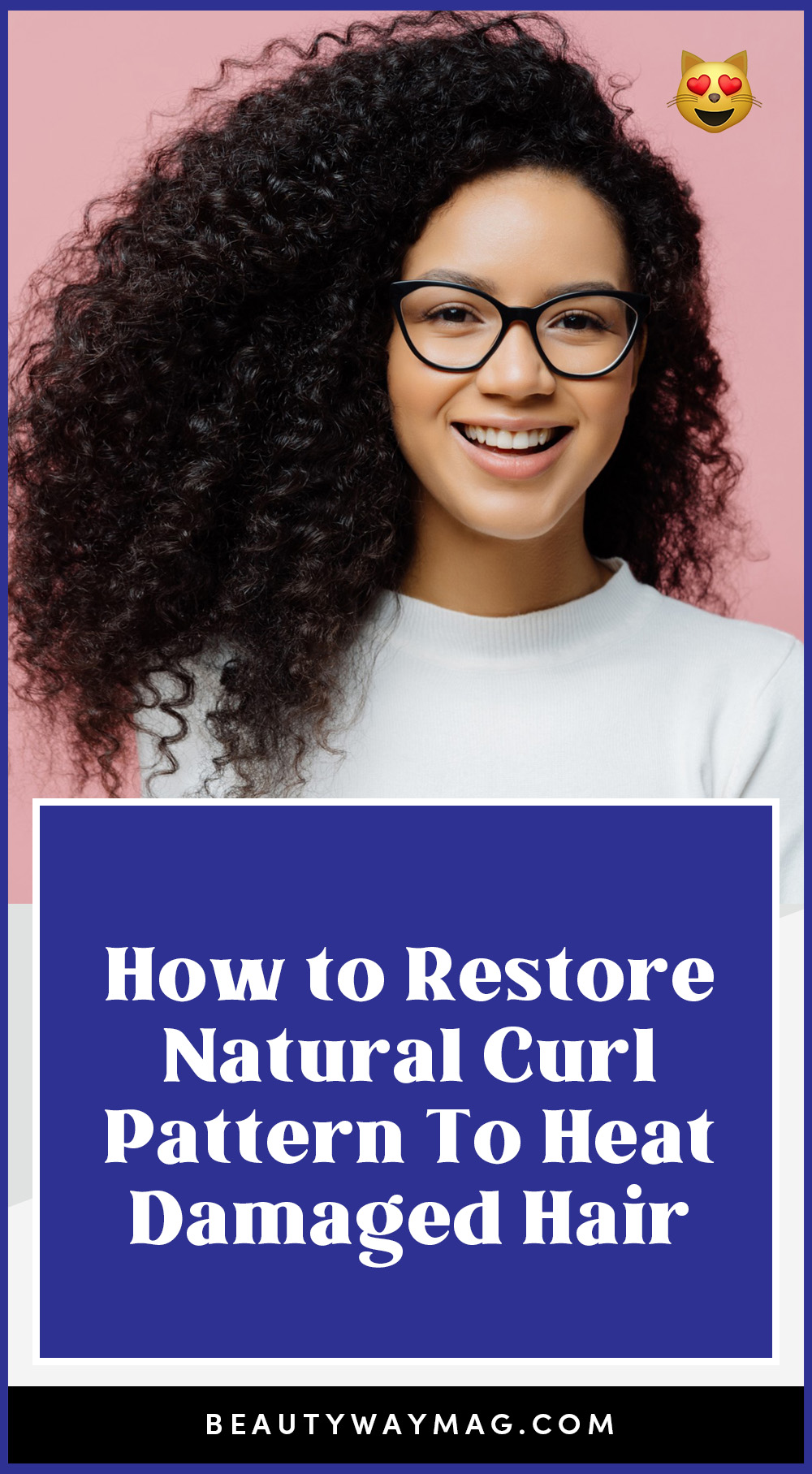 In Conclusion
You need to give your hair moisture daily and even more important if you are transitioning from heat damaged to healthy hair, using a water-based product like alow vera is a great method to get moisture into your hair and changing your hairstyle to a less manipulating one like wash and go will also help you get it wet more often.
You should also do regular deep conditioning to provide deep hydration.