No, Pantene shampoo is not bad for your hair, it is in fact perfect for the hair. In the science part of the cosmetic business, it is regarded to be among the best shampoo formulas. However, Pantene shampoo may not be suitable for all hair types, textures, conditions, and colors.  
Influence is a great thing. Many of us purchase products like shampoos based on recommendations from reputable beauty resources like BeautyWayMag, our friends, neighbors, sisters, family, or just anyone who can convince us.
While it is not bad to use products based on recommendation, it can sometimes be misleading, you may find out that whoever is talking to you about a product may be giving you their personal opinion and not exactly the truth.
This has been the case for so many people, especially in the hair care world.
In almost every salon you go to, there is always an argument raised about the use of Pantene shampoo.
What is surprising is that majority are always on the side that Pantene shampoo is bad for your hair and it almost feels like stylists are putting in extra work to convince everyone who walks into their salon that Pantene shampoo is dangerous for the hair.
We are aware that there is someone out there who is confused and wants to know the truth about Pantene shampoo and with so many stories of woe concerning it, social media is not the right place to get such information now. This is why we have decided to help you with the truth about Pantene shampoo.
[NEW]
OGX Biotin Shampoo For Hair Growth
: Will It Work?
What Is Pantene Shampoo? 
Pantene is the name given to a brand of hair care products. It is owned by P&G (Procter&Gamble). The product's first line was first produced in 1945 by Hoffman-La Roche and then it was later on purchased by P&G in 1985 and ever since Pantene shampoo has not stopped gracing our world.
Before we go right into answering the question, let us find out what a good shampoo is, and what it does to the hair. This will help us judge Pantene shampoo properly.
Benefits Of Using A Good Shampoo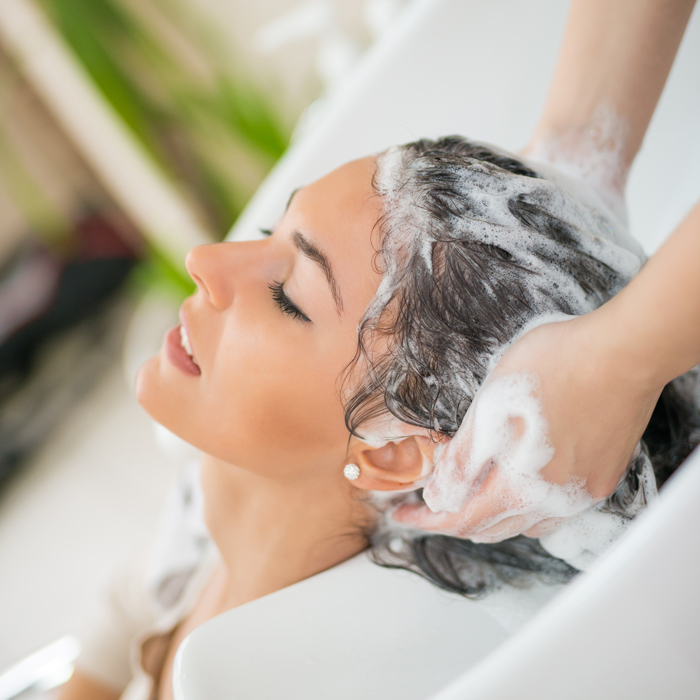 1. Cleans The Hair
Using water and just any soap may not be able to dissolve and remove the dirt from the hair. The shampoo contains important ingredients and its work is to dissolve dirt and oily substances. And this leaves the hair clean and fresh.
2. Treatment Of Scalp
The use of shampoo is very important to the condition of the scalp. An unhealthy scalp equals unhealthy hair. The shampoo is filled with ingredients that can help improve the condition of the scalp. Shampoos are designed to get rid of some infections or treat some scalp conditions e.g. dandruff.
3. Hair Loss
One of the many importance of shampoo is that it can improve hair condition and put a stop to hair thinning or hair loss. If you also have colored hair, the use of great color depositing shampoos is advised.
4. Treatment For Oily Hair
If you have oily hair, then you will agree with me that the trouble can be tiring. Using shampoo for your hair can help you clean up excess oil and dirt in your hair. There is a special shampoo made with this effect.
These and more are the benefit of a good shampoo. Pantene shampoo contains an ingredient that fosters all of these. An example is vitamin B5, Vitamin B5 improves the health of the hair and it is one of the ingredients in Pantene shampoo. What then is the problem?
Prices pulled from the Amazon Product Advertising API on:
Product prices and availability are accurate as of the date/time indicated and are subject to change. Any price and availability information displayed on [relevant Amazon Site(s), as applicable] at the time of purchase will apply to the purchase of this product.
Why Do People Say Pantene Shampoo Is Bad? 
The complaint many people have against Pantene shampoo is from the ingredients.
Pantene contains water, sodium lauryl sulfate, Glycol Distearate, Dimethicone, Cocamidopropyl Betaine, Sodium Citrate, and many higher sounding ingredients. The biggest concern for many people is Dimethicone.
Dimethicone is a silicon-based polymer, it makes the hair smooth, and super shiny. However, for the wrong hair type, dimethicone leads to wax build-up, leaves the hair sticky and brittle. And this is where the issue lies.
Is Pantene Shampoo Bad For Your Hair? 
No! Pantene shampoo is not bad for your hair, it is a very good shampoo product, it is also regarded as one of the best shampoo formulas there is. However, your hair type, texture, color, and condition can determine what is good and not good for you.
People whose hair type matches Pantene, have results of how beautiful the shampoo leaves their hair, however, the story is not the same for people with other hair types. Pantene shampoo is not a one-size-fits-all product. 
Final Thoughts
It all leads us back to knowing our hair type. Understanding your hair type will save you from the trouble of trying out too many products. It is also important to check the ingredients of whatever beauty/hair products you are purchasing. If you are unsure about what works for you, you can purchase a small amount and perform a patch test.
You can also dilute the shampoo with water, this will reduce the exposure of the cleansing agent to your hair.
Read these next: