Is aloe vera good for the hair? Aloe vera is that plant everyone has something good to talk about. If you've never heard of the wonders of aloe vera, then you probably are not living on earth.
Aloe vera is known and has been used for many years back, for its healing properties. It comes in a gel-like substance, wrapped in thick leaves. It is rich in vitamins, fatty acids, minerals, and other nutrients, which makes it useful for a lot of things. It also has antimicrobial and inflammatory properties.
Over time, aloe vera has been used to treat skin issues, wounds, and for skincare generally. However, it has been found that aloe vera also has hair benefits as it does for the skin.
With a pH that is similar to that of natural hair, a high water content, and over 75 nutrients in the aloe vera gel, including copper, zinc, and amino acids, which are helpful to the hair, there is no doubt that it is going to be beneficial to the hair, and although some cosmetics and pharmaceutical products claim to have aloe vera in them, it is not so effective as when applied topically.
What Are The Benefits of Using Aloe Vera For Hair?
1. Strengthens Hair Strands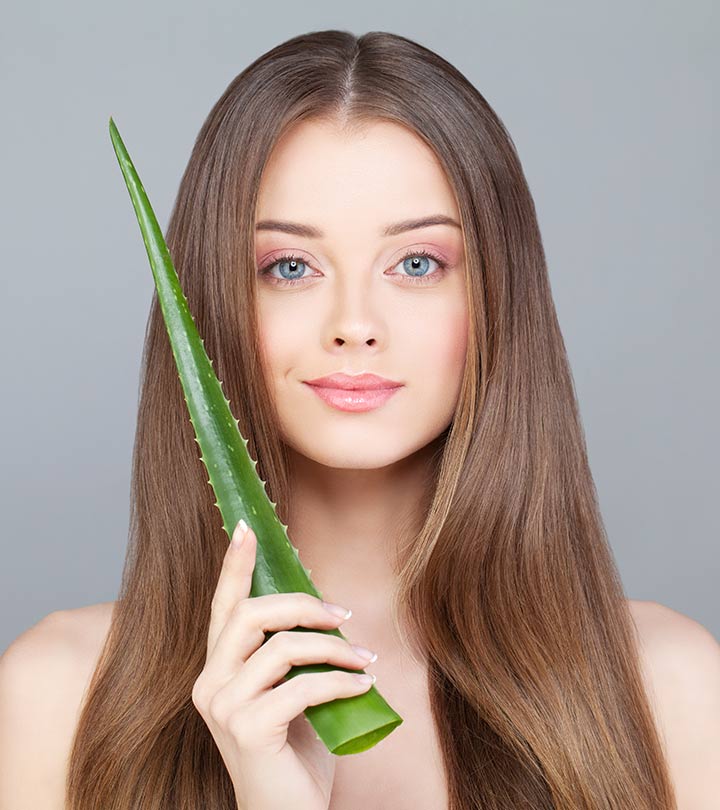 There are certain vitamins, required for hair growth and strength. Aloe vera contains vitamin A, B12, C, E, and folic acid, all of these make the hair grow stronger and shiny. It also keeps the hair from falling out.
2. Aloe Vera Helps Cleanse Oil
Aloe vera cleanses the hair properly, getting rid of extra oil and residues from hair products, unlike chemical products, aloe vera doesn't hurt the hair strand, while it does its cleaning.
3. Aloe Vera Helps With Hair Growth
Although there is no scientific proof on aloe vera for hair growth, there are people who have made claims that applying aloe vera topically to their hair, has boosted their hair growth.
4. Fixes itchy scalp
Dry, itchy, and flaky scalp is usually caused by a fungus infection, which usually results in dandruff. Applying aloe vera to the hair has been found to treat combat this infection and in turn, treat dandruff. This is made possible because aloe vera contains anti-inflammatory properties.
How to use aloe vera for hair
Use Aloe Vera As Hair Detangler
cut the aloe vera into two, take out the gel and strain it with a mesh strainer, and pour the liquid into a spray bottle.
Divide your hair into 4 -5 sections, spray the aloe vera juice into each section, generously.
With the use of a comb or detangling brush, comb out each strand and untangle the knots
Leave it on for a minimum of 30 minutes and wash it out.
No time to get this done? Check out a list of the best detanglers to buy right now.
Use Aloe Vera As Pre-Poo
Divide one aloe vera into two and scoop out the gel.
Divide your hair into sections and rub the gel to your hair, make sure it goes through every part of your hair and scalp.
You can add few drops of castor oil, to keep the moisture locked in.
Leave it on for 30 minutes or more, and wash off.
Use Aloe Vera As Hair mask
Take out the gel from the plant and place it in a blender or food processor
Add few drops of olive oil or any other carrier oil.
Also, add castor oil into the mix and blend.
Sieve the mixture and pour the juice into a bottle.
Apply the mixture to your hair and work it with a comb or with your hands.
Leave on for 30 minutes and wash off.
Aloe Vera Good For Hair? FAQ
Can I use aloe vera on my hair every day? 
The number of times you use aloe vera on your hair is dependent on what you want to achieve, however, it is safe, to use aloe-vera on your hair every day especially if your hair is dry or brittle. You can make use of the juice or liquid form, for easy access.
Can I use aloe vera as a leave-in conditioner?
Yes! you can use aloe vera as a leave-in conditioner. Although aloe vera is usually included in some hair care products, it can be applied to the hair topically, it is even more effective this way.
Can aloe vera regrow hair loss? 
Although there are no scientific claims on the effect of aloe vera to regrow hair, however, aloe vera is rich in proteolytic enzymes, which is known to heal and repair cells that are damaged in the scalp, when these cells are repaired, they make the hair follicles healthy and encourage hair growth.
What are the side effects of using aloe vera?
Aloe vera is amazing, however, it can cause irritation or side effects for some people. If you find that you have a rash, after using aloe vera, then you should discontinue it and consult your doctor.
Final thoughts 
Aloe vera is not just great for hair, but also for skincare and medicinal purposes. You can get your aloe vera gel from pharmaceutical stores or you can get it directly from the plant. Aloe vera in products is good, however, the most effective way to use aloe vera is when it is applied right from the plant.
More beauty guides: