What is aloe vera oil good for? Aloe vera oil is definitely good for lots of things and people are often confused on if this oil can be used just like its gel. Aloe vera oil is derived from the leaf. Keep in mind that you can't get aloe vera oil directly from the plant.
Aloe vera oil is created by combining aloe vera gel with a carrier oil. To obtain a good aloe vera oil, you can mix any of your favorite carrier oil such as jojoba oil, coconut oil, or castor oil.
You can get aloe vera gel oil at home yourself, however, the frequently asked questions are what are the benefits of this oil and how to make it.
Aloe vera plant generally is good for lots of things and it is quite affordable or you can have it planted in your garden. Your hair and skin get to benefit a lot from aloe vera oil and combining it with a good carrier oil makes it more effective (1).
Due to the moisturizing benefits of aloe vera oil, it has gained popularity all over the world for all hair and skin types. Research has shown aloe vera to contain compounds that can help alleviate some hair and skin conditions (2). Hence, this article contains the benefits of aloe vera oil, how to make and use it.
How To Make Aloe Vera Oil
Aloe vera is a really great and beneficial plant but it doesn't produce oil directly itself. The same method of getting oil from other such as olive oil can't be applied to aloe vera. To make aloe vera oil, you will need coconut oil. One of the easiest ways to make use of aloe vera is making use of the aloe vera oil and this can be prepared at home (3).
Ingredients:
Aloe vera plant
Coconut oil
Directions:
Cut the sharp thorns from the sides of the aloe vera plant away and cut the lead open from the top to scoop out the aloe vera gel. If you don't have the plant, get natural aloe vera gel from the market.
Mix some locally milled coconut oil with the scopped aloe gel in a pan to boil and keep stirring
The moisture from the gel will start drying up within 30 minutes, after the moisture is dried up, only brown coloured aloe is left in the pan.
Let the oil cool down and strain to be stored in a dry bottle.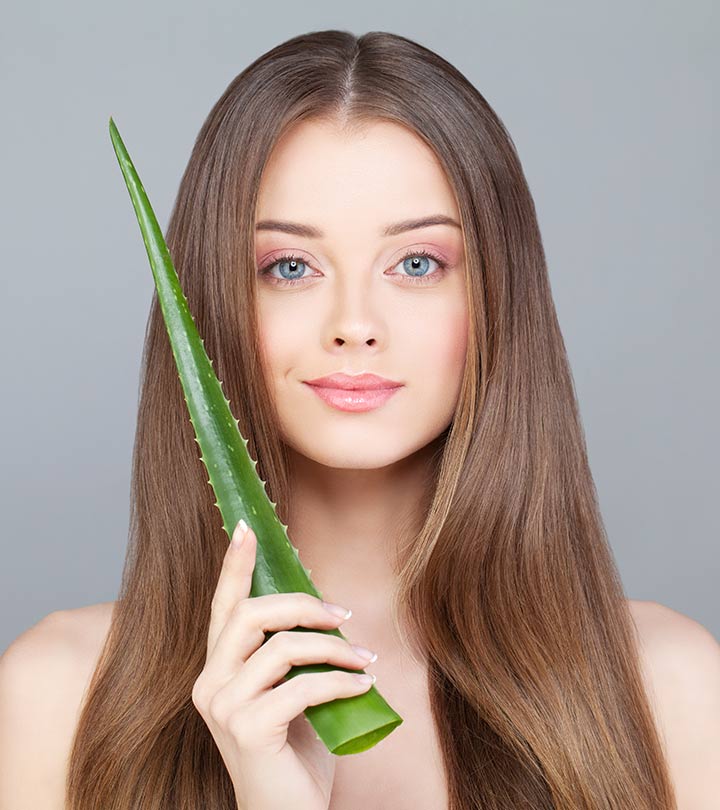 Benefits Of Aloe Vera Oil On Hair And Skin
Aloe vera has been used for medicinal purposes in many countries for centuries and it is one of the easiest and affordable ways to care for your hair and skin. Growing aloe vera at home can be quite great, it comes in handy for treating skin disease, burn injuries, and digestive disorders.
If you are planning on using aloe vera oil for your skin and hair, here are some of the benefits you are sure to derive from it.
1. Reduces Hair Fall
Hair fall is often considered unavoidable however with the right care, this can be put at bay. Aloe vera oil contains minerals, vitamins, and high potency of protein that can help nourish the hair follicles thereby reducing hair fall considerably. To reduce breakage, aloe vera oil can be used to cleanse your scalp and help maintain a healthy strand.
2. Help Rejuvanates Hair And Skin Cells
Aloe vera oil and coconut oil are both rich in vitamins and minerals hence using them produces your skin and hair enough moisture to rejuvenate cells. Aloe oil is not just used for treating hair loss but helps restores damaged hair follicles. Those who are suffering from dry skin and hair can use aloe vera oil to improve their strand's health (4).
3. Skin Lightening Agent
Aloe vera oil contains a compound called aloin which has been shown to naturally lightening skin. Apply aloe vera oil to pigmented areas before bed and combining with the extra virgin coconut oil in it, this makes it work faster in cleansing your skin of dirt and impurities.
The topical application blocks the production of melanin thereby lighten your skin and it may help reduce dark spots as well.
4. Moisturizes Your Hair And Skin
Aloe vera oil can be used as a moisturizer on skin and hair. A mixture of aloe vera oil and olive oil has been proven to help you retain moisture in your and skin. There are lots of studies that also prove that this can be used as a mosquito repellent. You can mix aloe vera oil with olive oil to be applied on your skin however yous should ensure your skin is not sensitive to this mixture by doing a patch test.
5. Treats Itchy Scalp And Dandruff
One of the most common uses of aloe vera oil for hair is treating itchy scalp and dandruff. This oil has high properties that help remove dead cells that cause dandruff from your scalp. Aloe vera oil can be used as a natural cleanser for getting rid of the dirt that accumulates on your scalp and it absorbs really quickly (5).
Prices pulled from the Amazon Product Advertising API on:
Product prices and availability are accurate as of the date/time indicated and are subject to change. Any price and availability information displayed on [relevant Amazon Site(s), as applicable] at the time of purchase will apply to the purchase of this product.
6. Anti Acne
A combination of aloe vera oil and essential oils have also been found to help clear acne. You can use pure aloe vera gel or oil and apply this in place of a cleanser to get rid of acne and its scars. Aloe vera won't stop acne from developing but making a mixture of aloe vera oil and jojoba oil can decrease sebum production which in turn reduces the production of acne-causing bacteria.
How To Use Aloe Vera Oil
There are varieties of ways aloe vera oil can be included in your beauty routine. This oil type is best used with a carrier oil and it can be used the same way the gel is used. Aloe oil can be applied directly to your skin if you are not sensitive to it but if you are then it is best added to your homemade lotions or moisturizers.
If you have acne-prone skin, the best way to make use of aloe oil is to add carrier oil such as sunflower oil, jojoba oil in place of coconut oil. This mixture hydrates the skin without causing any irritation.
It can also be applied directly to your scalp to relieve dandruff and improve the texture of your hair. You should also try using aloe oil in your homemade conditioner to moisturize your hair. If you prefer to have it used on its, massage gentle into your scalp, leave it for few minutes before rinsing.
FAQs
Can I leave aloe vera oil in my hair?
You can definitely leave aloe vera in your hair overnight to make it more effective. Massage warm aloe vera oil into your hair and leave for 3 to 4 hours before washing with shampoo. It is totally safe to leave aloe vera oil in your hair overnight.
Do you have to wash aloe vera oil out of your hair?
To find out if aloe vera can be used on your hair or not, you have to use it first. You may notice a film on your hair after using this aloe vera oil and this is why you need to have it washed out of your hair completely. The residue from using aloe vera oil can irritate your scalp hence it should be washed.
Does aloe vera oil promote hair growth?
Aloe vera plant has been part of a healthy hair growth routine for a very long time, however, to grow your hair with aloe vera gel, it is best to have it mixed with castor oil in place of coconut oil. Castor oil and aloe vera gel add volume to your hair, reduce breakage and split ends as well.
Can we apply aloe vera to hair directly?
You can definitely apply aloe vera directly to your hair and scalp. Aloe vera oil and gel can be used directly on the scalp to hydrate your hair and it is also a great way to enhance your hair texture and structure.
Can you apply aloe vera oil to wet or dry hair?
Aloe vera oil can be used on both wet and dry hair. It can be applied as a pre-poo treatment on dry damaged hair or used as a moisturizer after washing and conditioning your hair. Using on either wet or dry hair doesn't matter with aloe vera oil as your hair is still going to be properly hydrated.
Are there any side effects of aloe vera on hair?
Aloe vera won't hurt your hair strand as long as your scalp is not sensitive to it. It is a gentle and natural remedy for moisturizing your hair. Aloe vera leaves contain latex and which can be found underneath the plant's skin and some skin types are allergic to this. Aloe vera can cause skin rashes on skins that are allergic to it, if this is noticed, discontinue the use immediately.
How long do you leave coconut oil and aloe vera in your hair?
Leave coconut oil and aloe vera mixture in your hair for an hour before washing off. For a simple and effective hair mask, combine aloe vera gel with coconut oil and wash after an hour or two.
In Summary
Aloe vera oil will do wonders for your hair and skin without side effects. To make simple aloe vera oil that is effective, you can combine aloe vera gel with other essential oil such as jojoba oil, olive oil, castor oil, and other essential oils for the skin and hair. With its numerous benefits for skin and hair, aloe vera oil is the perfect choice in any homemade cosmetics remedy.
Furthermore, aloe vera oil is mostly water which allows it to hydrate your skin and hair without leaving any greasy feeling.
Read next: The Best Oils For Hair Growth