Blue hair highlights happen to be the new fun way to dye your hair. However, there are a couple of maintaining tips you need to keep in mind. Highlighting your hair is one of the ways you can add some colours to your hair without switching it all up.
Besides the traditional caramel and blonde highlights, blue is another interesting highlight you are going to love. Dying your hair blue takes quite a lot's of courage hence you need to make sure you get it right.
The popularity of blue highlights has recently grown and this is because of how cool and versatile the colour is. Before taking the plunge of dying your hair blue, you need to be sure of the shade of blue you want first.
To also make sure you have this done right if you have not done this before or you are a little sceptical about how it will turn out then we recommend going to a salon with a highly skilled hairstylist to give you the perfect shade of blue you want.
Getting blue highlights is not as complicated as you think. If you are thinking about changing something about your hair or need some colour to make it pop then a blue highlight might be great. So, below are things you should know before taking the plunge.
How To Get Blue Colour Highlights On Hair
Although it is recommended that you see a professional hairstylist to help get the ideal shade of blue you want. But If you have decided that you want blue colour hair highlights and you need to do it on your own.
You'll Need:
Hair coloring kit
Hair Lightening Kit
Foil.
After making sure your kits are ready for the highlight, you need to decide what part of your hair you want to dye blue. Lighten the part you want to dye blue and apply hair dye on each section completely before wrapping it with foil. Ensure to follow the products manual instruction regarding washing and rinsing. Most products do not need you bleaching your hair first hence follow the instructions on the product.
If you are not sure about the procedure or you don't want to risk it, a hairstylist might be the best option.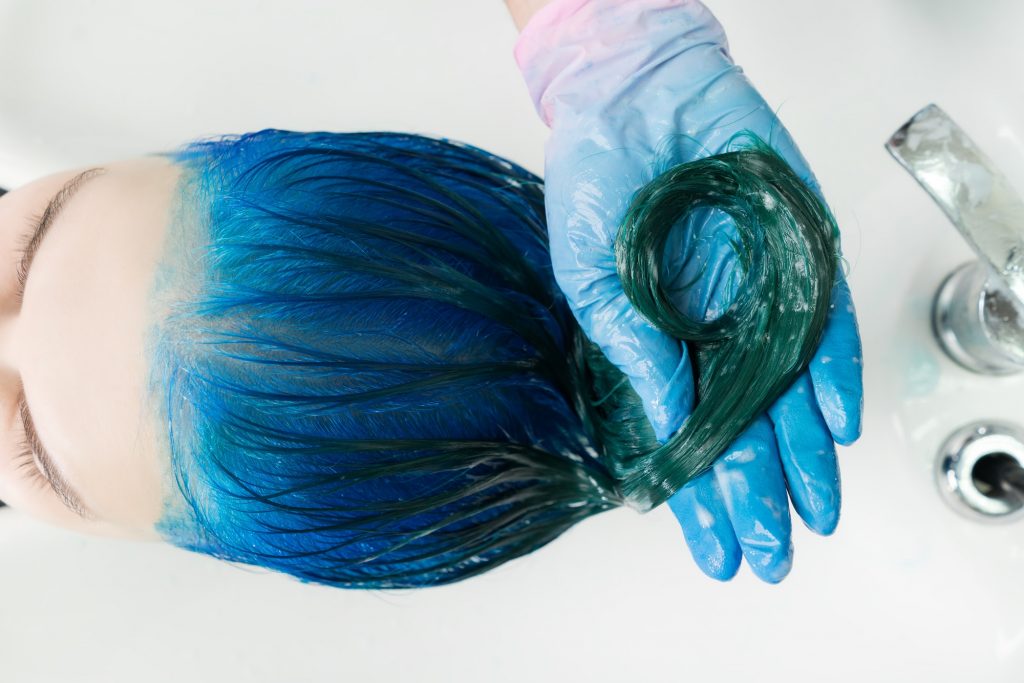 How Long Does Blue Hair Highlights Last?
Dying your hair blue is really fun but we must admit this does come with its challenges as well. If you have your hair highlighted with semi-permanent dye then it will only last for 5 to 7 washes. However, this can stay in longer depending on the quality of your hair wash product and often you wash your hair. How you can for your hair is also going to determine how fast the blue fades away.
If your hair is dyed permanently then the colour is likely to last for a month and a half and of course, how long it lasts also depends on maintenance. Even with hair colour-protecting products, your hair is going to start growing new roots in a month and a half and it can end up fading to teal green or you can end up with blue hair with brown roots.
Blue Hair Highlight Care Tips
Blue hair colour fading is inevitable but you can definitely make it last longer with the right maintenance tips. Highlighted blue hair is really amazing but it is important to find ways to make this hair colour last longer and also find ways to prevent it from flooding your bathtub every time you wash your hair.
To get the most from your blue highlight hair, here are the care tips you need to know.
To make your blue hair hiair highlight last longer, avoid washing regularly.
Use only sulphate free shampoos.
Use lukewarm water or cold water to wash your hair instead of hot water.
Avoid heat styling as this will strip your hair of the dye faster.
After coloring, wait at least 72 hours before washing hair with shampoo.
Don't leave shampoo in your hair for too long and best to use blue depositing shampoo to keep the colour in longer.
Invest in a nourishing conditioner.
Avoid Chlorine.
Choose hair products that are designed to care for colour treated hair types.
Can I dye my hair blue without bleaching it first?
Dying your hair without bleaching it first is likely to ruin your hair structure. However, to make sure your hair stays healthy with bleaching, you should have it done by a professional who knows the best procedure to get it done without it damaging your hair. If you are looking to dye your hair blue without bleaching then there are a wide range of dyes that do not require you to bleach your hair first.
Furthermore, if you are trying to just get a darker tone of blue then there is no need to bleach your hair first. You can also just go blonde for the blue highlight to be obvious without having to bleach your hair.
Bleaching tends to zap your hair out of moisture which is why many try to avoid it when dying hair blue, but some products are formulated to take care of bleached hair.
Final Thoughts
Blue hair highlights are not just a way to have fun and make a statement with your hair but it is a colour that looks great on any skin tone. Unfortunately, there is no permanent hair colourant for blue, it only comes with semi-permanent dye though so if you want a colour that lasts longer then you might want to consider other colours.
You should also keep in mind that dying your hair to the perfect shade, washing, bleaching, drying takes time so you might want to have the whole day booked for this.