Want to amp up your hair colour? The oil slick hair is the subtle way of wearing the rainbow colour in your hair especially if you are a brunette then you can think of updating your hair with colours such as green, blue and pinks all throughout your locks.
Oil slick hair is the newest colour trend and when it comes to choosing a shade, the trick is to ask for colours that compliment your skin tone and base hair colour.
The result of oil slick hair is a swirly mess of inky but stunning placed jewel tones such as violet, purple, emerald and sometimes a touch of magenta. You can see how the combinations of this colour really do look like an oil spill.
While oil slick hair can be worn by anyone, it looks especially brilliant on neutral and warm complexion given that it is often created with rich jewel tones. Nevertheless, if you are looking to switch up your look, here are 7 oil slick hair trend examples you can wear.
1. Golden Oil Slick Hair
Oil slick hair is particularly more pretty when paired with waves and above is the perfect shoulder length oil slick hair to try. The oil slick hair takes on a bright rainbow colour but with gold highlights and this will look ultra stunning on anyone and keep in mind that maintaining can be higher than traditional oil slick hair.
2. Strawberry Blonde Oil Slick Hair
Just because oil slick works on darker shades of colours does not mean blondes can still get them. Above is a simple yet beautiful way for blondes to get oil slick hair. This is a great colour for any season and brunettes are also known to try this out.
3. Red Hair oily Slick
If you prefer your oil slick hair bold and brighter then here is what you should get your colourist to make. the main colours in oil slick are usually blue, green and purple but if you want something bold then red can be the perfect clour to compliment it.
4. Bob On Oil Slick Hair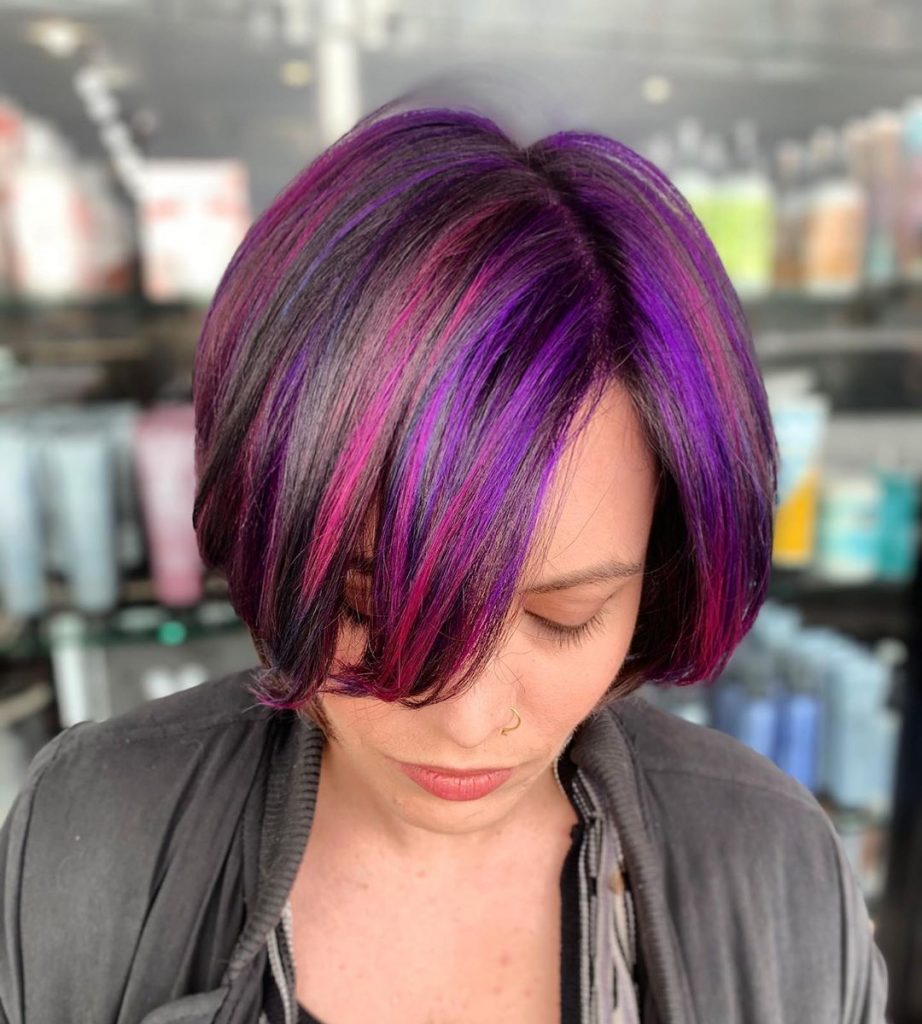 Rocking a bob with oil slick hair is simple enough but stylish and this opened up many options when it comes to the perfect colour to try. When the right technique is used when making oil slick hair, any colour would actually turn out great.
5. Oil Slick With Messy Highlights
If you want to go beyond basic slick oil hair and create something with stunning gleam then you can touch all the colours but not too bright and oil slick hair look especially great when paired with waves.
6. Cool Toned Oil Slick Hair
Wavy curls and cool-toned blue shade and green are magnificent blends together. The beauty of oil slick is that you can keep a cool that is easy to maintain and while the full rainbow for oil slick is glorious, you can easily single out the cool tones to be used as in the case above.
7. Oil Slick Ombre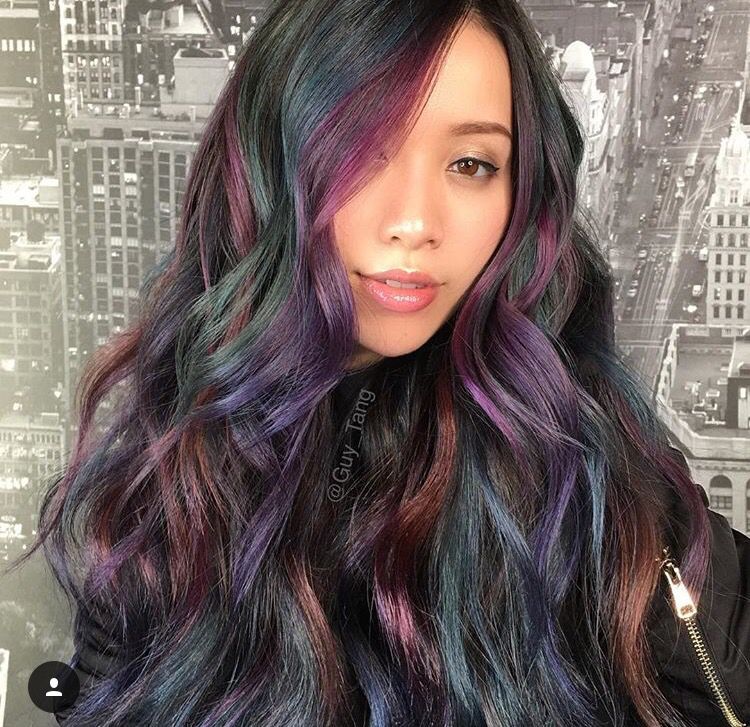 The oil slick has opened a lot of creative variations of stuff you can do to your hair. This look features beautifully blended ombre, brown and purple highlight and it is surely going to make a stunning gleam when the hair is hit by direct light. Oil slick hair don't have to be full rainbow colours, you can opt-in for specific colours as done above.
Final Thoughts
The oil slick hair trend is a worthy way to transform your hair if you are craving colours and not ready to dye your hair from roots to the tip.
The oil slick hairstyle is all about looking natural with your hair but while you make the colours pop. This trend actually works better for darker hair to help amplify the darkness and bring it to life hence the use of vibrant rainbow colors.