One of the fashion trends we want to walk you through embracing is the one about the unending rage for animal print dresses.
From as early as the 18th century, animal skin was converted into clothing for royalty, these days it is simply a representation of their lovely skin patterns on different articles of clothing. 
New clothing ideas always make you raise an eyebrow to observe before jumping on the trend, with animal print dresses we've scourged fashion trends across different platforms and we're definitely giving it a thumbs up, so you should too!
From leopard prints, zebra prints, snake prints, jaguar prints, and crocodile prints to butterfly prints, we've got you covered on the best outfit options to choose from, especially in anticipation of summer when you can rock just about anything.
For our animal lovers, this is a beautiful way to wear what you love with pride knowing that it is merely a beautiful imitation of the lovely skin patterns of your favorite animals, wearing them with pride is simply a show of elegance and sophistication.
16 Animal Print Dresses You'll Love
There is a rich and endless source of options when it comes to animal print dresses to choose from, that's where we come in, we filter through those tons of animal print dress choices and leave you with the very best options to decide on.
Since 2021 there has been a spurt of animal print dresses all over the internet, from models strutting in new designs on the runway to celebrities and social media influencers showing off different designs, if you took an interest in any of the animal print outfits, we have a selection of 16 beautiful animal print dresses you're sure to love.
1. Giovacker women's bodycon snakeskin strapless off-shoulder dress
A lovely sleeveless dress is always a great way to get necks turning, it is attractive and a sleek way to draw attention to your shoulders and arms. This body con snakeskin sleeveless dress is exceptionally beautiful and sexy, especially with the addictive patterns that cover one-half of the dress. This dress is stretchy and comfortable, it can be worn to a party, a dinner date, or a night out at the club with your girls.
2. Mini strapped nude zebra print dress
Nude will always stand out as a perfect color that goes with just about anything, that's why we are convinced that this nude dress will be the perfect pick for you. This mini dress shows off your thighs and if your skin tone is a shade that blends with this shade of nude, you're sure to look your absolute best in this.
The zebra print stands out because it is mixed with nude instead of white, and change, in this case, looks amazing. This dress can be worn to parties, dinner dates, and the club.
3. Romwe women's elegant long sleeve crocodile print body con dress
If your style is elegance that makes it seem as though confidence is oozing through you with every step you take, then this mini long sleeve crocodile print body con dress is the perfect fit for you.
The black color intertwined with the precisely done crocodile print is a match that was specifically made for the wearer to own every space she walks into. This dress is perfect for work dinner hangouts, dinner dates, and a night out partying.
4. Black and white strapped mini zebra print dress
If you stepped into a place in this little beautiful zebra print dress, you would no doubt own the room. The precisely designed zebra stripes and the thin enticing little straps are to die for, these details make the dress dreamy and stunning. It's sure to be comfortable as long as you have it in the right size.
This dress can be worn to parties, cocktails, late-night events, and clubs. 
5. Floerns women's short sleeve color block leopard print tunic dress
Color-blocked dresses are known as dress designs that feature two or more bold colors that ordinarily contradict each other. In this case, the color block dress also has a beautiful leopard print on one half of the dress that makes it unique. This is a pretty and comfortable dress that can be worn for casual outings.
6. Long fitted jaguar print dress with little straps
Jaguar prints are tricky and can be easily mistaken with leopard prints, but still, they stand out beautifully. The drooping neckline is a real stunner, it draws attention to the right places and it is being held up teasingly by tiny straps. It is a fitted yet breathable long dress that flatters and flaunts your curves. This can be worn to work dinners, dinner dates, and parties.
7. Mulisky women's long sleeve tiger print body con dress
You can't possibly come across a tiger print dress this sexy and phenomenal and manage to look away without rewarding yourself with one. The attention to detail and the blend of colors on this beautiful body con long sleeve dress is simply marveling.
This dress is slim-fitted yet elastic so that you feel comfortable with every move you make while having it on. Pair these with some heels and you can rock them at wedding dinners, cocktails, clubbing, or a dinner date.
8. Green angel sleeve midi dress with leopard print and slit
Angel sleeves are so pretty! It's like you have little wings on your arms and it is beyond adorable that these angel sleeves have been paired with a leopard print dress.
This dress changes the game by making the leopard prints in a calming shade of green that is complemented by the teasing slit on one side of the dress. This dress is great for picnics, brunch dates, and casual outings.
9. Soly Hux women's Chinese cheongsam dragon print body con dress
Chinese cheongsam dragon prints do not have to appear on traditional outfits only, this dress makes it possible for you to slay effortlessly with dragon prints and it would be sad to pass on the opportunity to do so.
We especially love the little opening in the front of the dress, that's a little sweet teaser that makes the dress more desirable. The cute slit beneath the dress makes walking easier while showing off your thighs, it's a total win! You can wear this for parties or casual outings.
10. Leopard asymmetric hem long sleeve plunge satin maxi dress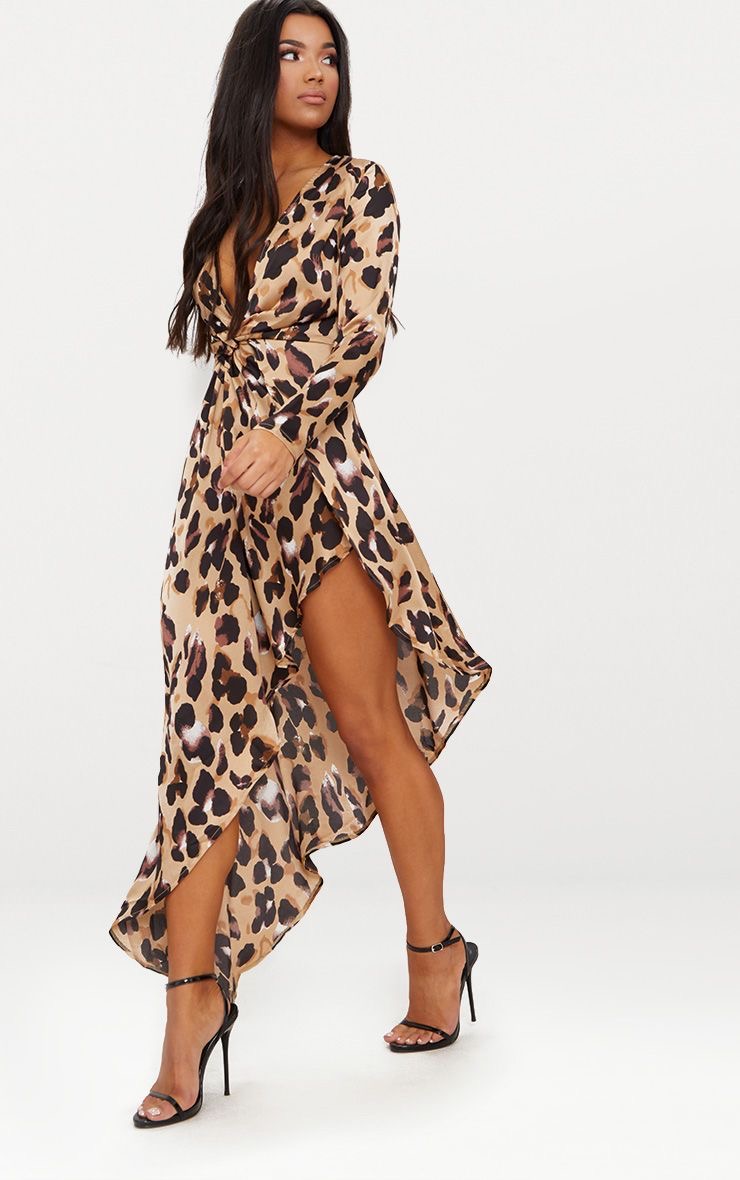 There's no way you're not absolutely falling in love with this leopard print asymmetric hem long sleeve plunge satin maxi dress.
You have to acknowledge the fact that this dress gives off a sexy vibe by flaunting your legs and neckline, yet it manages to look elegant and classy. Pair this dress with heels and you're unstoppable, that's for sure. This dress can be worn to business outings, parties, and dinner dates.
11. Soly Hux women's snakeskin print off shoulder long sleeve midi body con dress
Well, this is a jaw-dropping outfit, we could all agree on that. A snakeskin print dress in red and black is sultry and nothing short of a crowd stunner. The off-shoulder and V neck details added to the dress make it impossible to look away from, it's a bold statement to walk out in this dress and you should get yourself glammed up in it. This can be worn to the club, on nights out, and partying.
12. Spaghetti strap butterfly print maxi dress
Well, this is an extraordinary animal print design, you don't randomly come across a butterfly dress this bold and endearing at first sight. Butterflies are always a great choice as a design, you couldn't possibly go wrong with this strapped maxi dress.
The neckline, pockets, length, and free size of this dress make it breathable and easy to slay in. You can wear this dress to a picnic and other casual outings.
13. Giraffe animal skin crewneck sleeveless dress
It's not every day that you find a giraffe print dress this adorable when searching for animal print dresses, this is a rare and gorgeous little dress that would look great on anyone. This dress has a well-cut-out neckline that gives it a sexy vibe, and it has a high waist design that allows you to show off your legs and flaunt your waistline as well. It can be worn for vacations, strolls, picnics, shopping, or to the beach.
14. Fluorescent green leopard print sling dress 
I know we're all thinking of how hot this dress would look on anyone that dares to try it on, it imitates an animal print of a leopard, and just like it, it's certain to be a killer outfit for any occasion.
You never knew how beautiful fluorescent green would appear on a leopard print until you came across this sling dress so why not try it out? It's mind-blowing. It can be worn to parties, clubs, dinner dates, and a night out.
15. Jaguar animal skin women's short sleeve crewneck long maxi dress
If you're a lover of elegant maxi dresses then we've got you right where you need to be, throwing this lovely dress in a shopping cart. This is a breathable, comfortable, and fashionable jaguar print maxi dress that is sure to make you stand out.
It is versatile and has a loose fitting that makes it perfect for all body types. It can be worn to beaches, picnics, brunch dates, and on a vacation tour.
16. Panther animal skin silver sequin strap dress with slit 
Stop staring and get a piece instead, this is definitely a show stopper, the kind you strut into a place with and everybody has to get a look at you.
This dress is made in a panther animal skin design, with sequin material, a V neck that calls attention to your neckline, straps that show off your shoulders, and a slit that flatters your things and legs. It can be worn to a dinner party, dinner date, or club.
Summary
We don't know about you, but we're never falling out of love with animal print dresses after coming across these stunning selections above. 
The fashion trends that keep bringing animal print dresses into light are sure to keep them in the limelight for much longer, especially with the unique and gorgeous designs that are being brought to light every day. 
We're certain that you would find some dresses among the 16 animal print dresses we've provided that would fit your aesthetic perfectly, and we're more than happy to have been of help! Just don't get overwhelmed with all the attention you'll command when you go out looking that beautiful.