We've all watched those wholesome movies where fathers and daughters bond beautifully on their quinceañeras, it's such a beautiful and thoughtful celebration of the relationship that exists between a father and his growing little girl, it makes your heart melt in ways more than one.
While it is only common amongst certain people that have taken it up as an integral part of their culture when you watch one take place, you would wish you could be the center of attraction in a quinceañera and no one can blame you for wishing so. 
Quinceaneras are exciting, the effort and planning that goes into them are commendable and beautiful to see. Every little girl that has had the privilege of being the celebrated person in a quinceanera must have felt like a goddess in her realm, and you would understand why when you see how gorgeous they are made to look and how lovely the entire event is.
We can not possibly give you all the details that are included in the celebration of a quinceanera, but we can tell you all about the lovely dresses that grace the event from time to time, and that's the fun part of it all. 
What is a Quinceanera? 
In countries located in Latin America, the 15th birthday of a girl is celebrated in a grand style according to how their culture dictates, and it is referred to as a quinceañera. The 15th birthday of a girl in these countries is celebrated to mark the official passage of a girl from girlhood to womanhood. It has a religious ceremony, a court of honor, a dance, and the presentation of the gifts. 
 This party or celebration is also to indicate that a girl has become of age, and is mature enough to make certain decisions. It is an important milestone in the life of a girl, and it is marked by a quinceanera. Family, friends, music, good food, dancing, and religion are all merged into this celebration to make it truly amazing as a means to welcome the celebrant to society.
 The father-daughter dance that is done is also meant to be a very memorable moment for the celebrant, it is meant to show the beautiful bond between a father and his daughter and how he is meant to act as an anchor and guardian through the early years of her womanhood that she has just been introduced to.
What To Wear To Your Quinceanera
One of the most important parts of a girl's quinceanera is the beautiful dresses she is adorned with for all stages of the ceremony. The dresses worn for a quinceanera are usually princess-like ball gowns and crowns so that they appear and feel like royalty. Here we've provided 15 gorgeous dresses to choose from for a quinceanera.
1. Engerla Women's Beading Sweetheart Ball Gown
What's more beautiful than a red ball gown that has you feeling like you have the world at your very feet? Nothing. This off-shoulder red dress is a perfect pick to wear to a quinceanera, it is elegant and makes the wearer feel like royalty which is the ultimate goal of any quinceanera dress for the celebrant.
The beaded upper part of this red dress is a beautiful way to accessorize an already perfect dress and make it a hard choice to overlook, you're sure to turn heads up and down an aisle, you walk on while wearing this lovely dress. 
2. Charming Pink Quinceanera Dress
Pink always makes a dress look it's absolute best, with the beautiful designs that grace this charming pink ball gown, it is easy for it to capture your attention at first sight. Every 15-year-old girl still has a thing for the color pink and of course, they can't say no to a gorgeous pink ball gown such as this.
It has a sleek v neck, built-in bra pads, soft and light layering, and a flattering waistline that makes the entire dress nothing short of perfection.
3. Bold Red Off Shoulder Quinceanera Ball Gown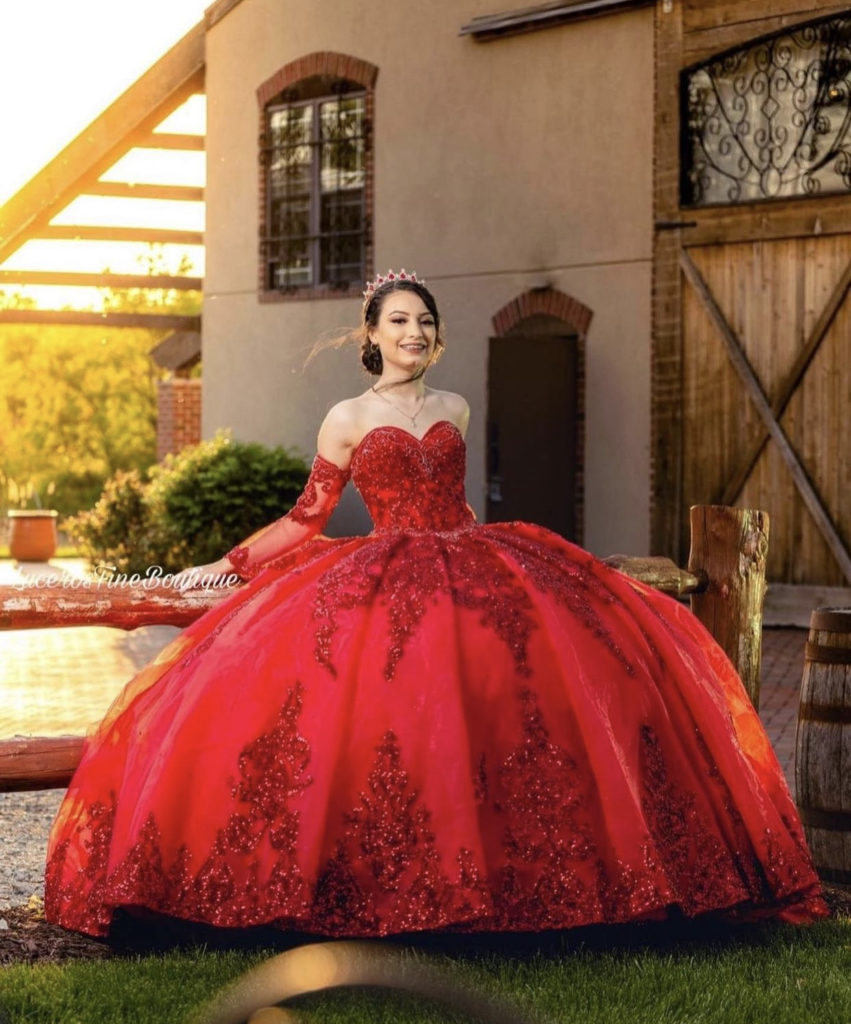 Everyone wants to make an unforgettable entrance for their quinceanera and this bold red off-shoulder ball gown is a perfect way to make that come true. The way the dress hugs your body like it was made for it is worth admiring, the lovely and precise designs and precious glittering stones are also an amazing sight to behold.
It's impossible to overlook the see-through beauties that rest on the arms of the dress, you could never go wrong with this. 
4. Green Double Layered Quinceanera Ball Gown
If you're going for a dress that would make you look and feel like a princess, you can stop looking because we have found you the perfect fit for that description. This green dress is royal and has all it needs to make you a princess on your special day.
It is double layered and has no arms, it is elegant, bold, and beautifully designed to melt hearts. If green happens to be your color, then you're in luck with this beautiful dress.
5. Sequin Designed Sweetheart Quinceanera Ball Gown
This dress is magical, it looks like it houses some sort of fantasy world magic that comes to life when you put it on. The sequin and beads that are sewn beautifully into the dark royal blue ball gown will make every girl feel like she owns the world when she puts it on for her quinceanera.
This dress also has an in-built bra, so you need not worry about how to put on a bra since the dress is without any straps. 
6. Emmani Spaghetti Straps Beaded Embroidery Quinceanera Ball Gown
The stunning gold lace designs that are traced from the straps to the tips of the dress are the highlights of the entire dress. This is also a lovely pick for a quinceanera because it is breathtaking.
The complicated gold designs are lovely on all the several colors which the dress comes in, so no matter what color you decide to go with, you'll look simply amazing. 
7. Graceprom Puffy Crystal Quinceanera Gown
This lovely dress is one fit for a queen, if you want to take the crowd by surprise, you should be considering this unique design for your quinceanera.
It has a beautiful fishnet accessory that rests in a flattering manner on your arms when you put on the dress, it complements the dress and only makes it appear more beautiful. It would be a great choice for any parts of your quinceanera ceremony.
8. Beautifully Studded White Quinceanera Ball Gown 
Can there ever be too many studs? Don't answer that because this dress tells you just why studs make a perfectly lovely dress. The detailed studding of this dress makes it look heavenly.
The talented way in which it accentuates the right curves and the waist of the wearer is simply admirable. Make your dreams of having an extraordinary quinceanera dress come alive by getting a dress such as this. 
9. Sky blue Lace Designed Quinceanera Ball Gown
If Cinderella had a Quinceanera, her fairy godmother would have put her in this exact dress to walk down the aisle. What's better than wearing a Cinderella dress for your quinceanera? It's every girl's dream to strut around looking as perfect as Cinderella did on the night she met the prince and this dress brings that dream to life.
The precise and beautifully done lace designs with precious stones make this dress special and an amazing choice for a quinceanera.
10. Purple Flowery Quinceanera Ball Gown
A pretty dress and some lovely dress? No one could say no to those. This purple gown stands out because of the lovely flowers that are creatively lined up to make the strapped arms, accentuate the waistline of the dress, the ends of the dress, and the torso as well.
The lovely white glitter on the dress also makes it shine beautifully, this is a fine choice if you want to look unique. 
11. Red And White Quinceanera Ball Gown
  Red never ceases to look stunning, and when it is mixed with white it looks like a dress that is out of this world. Paired with pretty flowers and how beautifully the ends of the gown are draped over each other to give off an elegant look.
This dress allows you to feel as beautiful as it looks, and it flatters your body with ease. 
12. Black And Purple Quinceanera Ball Gown
The first thing that holds you in complete awe when you look at this wonderfully made dress is the ruffles that make the entire outfit look so captivating. The flowers on this dress are also embroidered in a very detailed and talented way.
The draped arm over the shoulder is also a unique touch to the dress. This is an iconic design that would be an outstanding choice for a quinceanera. 
13. White And Pink Floral Quinceanera Ball Gown
If you're a fan of beautifully done floral dresses, then it could be you strutting in your quinceanera party in this beautiful white and pink floral quinceanera ball gown.
These flowers are meant to portray the Mexican culture from which the quinceanera celebrations originated, so it is culturally memorable just as it is beautiful. 
14. Rose Quinceanera Ball Gown
This dress is made in a rose quartz color with gold sprinkled all over it to make it an incredibly stunning dress for your quinceanera. The beautiful floral designs that it characterizes are meant to bring to life the fantasies of flowers and fairies in an enchanted forest.
This is a delicate yet wonderfully made ball gown that will certainly enchant people as you walk past them in it.
15. Jade Green Quinceanera Ball Gown
This dress is a stunner just like the others, but the fact that green embodies the life of all forms brings this dress to life like no other. The gold sparkles that are scattered across the dress make the wearer look like a fairy that can grant wishes in a snap of her fingers.
This dress is truly one that makes your heart squeeze with love and awe from how incredibly beautiful it appears. You should stun the audience with this lovely dress on your quinceanera. 
Summary
 Although many other preparations make a quinceanera what it is, the dress is the most important thing that makes it all come to life at the end of the day. That's why we've taken the liberty of finding you the best of the best when it comes to quinceanera dresses.
You have a couple of dress changes to make during a quinceanera, so you can pick more than one dress amongst these and make your day a blast since it happens just once in a lifetime, go ahead and make it count!