We all want effortlessly glowing skin. No work, just beautiful, soft, shiny skin. We understand that taking 20 minutes out of the hours in the day to dedicate to the skin can be hard. with so many activities on our to-do, visiting the spa or the salon to pamper your skin can seem demanding.
Some of us even wish our skin can take care of itself. However hard it may be to take care of your skin, what you do not know is that the skin needs regular cleaning to stay beautiful and most especially glowing. It's time you took your skin seriously and pamper.
Before you begin to worry about the number of hours and money you'll spend at the spa, there are basic cleansing routine suggestions for you to achieve glowing skin. Visiting the spa or salon is good and recommended, however, it doesn't substitute daily cleansing, daily skin cleansing will help you maintain the glowing skin that you desire, keeps your skin soft and naturally nourished.
Knowing Your Skin Type
While preparing for your daily skin cleansing routine, you need to know what your skin type is. This will save you from a lot of trouble, like using products and not seeing results, the truth is, some of these cleansers, skin wash, and other skincare products, are made with a particular skin type in mind, using another skin type product for your skin may cause more harm than good to your skin.
Note: the skin cleansing routine for glowing skin in this article is suitable for all skin types.
Related read: Will Taking Collagen Help With Cellulite?
A Simple 6-Step Cleansing Routine For A Glowing Skin
Anyone can be on the way to getting clean smooth and healthy skin with the right skincare routine. A skincare routine should focus on hydration. So we have rounded up a 6-step routine for glowing skin.
1. Wash Your Face
Washing your face is important for bright, glowing skin. The first thing to note during your daily skin routine for glowing skin is cleaning your skin. Wash your face with a face wash or cleanser, and dry gently with a soft towel. Do not make use of hot water, it dries out the skin fast
2. Steam
Steaming opens up your pores and helps loosen up dirt to allow you to cleanse deeply. It also promotes circulation. Steam for about 5 minutes or as long as you can take, then clean your face gently with facial tissue. If you have oily skin, then this will be good for you. Gently massage your face with ice cubes, this will tighten the pores and allow the skin to come back to normal temperature.
3. Scrub
If you only stop washing your face, you won't be able to get dead cells, blackheads, and dirt out. There is a need for scrubbing the face. You can either use a DIY scrub made by you at home or get a good facial scrub at your skincare outlets.
4. Make use of face pack
A face pack can work for you, regardless of your skin type. They absorb excess oils and close pores which opened up while you washed, steamed, and scrubbed your face. Face packs also moisturize the face, make your face soft, and make your skin tone look better.
5. Toning
A toner covers up skin breakages that may have occurred while you scrubbed. A toner reduces the redness or burning which you might have noticed after scrubbing your face. You can apply any homemade toner on your face, e.g. cucumber juice and rose water.
6. Moisturize
After applying packs on your face, your face may feel dry. A moisturizer hydrates your skin and protects the skin. You can apply the moisturizer to your face before going to bed. The moisturizer leaves your face glowing for a long period. If you have a dry skin type, you can apply an oil-based cream while oily skin type can use water-based creams.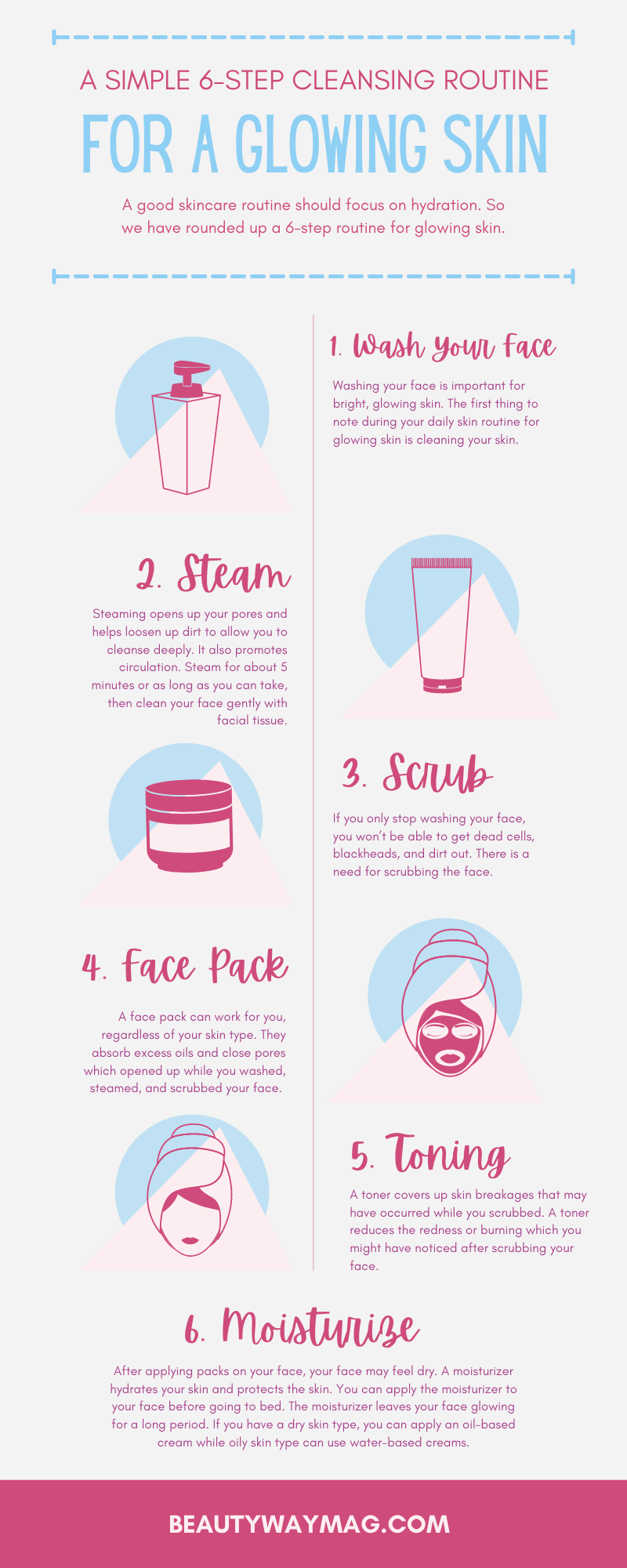 Wrapping It Up

This basic routine for cleansing the skin will leave your skin glowing for a very long time. Daily cleansing is great; however, you may also need to seek professional help once or twice a month. For better glowing skin, make sure to make use of your sunscreen when you are out. The sun is one of the biggest causes of skin damage. The sunscreen protects you from the effects of the sun