Painting nails is not just a way to stop from biting your nails but they can really add glamour to one's nails. In today's world, nail art is playing an interesting role, nail art trends have volleyed between simple easy polish manicures and getting creative designs using bright polish and seem to be getting more interesting in 2021. The recent nail art for your hand is penguin nail art.
The penguin nail art is the perfect way to dress up your hand during winter. this design wins cuteness in the nail art department. Today, fashion allows you to pair your outfit with your nails, this can really compliment your look and the penguin nail arts are consistently gaining popularity among women.
When the weather gets chilly, there is no better way to design your nails than with a friendly winter penguin. Here, we have compiled a list of interesting penguin nail art ideas for 2021.
1. Snow Penguin Nail Design
The snow nail penguin is one of the coolest nail art designs to try, This design is made with glitter blue as the base and uses the white dot to get the snowfall feeling. The penguin has been made into an adorable little penguin and you can also use the tip of the nails to show the snowy ground.
2. Cute Green Glitters Penguin Dsign
Keep it cute and simple. The penguins are shown off more in this design and if you love green then you can have it matched with green or switch it to more preferred color. It is a very attractive design that is sure going to make your nails eye-catching.
3. Penguin And Polar Bear Nail Art Design
This is another cute way to incorporate penguins into your nail art design. This is also great for the holiday. To get this look, you might need to get a professional or make use of the stickers as this is a bit of a complex design but it guarantees your nails will never go unnoticed.
4. Pretty Pink Penguin Nail Art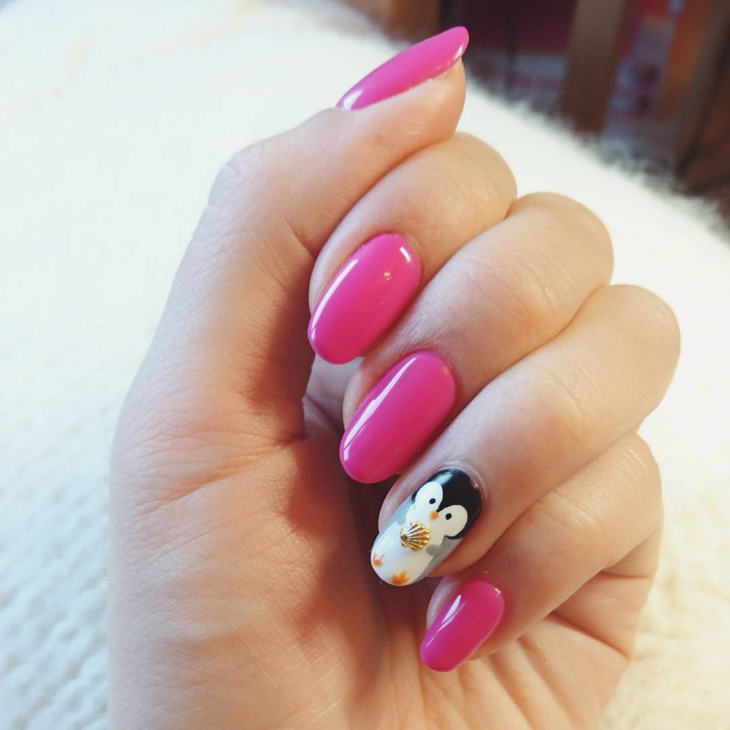 Pink is every girl's color and this nail art design combines simplicity and design. In this nail art, all the nails except for the middle finger which has been painted neatly in pink. The middle finger has been designed to show off the penguin and the black structure makes it more interesting.
5. Baby Pink Nails With Bow Penguin Design
This is one of the most popular penguin bow nail designs and this is due to the French tip and choice of color. This is quite simple but unique, the nail has been created with creativity and patience. A little bow has been designed on each nail with white tips. The penguin can be designed on any of the nails.
6. Cute Penguin Nail Art
If you can't figure out a base for your penguin nail art design then keep it simple with white. The nails of the fingers have been painted white with each having a cute little penguin design. It is another very simple but unique design.
7. Mismatched Penguin And Snowflake Art Design
This is special nail art and really great choice if you like your nail chic and fancy. It is also a great Christmas nail art, it features baby blue matte nails and blue sky color with snowflakes. This nail is really cozy to wear during winter.
Conclusion
Penguin nail art is quite interesting although it might come across as a bit complex, but, there are simple penguin nail stickers that give you what you want. Nail arts allow you to spice up your regular nail polish and while flowers are always pretty no matter what but a cute penguin design can never go wrong either.