There might be people willing to argue on this, but we're not, coffin nails are truly the perfect nail shape for you especially if you're new to getting your nails done, or you plan to keep your nail set for longer than a week.
Coffin nails are blunt on the edges and are made to resemble a square, no matter how long you get your nails done if they are in a coffin shape you do not have to worry about them harming your eyes or leaving scratches on your skin.
Asides from the advantages we've mentioned, coffin nails are in style and everybody loves them, from the girl rushing to the bus station to a celebrity posing for a shot.
They are easy to recreate, simple to maintain, and use for daily activities, and they are edgy and dope!
15 Black Coffin Nails For 2022
Now that you have all the tea on coffin nails, how about we take it a step further and introduce you to black coffin nail designs. Black nails have always been a daring color to try on, a combo of black nails done in a coffin shape is extremely cool and you deserve to try out one of the designs we've put together just for you.
1. Black And White Flame Coffin Nails
 Most people hear flames and what you think of is the color red, while that's a fact, nail designs are amazing because they allow you to switch things up to get whatever you want. That's why you have here these beautifully designed black coffin nails with white flames resting on the ring fingers.
2. Black Marble Coffin Nails
We all love a beautifully and neatly done set of marble nails regardless of the colors used, but when it's done with black it just looks so bold and daring as a nail set. This medium sized lovely set of black marble coffin nails is worth falling in love with.
3. Black Coffin Nails With Silver Gems
Black has a certain dark aura around it that surprisingly makes it an endearing color to a lot of persons, but if you want to add a little sparkle to your black nails then we've got you with this set of black coffin nails lined up with beautiful silver gems. The line-up of silver gems is neat, and lights up the entire nail set.
4. Black Coffin Nails With Webbed Designs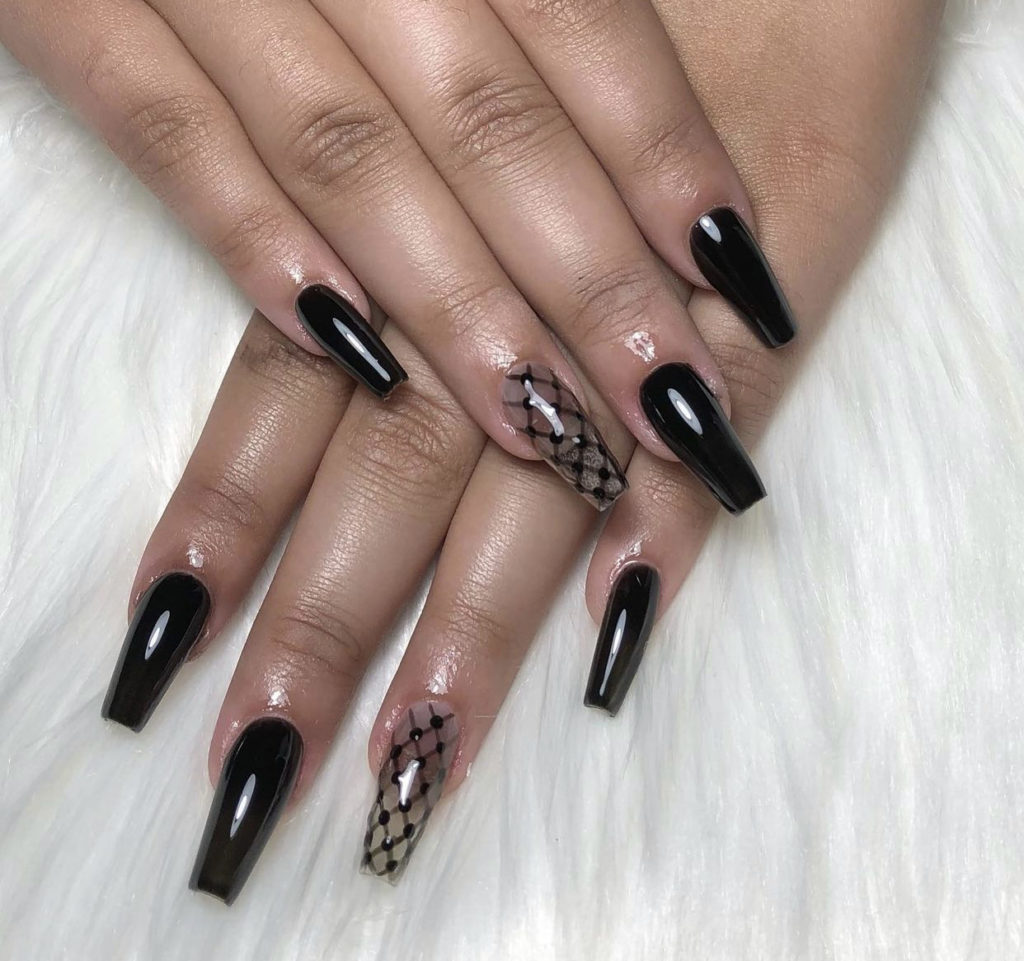 Your black coffin nails can stay basic or not, it's all up to you. This set turned what would've been a basic black coffin nail set into a creative and stunning set. The webbed designs that are neatly done on a clear polish on both of the ring fingers is nothing short of gorgeous and talented.
5. Black And Nude Coffin Nails With Gold Accessories
 Black goes perfectly with any color but it seems as though it was made to go side by side with nude, that's why this black and nude nail set looks simply divine. Asides from the seamless blend of the black and nude colors on this nail set, the line up of unique gems and a the long gold chain accessory makes it look like a nail set fit for a queen.
6. Black Coffin Nails With White Sprinkles
A touch of white on your black coffin nails is always a good idea because it turns out looking lovely at the end of the day. This adorable black coffin nail set is so because of the added white sprinkles on the middle finger and ring finger, you can get it done longer than this if you would like that better.
7. Black Coffin Nails With Colored Hearts
The fact that you can get as creative as you like with nail designs makes the process of picking a new set truly exciting, this black coffin nail set is an example of such creativity. So, if you're planning to be the Grinch of any Valentine season then we've got you covered with this colorful and creative nail set.
8. Black And Nude Coffin Nails With Hearts And Sparkles
 It's always a season for love, so pretty little hearts are always to have on your nails. This black and nude coffin nail set is one that is dear to the heart once you set your eyes on it. The black hearts scattered on the nude nails and the sparkles spread across the black nails all come together to make a stunning set.
9. Black Coffin Nails With Gold Flakes And Leaf Designs
If you're going for something that screams edgy yet elegant then this black coffin nail set is perfect for you. The beautifully crafted leaves drawn on a stem are neatly done and make the set a lot more attractive than it would have been without it, the gold flakes are a plus to the nail set but it brightens it up so well.
10. Black matte YSL themed coffin nails.
Matte nails are subtle and sleek and this particular nail set gives off those vibes perfectly. Each nail has a different and unique design that makes the set absolutely gorgeous. Still, the most attractive of all the nail designs remains the ring finger with the black gems. The entire nail set is also YSL themed, a true designer stan would hop on this.
11. Black Coffin Nails With Skeletal Bones
If you're trying to ease into the Halloween season, then you're in luck. This black coffin nail set is screaming Halloween vibes and there's no way you're not already a big fan of this design. The skeletal bones give a thrilling effect that would be perfect for the season.
12. Virgin Mary-themed Black Coffin Nails
 Still, with the Halloween vibe hovering and setting the mood, this virgin mary themed coffin nails are so detailed and have the much-needed thrill and rush attached to them. The Virgin Mary stickers, the gems that are lined up, and the rose accessories that are crafted as well totally pull off the entire spooky theme.
13. Black Coffin Nails With Gold Flakes
This black coffin nail set is simple yet gorgeous, it supports the fact that you don't need to pull a million strings to get a wonderful result. By simply adding gold flakes to the translucent parts of each nail, this nail set stands out as absolutely stunning.
14. Matte Black Coffin Nails With Shiny Glitter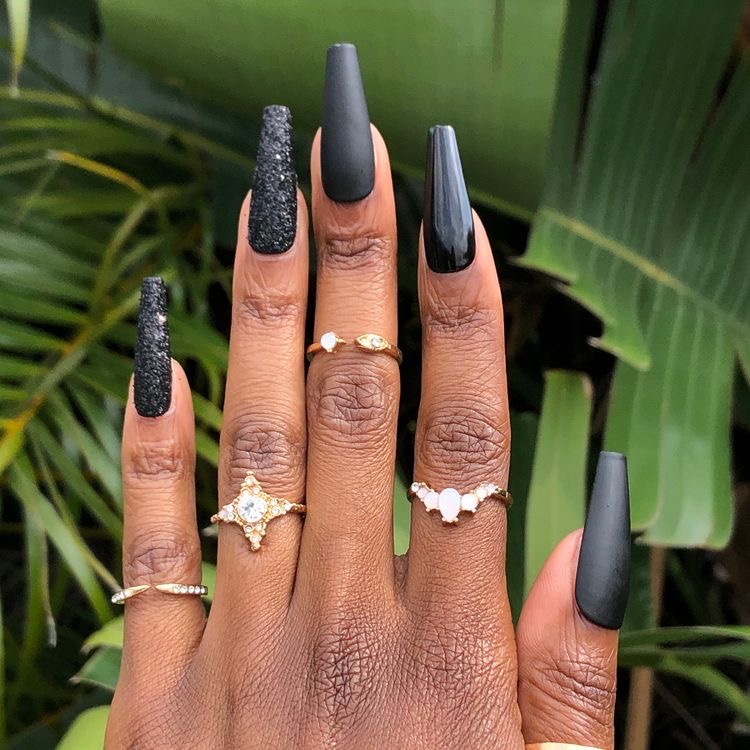 You can't possibly get tired of matte nails, they are a type of nail technique that has become easily loved by persons that have tried it out. Merely seeing how perfect it looks on this set should convince you that it is indeed a beautiful choice, to make it pop some shiny glitter has also been added to the entire mix.
15. Black Starry-Themed Coffin Nails
Just as the stars, swirls, and glitter can easily confirm, this particular black coffin nail set is definitely out of this world. This set is easy to fall in love with, it looks perfect and will make you feel just as perfect as it looks. This is a personal favorite, and it should go on your list of nail designs you've rocked.
Summary
We have carefully hand-picked and rounded up 15 of the best black coffin nail ideas that we believe you need to try out this year.
From simple, edgy, basic, classy to thrill-seeking nail ideas, we've got you covered and you are certain to find a few favorites among the nail ideas we have provided above.
New nail ideas on Beautywaymag: