How do you wear colorful eyeshadows? Eyeshadow is an essential aspect of any makeup, and colorful eyeshadows are definitely in style right now. How you pair colorful eye shadows are based on the look you are trying to create although they are meant to add vibrancy and beauty to one's makeup and help step out of your comfort zone.
Ladies are always on the lookout for the trendiest fashion and there is no exception when it comes to eye shadows. We don't know anyone who doesn't love a beautiful sunset and this is why taking on a cold colorful eyeshadow look is no joke and we are already on the lookout for eyeshadows that are going to be setting trends this year.
The start of a new year is always an opportunity to get creative with your makeup game and one of the perfect places to make this change is with your eyeshadows.
35 Most Beautiful Colorful Eyeshadow Looks For 2021
Colorful eyeshadows help jazz things up and this is a way to create any kind of bold fancy look. Whether you are a sticker for neutral and soft or like to spice things up with bursts of colors, here are the 35 most beautiful colorful eyeshadow looks for 2021.
1. Stunning Gold Look
One of the most interesting things about an eyeshadow look is that they make any makeup look eyecatching and fancy. Gold is the color when you think of a bold colorful eyeshadow, it tends to stand out on any kind of makeup. It is the perfect starting point when creating colorful eyeshadow makeup.
2. Bold Orange Look
Go bold with not just orange color but an orange design as well. This is a really cool and exciting eyeshadow look we can't help but say a loud yes to. This is the look to go for on a date night out with the girls.
3. Purple Eyeshadow Look
If you are up for another really fancy and colorful eyeshadow look then you have this above right here. This is great for practically any occasion.
4. Pink Flame Eyeshadow
A pink flame makeup can't go wrong at any time of the day. It tends to shine really bright and highlights your facial features perfectly.
5. Cloud Eyeshadow Makeup
Any skin type can get a cloud eyeshadow look and look astonishing with it.
6. Dramatic Eyeshadow Look
Dramatic can be really fun, all you need is the perfect color to pair together. If you can't decide, above is the trendiest eyeshadow look to go for.
7. Cute Blend Of Blue And Purple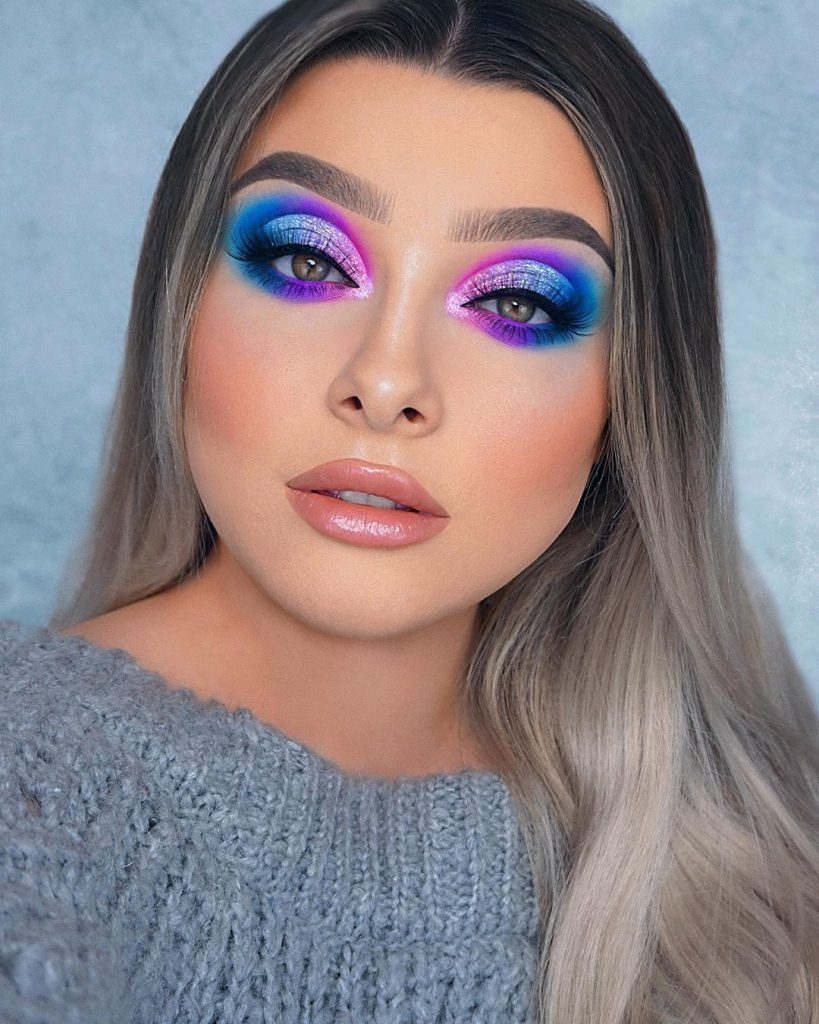 This eyeshadow style isn't just beautiful and colorful but perfect for any kind of fancy occasion. Just like every colorful eyeshadow looks, it highlights nude makeup.
8. Tropical Eyeshadow
Go tropical if you are looking for something that stands out.
9. Pastel Eyeshadow
Pastel eyeshadow allows you to keep things colorful but less dramatic.
10. Colourful Carnival Look
This is described as one of the most gorgeous carnival looks you can get. It's not just interesting but perfect for occasions.
11. Blissful Blue
Blue can be a really great eyeshadow color if you know how to make it work and above is one of the trendiest and colorful ways to replicate blue eyeshadow.
12. Simple But Colorful Yellow Eyeshadow
Keep it simple but colorful with gold.
13. Leafy Green Eyeshadow
If you are into green then here is the look you need to try this year.
14. Pink And Red Eyeshadow
Red and pink are two bright combinations we can't help but love. This look is ideal for you if you are up for a flashy eyeshadow look.
15. Halloween Eyeshadow
Here is the eyeshadow look you want to rock this halloween.
16. Fancy Eyeshadow Look
Fancy and colorful are two words that go well together when it comes to this eyeshadow look above.
17. Exotic Colorful Eyeshadow
Bolds and exotic can work jiust fine as well.
18. Bold And Bright Eyeshadow Look
This is another great colorful eyeshadow look you definitely should try. This look is great for weddings or formal events.
19. Luscious Eyeshadow
This eyeshadow is great if you need to hide dark circles under your eyes with ease.
20. Blue Glitters
Blue is the word if you are up for cool and bright.
21. Black Smokey Eye
To pull off any kind of makeup, you do need an eyeshadow look like this.
22. In Depth Eyeshadow Look
This is another colorful eyeshadow look we can't help but love. This look is perfect t for weddings as well well as fancy events.
23. Glam Eyeshadow
Keep it glamorous and in check with a blend of colors.
24. Gold Flakes Eyeshadow
We are aware of how gold can make any makeup stand out and here is the perfect gold look for you.
25. Glittering Calm Blue Eyeshadow
Another blue eyeshadow look to add to the list.
26. Colorful Indie Makeup
Indie makeup has been around for a while now and here is the perfect eyeshadow indie look you ought to try.
27. Colorful Fall Eyeshadow
This eyeshadow represents the fall colors. It is the right kind of eyeshadow look you need to complete a full bright makeup,
28. Gorgeous Eyeshadow Look
Simple and gorgeous do the trick most of the time. This is eyeshadow look is a bit on the calm side but worth recreating.
29. Colour Blocking Eyeshadow
A blend of colors might be fun but for a less dramatic but bold look, you might try experimenting with one bright color as done above. The yellow eyeshadow look is definitely gorgeous and can be paired with other shades if you want it really bright and bold. the next time you are looking to create an eyeshadow look, you should give this a try.
30. Green And Purple Summer Eyeshadow Look
Another super-easy way to add some color to your eye makeup is adding green and purple. The two colors are focused on highlighting your eyes while giving you the hottest and trendiest makeover. As far as color combination goes, these two are worth merging.
31. Peacock Omber Eyes
If you are ready for bold makeup, you should go for the peacock eye shadow mix. This eyeshadow look entails colors in shades of deep blue, yellow and green. To get the ombre look, the colors have been kept light and the mix of these hues creates a look that is remanence of the feathers on a peacock.
32. Pink Eyeshadow
Pink is one of the most favoured eyeshadow colors and seems we would be seeing more of it this year too. Try a popping pink eyeshadow in your crease for a bold classy look and this could easily be paired with purple as done above and blue is another contrasting shade that goes with pink.
33. Sunset Eyes
It's hard not to love nature and sunset is a beautiful example of that which makes the creating of this beautiful eyeshadow look no brainer. This colourful eyeshadow is made of red, coral and gold which would instantly add warmth to your eyes.
34. Purple And Orange Eyeshadow Look
We can't get enough of this popping colourful eyeshadow. These two contrasting shades add to the glamour of every kind of makeup which is why it is no surprise that they are recommended together.
35. Coral Sunset
Step up your eyeshadow game with the coral sunset look. This colourful eyeshadow doesn't have to be bold but can still be eye-popping, they can be soft subtle and equally give you a stunning effect. The coral sunset look is made with the orange eyeshadow and it's one look that will be great on anyone.
Conclusion
If you are on the lookout for the trendiest eyeshadow look this 2021 then there are tons of ways to step outside the box and find inspiration.
Colourful eyeshadow makeup can be really beautiful when done right and whatever you are looking to create with your eyeshadows, above are some beautiful looks worth saving.