What is an androgynous haircut? The androgynous haircut is a bold and typically short hairstyle worn by women, the haircut tends to toe the line between masculine and feminine hence it often combines both elements.
The term androgynous has recently become popular due to the rise in gender fluidity. The androgynous haircut is gearing up to be the most popular hairstyle in 2021 and it's one perfect haircut to try.
Gone are the days when androgynous haircuts are branded to males alone. Lots of females are seen rocking this haircut and the new female androgynous haircuts are edgy, liberating, and creative at the same time.
Any face shape can pull off a pixie cut and if you are in search of the perfect low maintenance hair cut then you might want to give an androgynous haircut a try.
Top Androgynous Haircut Ideas For 2021
To get on board with the creative and empowering haircut, we have rounded up 17 androgynous haircut ideas you can copy in 2021.
1. Super Short Undercut Pixie
This might look hard to maintain but it's not and it happens to be the most versatile undercut. The fun part of this pixie is you can have color introduced without it looking too dramatic. It is a haircut that is definitely regarded as feminine. It is also trendy classy.
2. Cute Androgynous Haircut With Side Bangs
If the pixie undercut is a bit too much for your fine hair then here is a perfect androgynous haircut you should try. This gives you a cool spiky look and it can give you that masculine or feminine look you want to aim for.
3. Hued Grey With Bald Sides
Here is a colour we must say tend to look good on any skin tone. This is not too bright or too low either which makes it just perfect for you if you plan to keep things cool.
4. Blonde Androgynous Haircut With Bald Sides
Here is another similar androgynous haircut to undercut and we think this is even fancier. This haircut has been associated with the masculine haircut for a long time but recently females are finding a way to make it look more classy and we must say it does look really cool.
5. Sleek Faux Haircut
Here is another really cool androgynous haircut we are in love with. This haircut works for any hair type, it helps add volume to thin hair and not to forget the edgy cool look that comes with it.
6. Mushroom Haircut
Mushroom haircut enables you keep a balance with your hair.
7. Buzzed Colour Haircut
Here si another way to add color to your hair without being too dramatic.
8. Shoulder Length Androgynous Haircut
Bob cut might not come to mind when you think of androgynous haircuts but it absolutely make a great shoulder length haircut for a feminine and masculine appearance. It can look cool and flirty on both gender.
9. Side Shaved Haircut
Side shaved androgynous haircut isn't going anywhere anytime soon.
10. Undercut
An undercut is that haircut you can call bold and daring. It features shaved section of hair under the rest of your hair. While you put the upper part of the hair into a ponytail and the shaved can be seen underneath. It's indeed a really cool haircut.
11. Ombre Faux Hawk
Found on the first list of the haircuts movement is Kristen Stewart. She is a big fan of androgynous haircuts and she did great justice to it. The ombre faux hawk is one haircut we are really in love with, it is simple and classy at the same time. This is perfect for those who don't want to chop off all their locks yet.
12. Short Undercut
The short undercut is an interesting haircut to try and it's also one of the neutral hairstyles to try. It is one of the most popular haircuts and really suited for any kind of face. For an edgier effect, you can go for the boyish undercut with side shaves or pattern sides.
13. Textured Pixie With Micro Fringe
This pixie cut from Zoe Kravitz is on point. We are loving the way the simple haircut has accentuate her face making it a red carpet-worthy hairstyle. This is a really versatile haircut that can go from ultra-refined to free-spirited in seconds.
14. Messy Waves And Quiff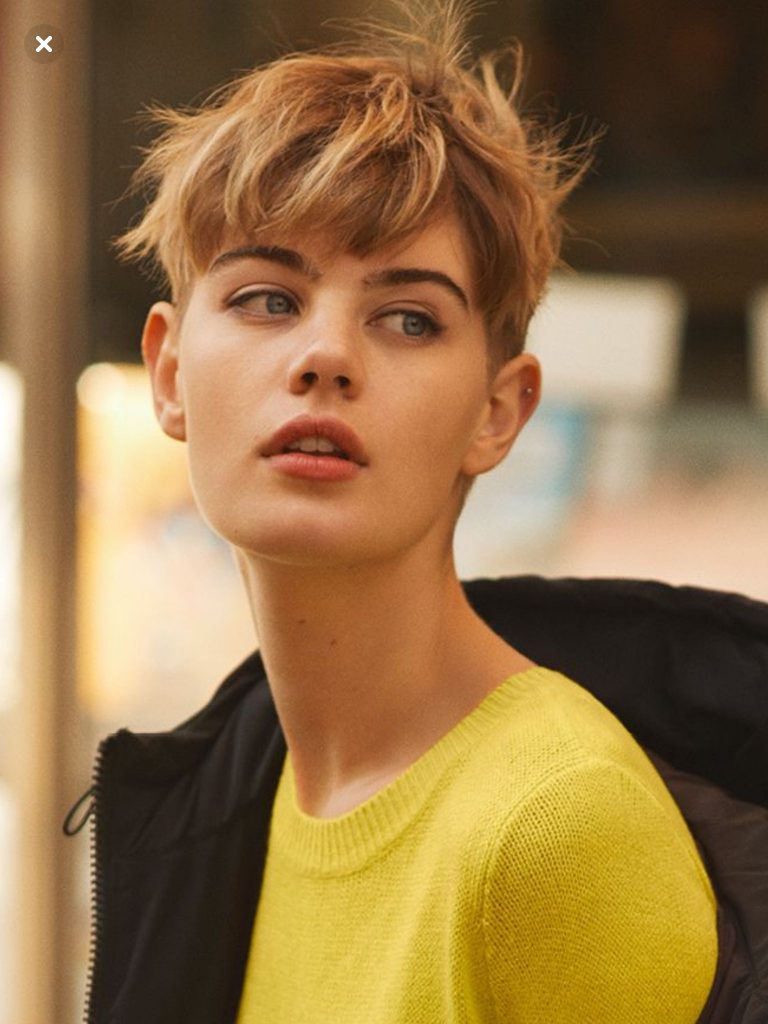 This is a perfect androgynous haircut you definitely want to make happen. This is very similar to the mushroom cut but with choppy and messy layers to create an illusion of a fuller mushroom cut. This haircut is great for anyone looking for a look that lies between boyish and feminine.
15. Short And Spiky Hair Cut
Kate Hudson decides to try something different from her usual tumbling locks and we think this really does look great on her. This is a trendy androgynous haircut and it's quite easy to maintain.
16. Side Swept Undercut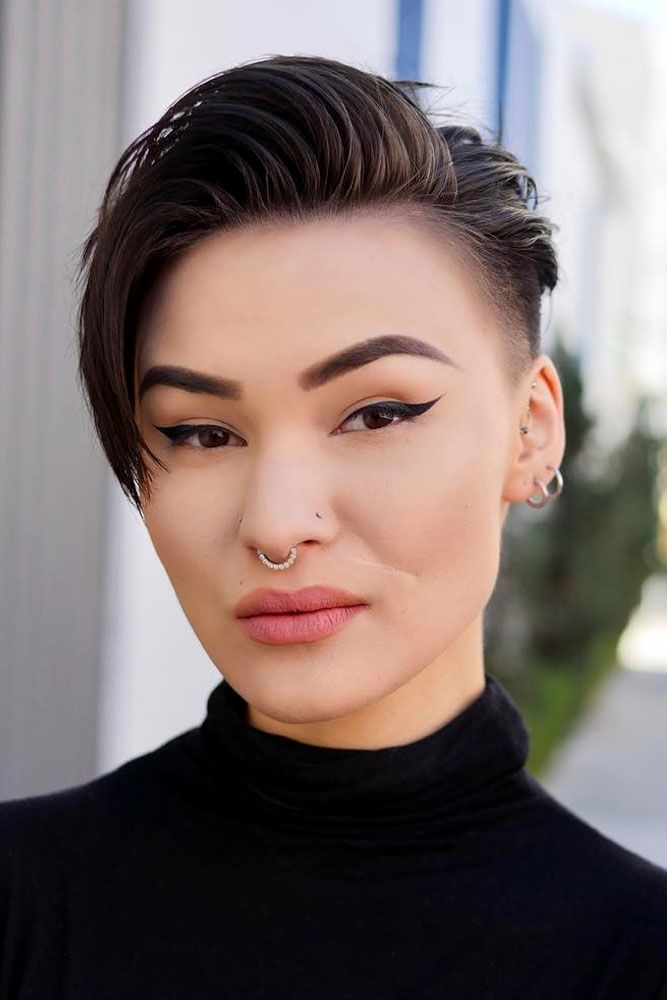 This side-swept undercut might just be what you are looking for and it is a great way to get creative and add some fun to your undercuts. You can have one side shaved and the hair swept to the other side or have it styled just like the one above.
17. Long Pixie Cut With Side Fringe
The is quite similar to the shag cut but with a more clean and smooth cut. Unlike the typical pixie cut, this comes with bob bangs which allow more styling options because of the longer side-swept bangs. This haircut is great for straight hair.
Wrapping Up
Feeling fearless? Looking for an ultra-modern way to rock short hair? Try something more interesting and daunting like of the androgynous haircuts above.
There are a slew of incredibly cool and badass androgynous haircuts out there but if you can't make up your mind or need to stay on the safe sides then above are the perfect cuts to inspire you.
Read next: 27 Types Of Heels Every Woman Should Have In Her Closet