The cost of getting your ears pierced will be based on which piercing you have chosen amongst several other factors. The average cost of an ear piercing should however be between the range of $20 to $50.
Ear piercings constantly receiving more attention every day, the different types of ear piercings are being gotten day in and out increasing their popularity.
Getting an ear piercing is a big deal, there are so many questions one would need to be answered especially if it is their first piercing, one would wonder about which ear piercing to get, where to find an experienced and licensed piercer, how much it would hurt, how to take proper care of it, when it would heal, and how much it would cost to get it done.
Here, we would be focusing on how much it would cost to get your ears pierced, giving an estimate of the average price would help you know how much to set aside, but an exact pricing per the different ear piercing types would encourage better planning for the cost of piercing and jewelry if you would be getting it from the same salon you plan to get pierced at.
How Much Does It Cost To Get Your Ears Pierced?
The importance of the cost factor while making any decision is impossible to overemphasize. There are so many things you might have taken interest in but were unable to purchase because of the cost factor, you must have had an entire plan laid out on what purpose it would serve but decided against getting it after considering the price.
This goes to prove that taking interest in ear piercings is not enough to base your decision of getting one on.
You would need to know the exact cost of the piercing you have chosen to get, an average pricing will be provided because different factors might cause the price to fluctuate from one piercing studio to another but you should make inquiries at the piercing studio you choose before booking an appointment to be absolutely sure.
Factors That Determine The Cost Of An Ear Piercing
Prices may vary from one piercing studio to another, so the factors that are likely to determine how much it would cost are outlined below;
1. Ear Piercing Type
When you think of getting an ear piercing, you definitely have a particular type of ear piercing in mind. There are various ear piercings and each of them requires different levels of expertise during the piercing procedure, this will be one of the reasons for the cost you will be charged. Ear lobe piercings are the least expensive amongst other types of ear piercings because they are easier to do, more common amongst piercers, and least likely to provide complications while being pierced.
2. Piercing Technique
Ear piercing could either be done on the lobe area or cartilage area. This difference in the location of ear piercings results in two different techniques that suit either ear piercings on the lobe or ear piercings done on the ear cartilage. These ear-piercing techniques are classified into those done with a piercing gun and those done with a piercing needle.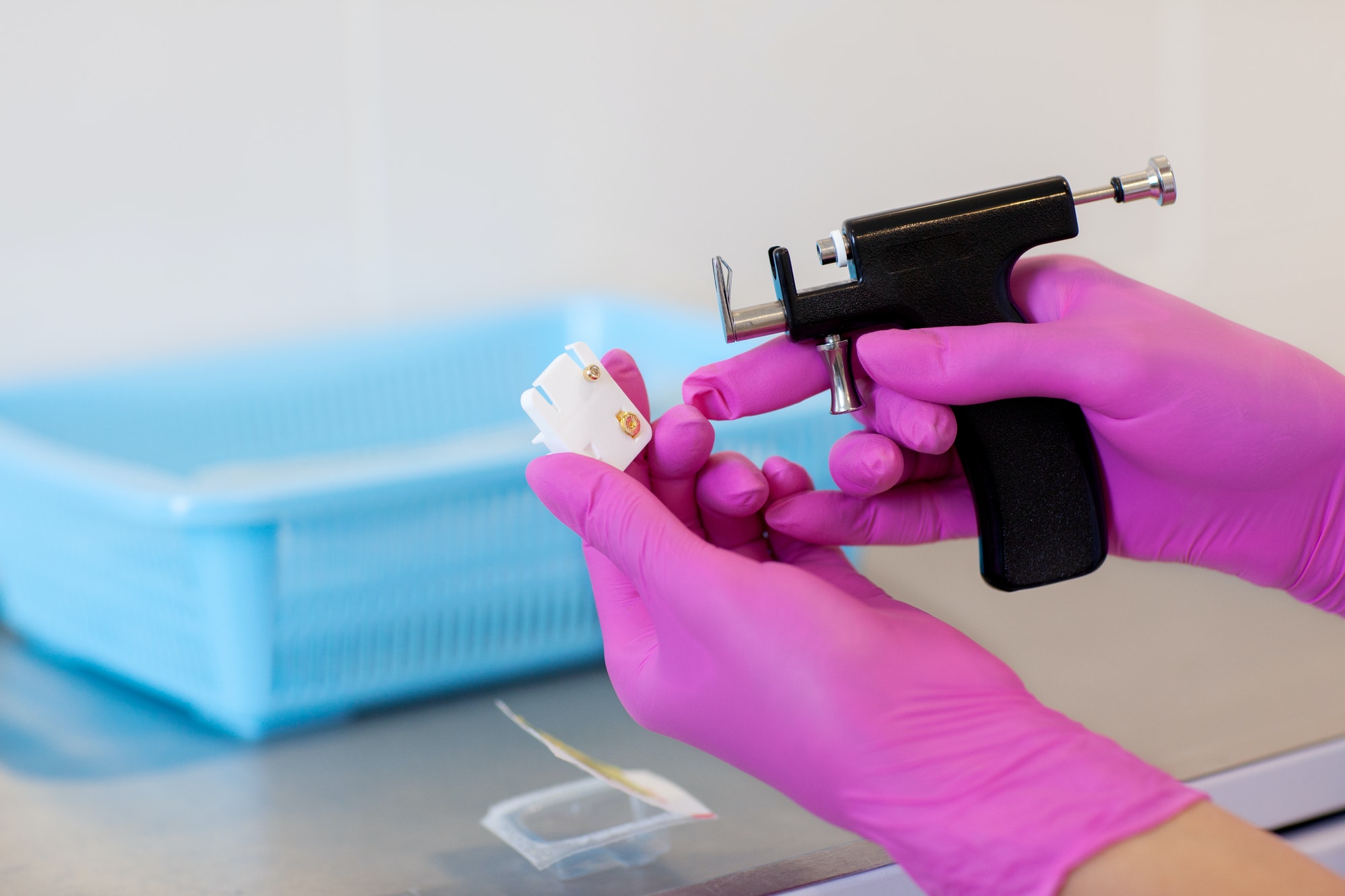 Some earlobe piercings can be done using a piercing gun, as well as some cartilage piercings but this is usually not advised. Piercing needles are quite tricky to use and are disposed of after one use so ear piercings done with a piercing needle would cost more, however, this technique is healthier and less likely to cause complications.
Ear piercings done with piercing guns may be swift and cheaper but it is most likely to lead to infections you would still have to spend good cash treating, on some occasions the piercer might even miss the spot, all of which you would want to avoid.
3. Piercer Experience
It is important to constantly remind persons looking to get an ear piercing that they should be on the lookout for a well-experienced professional piercer. Piercers with more experience would charge more than others because they have expertise enough to make your piercing process quick, precise, and less painful in some cases.
They would also be more health-conscious and provide you with adequate information and sometimes products to care for your new piercing, and when you notice some unexpected changes during your piercing you can always reach out to them for advice or treatment.
Less experienced piercers might be a cheaper option but for health reasons and a safer experience, opt for an experienced piercer.
4. Piercing Materials
Most people get their piercing jewelry at the same place they get their piercings done. Depending on the jewelry type, the prices would vary. Some piercing studios will offer one fee that includes the jewelry and piercing, while others will price the piercing process and jewelry separately. Even the piercing guns and piercing needles used tend to vary in price from place to place.
Average Price Of Ear Piercings
An average price of ear piercings gives you a price range to work with while making research and deciding on which ear piercing to get. Below are the average prices of ear piercings in the US, UK, Australia, France, India, Canada, and Germany;
| Country | Ear Piercing Cost |
| --- | --- |
| US | $20 – $50 |
| UK | €10 – €40 |
| Australia | $20 – $50 |
| Germany | 20€ – 50 € |
| France | €20 – €50 |
| India | Rs.400 – Rs. 800 |
| Canada | $20 – $50 |
Summary
It is clearly not enough to know which ear piercing you think would suit you the most, you also need to know the cost of the piercing you have chosen.
Above is a table that shows you the average prices of ear piercings in the United States of America, United Kingdom, Australia, France, Germany, India, and Canada. 
You must realize that for getting an ear piercing, looking for the cheapest option would most likely result in complications you would still spend money on, so your option of where to get your ear piercings should be weighed based on the expertise, healthy environment, and experience of the piercer. Prioritize your health at all costs.
Keep reading: