Textured skin is a common skin problem that is not usually talked about, yet many people are struggling daily with textured skin.
It's almost as though there is a stigma attached to textured skin because of how it appears, many people may experience it, but they do not feel comfortable talking about it, instead of treating it most people focus on keeping it covered up with makeup as much as they can.
This is where the use of primers comes in, but before then, let's cover what Textured skin is and briefly what you need to know.
Textured Skin Explained
Textured skin is a skin type that feels uneven, its texture feels rough and bumpy when touched, it also tends to look bumpy and uneven as well.
Textured skin is caused as a result of a continuous build-up of dead skin on your face, this build-up is not just underneath the skin, it becomes visible and causes the bumpiness and uneven feel of your skin.
It could be a genetic skin issue, it could be caused by the environment you're in, it can be as a result of bad hygiene, it could be caused by exposure to sunlight, it can be caused by eczema breakouts, it can be caused by smoking in some cases, it can be an effect of aging, or it could be caused by acne scarring.
The Best Primers For Textured Skin (More Below 👇)
How Can You Get Rid of Textured Skin?
People usually focus on getting rid of blackheads, Whiteheads, pimples, acne scars, or uneven skin tone, but they hardly pay attention to textured skin and getting rid of it.
Since textured skin is caused by the build-up of dead skin cells it can be gotten rid of by constant exfoliation with an exfoliating scrub and/ or glove three to four times a week.
Textured skin can also be treated by using chemical peels that have been prescribed by a professional. Making use of antioxidants on your skin such as vitamin C also helps get rid of textured skin.
You can also get a facial oil to smoothen out your skin texture. To avoid having bumpy make-up or getting your pores clogged by make-up products, there are also amazing primers that you can make use of, and we will be providing a list of those.
Primers Explained
A primer is a type of cosmetic or makeup product that is usually applied to the face before using other makeup products, this is because it is meant to act as a preparatory product that ensures that the makeup products used after it last long and sit perfectly on the skin as well.
Primers make your face a perfect, smooth, and workable canvas for other cosmetic products to be applied to it.
Primers can be applied for eye make-up or full makeup depending on the type of look the make-up artist is going for. Keeping your make-up in place is very important, and face primers are the way to go, they even out the skin tone, close up your pores, so they do not get clogged by make-up, and they act as moisturizers.
Having textured skin should not mean that you have to avoid putting on make-up while you are actively treating your skin because you are trying to avoid getting your pores clogged by make-up.
It just means that you have to purchase primers that are perfect for your skin issue, luckily some primers are made specially to cater to the needs of textured skin.
5 Best Primers For Textured Skin
Here are some of the best primers to buy that will help you mask textured skin properly.
1. Paula's Choice Exfoliating Facial Primer- Best Overall
One of the best ways to get rid of textured skin or to protect it from further damage is to gently exfoliate it.
This facial primer is great at exfoliating the skin when applied, it unclogs pores, removes dead skin cells, brightens the skin tone, it evens out skin tone, it smoothes wrinkles, it prevents enlarged pores, and prevents redness on the skin.
What We Like About This Facial Primer:
Improves and brighten skin tone
Exfoliates dead skin cells
Can be use on the face
Gentle on the skin
Hydrates the skin.
What We'd Change:
Why We Recommend This Facial Primer:
Paula's choice exfoliating facial primer is a gentle leave-on exfoliant that is made with 2% BHA (Beta Hydroxy Acid) which is the major ingredient that induces the exfoliation and other benefits that the product offers. It is a powerful and gentle ingredient that works wonders on textured skin.
This primer boasts of reducing fine lines and wrinkles, unclogging pores, getting rid of large pores, helping your skin shed to reveal healthier skin, preventing the appearance of blackheads, bringing about even skin tone, making the skin look younger, and preventing breakouts after taking makeup off.
This facial primer is also an amazing choice because it does not have any parabens included, parabens are harmful to the skin, and you do not have to worry about them with this product. It visibly improves the overall look of your skin and makes your entire make-up look flawless.
 2. NYX Professional Makeup Pore Filler and Blurring Primer -Best For Filling Pores
Large pores are an invitation for dirt, sweat, dead skin, makeup products, dust, and other unwanted substances to get stuck in your skin and cause it to look and feel uneven. By getting rid of large pores, you are getting rid of textured skin as well.
Your pores need to be tighter to avoid being clogged by oil or other types of dirt your face could come in contact with. This primer is amazing since it fills your pores to prevent any of such.
This primer is a perfect fix for textured skin caused as a result of large pores that attract dirt, it makes sure your pores are less visible and your makeup has a perfect finish and is long-lasting as well.
What We Like About This Facial Primer:
It minimizes the appearance of pores
Cruelty-free
Free from toxic chemicals
Conceal pores
Long lasting effect.
What We'd Change:
Why We Recommend This Facial Primer:
NYX professional makeup pore filler and blurring primers are Oil and talc-free as well as rich in vitamin E.
This ensures that pores are less visible, it makes sure your skin is not oily after application, it prepares your skin for a flawless makeup application, the vitamin E present in this formula nourishes and enhances your skin.
 It is hard to get a smooth finish with your makeup when your skin is textured, your result after a makeup session might appear rough and the makeup products might end up clogging your pores since you would have to use a lot of products to achieve a balanced skin texture.
3. Maybelline New York Face Studio Master Primer – Best Lightweight
Asides from being uneven in appearance and feel, textured skin tends to have other imperfections that make it unhealthy.
Textured skin could have blackheads spread out, fine lines on different parts of the face, sunburns from constant and unhealthy exposure to the sun, and oil-clogged pores.
This primer is a miracle worker when it comes to blurring out the imperfections on your textured skin, it is lightweight so that you can apply as many coats as you need to cover up those imperfections to your satisfaction, and it will still have a smooth finish and look at the end of the day.
What We Like About This Facial Primer:
Covers up scars
Smooth application
Lightweight
Long lasting.
What We'd Change:
Why We Recommend This Facial Primer:
The Maybelline New York Face Studio Master Prime Primer is a showstopper when it comes to smoothing out textured skin of its bumps and rough edges to ensure make-up looks great. It does not have a greasy feel because it was made with a water-soluble base that makes it lightweight and easy to apply.
It is made with SPF 30 which allows it to double as a sunscreen and protect your skin from damage caused by exposure to the sun.
 If your biggest concern is the acne scars, blackheads, easily clogged pores, or fine lines on your textured skin, then you should go for this primer, it is enriched with ingredients that activate its blurring properties and helps you hide those imperfections and have your makeup looking flawless for twenty-four hours long.
4. L'Oreal Paris Age Perfect Blurring Face Primer – Best Anti-ageing Primer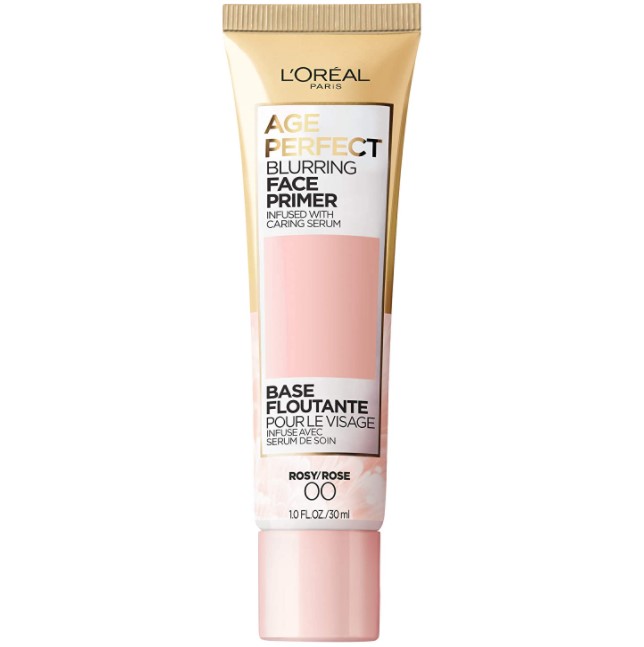 A known cause of textured skin is that it could begin as a side effect of the aging process, even though we can not stop ourselves from aging we can make the process less problematic by caring for our skin and keeping it looking radiant.
This primer is an amazing option for persons with texture skin as a result of aging because it focuses on getting rid of the skin changes that lead to textured skin as one ages.
Aging gracefully is not a myth, and it does not happen by merely wishing someone ages in that manner, you need to actively work towards aging beautifully.
Aging shouldn't mean that you should miss out on flawless makeup, investing in a good primer such as this puts you on your A-game with makeup despite having developed textured skin as a result of aging.
What We Like About This Facial Primer:
Suitable for all skin types
Smoothes out fine lines
Improves the overall appearance of skin
Smooth application.
What We'd Change:
Why We Recommend This Facial Primer:
The L'Oreal Paris Age Perfect Blurring Face Primer is a highly recommended primer for persons experiencing textured skin as a result of the aging process.
It is made with a caring serum that instantly transforms the look of one's skin when applied, it also has a rosy formula that is aimed at ensuring healthier and radiant-looking skin when used.
It takes away your worries about fine lines, forming wrinkles and visible pores by instantly blurring them out when it is applied. It can be applied as a skincare product for keeping your skin looking young and smooth with or without makeup.
5. Touch In Sol No Pore Blem Primer – Best For Hydrating Textured Skin
Dehydrated skin is always a leading cause of several skin conditions, just as you keep your hair and body hydrated you need to make sure that your skin is properly hydrated at all times to keep it healthy.
Believe it or not, providing constant moisture for your textured skin is a great step towards getting rid of the uneven texture that characterizes it.
With this primer, you can ensure that your texture skin is properly hydrated even while prepping to get your makeup done, under the coats of makeup products your skin will be provided with some much-needed moisture all day long.
What We Like About This Facial Primer:
Hydrates and nourishes skin
Hide pores and scars
Reduces the appearance of wrinkles
Long lasting effect.
What We'd Change:
Why We Recommend This Facial Primer:
The Touch In Sol No Pore Blem Primer is a smoothing and hydrating primer aimed at protecting textured skin from further damage by providing it with adequate moisture while ensuring long-lasting makeup.
It is a vegan product, it contains active ingredients such as green tea extracts and soluble collagen that provide superior hydration for the skin and ensure that the skin is protected from moisture loss as well by strengthening the moisture barrier in the skin.
It is suitable for all skin types because it is free from animal ingredients or any type of toxic chemicals. It is also an amazing facial primer for shrinking pores and reducing the appearance of fine lines and wrinkles, this makes the skin smooth and flawless under the makeup applied afterward.
This primer also helps to control your oil excretion and sebum production to keep your face looking healthy and energized. It reduces the visibility of spots and blemishes on the skin when applied before makeup products are used. It is non-sticky when applied so that makeup rests smoothly against it like a new smooth skin as opposed to texture skin.
Choosing A Primer For Your Textured Skin – Buying Guide
We are certain that you have used several primers especially if you're familiar with the make-up process by repeatedly doing your make-up, or you practice make-up as a professional, and you have worked on different skin types.
However, when it comes to textured skin the entire make-up process could end up being frustrating because of how rough and bumpy it is, this means that you need to find the perfect primer to make sure the base allows you to easily complete the rest of the make-up process.
 Here are a few tips to consider when choosing a primer for textured skin;
Ensure that you choose a primer that caters for whatever skin problems are particular to your textured skin, you should ensure that you are not just picking a primer for textured skin without carefully reading through the benefits to see which skin issues it addresses.
While it is important to buy a primer that ensures your skin pores are minimized to avoid getting clogged by make up products, make sure that the primer itself does not have oily or greasy feel as that could also clog your pores and cause a breakout.
If you use a face primer and your skin begins to feel dry even before you start applying others make up products, you should stay away from it. It will cause your skin to break out or appear really dull before and after the makeup has been taken off.
What Is the Best Primer For Textured Skin?
After providing you with five of the very best primers you could use for textured skin, we would love to single out one out of those five primers that would be an exceptional choice. The Paula's Choice Exfoliating Facial Primer is highly recommended because of its leave-on exfoliating properties.
It is not just acting as a makeup primer, it is effectively combating and getting rid of textured skin especially since it can be left on for as long as a day to work wonders in the skin.
If you decide to apply just the primer to your skin and be on your way out, some sunscreen will make it a perfect remedy and protective shield for your textured skin.
Summary
Primers are an amazing cheat code for making make-up procedures easier and ensuring a flawless result as well a long-lasting make-up.
Persons with textured skins no longer have to avoid make-up because there are primers made to protect your slim from further damage while also making sure that your make-up looks seamless and beautiful.
All you need to do is pick the perfect primer that addresses your textured skin, and you'll have zero worries concerning makeup, luckily for you, we've provided you with the very best options.