What are the best-oversized blanket hoodies? Oversized blanket hoodies might have recently been introduced to the market, but they are currently causing an interesting buzz.
Oversized blanket hoodies tend to come in handy during the cold winter months, and it keeps you cozy for the holidays as well. The Xmas season is around the corner and this happens to be a cold month as well, hence you will need blanket hoodies that give you the comfort of a hoodie and warmth of a blanket.
The definition of comfort tends to depend on your choice of clothing, however, it is one of the coziest and essential outfits you need. Blanket hoodies are typically known for their weight which is also what makes them the warmest options out there. If you live in a chilly area then you do need a hoodie blanket, and it makes a great gift as well.
Blanket hoodies sure combine fashion with functionality. There are so many themed and colorful hoodie blankets out there, and you just have to find one that makes the perfect companion on sleepover nights, movies, or camping trips.
Oversized blanket hoodies are the ideal ways you can keep your body warm however they are often avoided due to how expensive they can be. But not to worry, there are cheap oversized blanket hoodies that can still help keep your stomach, neck, back, arms, and head fuzzy and warm at the same time.
5 Reasons Why A Blanket Hoodie Is Better Than A Blanket
A hooded blanket is essentially a wearable blanket but still quite different from a blanket. There are lots of reasons to get a blanket and one of the notable ones is the fact that you can snugly in it with your kids, however blanket hoodies are believed to be suitable for that too.
Blanket hoodies might be new to you but below are some of the reasons they are better than blankets;
Blankets are too large and can't be carried along everywhere, but this is not the case with a blanket hoodie. Blanket hoodies are not confined to the beds alone, you can wear them and roam anywhere you want, and they are pretty soft and lush from the inside which adds more to the warmth
Blanket hoodies can e used to cover your head without hiding your face
They are versatile
Winter seasons are coming, and Christmas month is around the corner as well, blanket hoodies make the perfect gifts during this period
One oversize blanket hoodie can fit anyone.
15 Best Cheap Oversized Blanket Hoodies (2021)
There is a vast collection of blanket hoodies for everyone out there, and you just have to find one that works for you. However, shopping for blanket hoodies has been described as confusing by many especially if you are buying this as a gift for your loved ones.
Wearing layers of cloth to keep you warm is not as effective s getting an oversized blanket hoodie which is why we have compiled the best cheap ones to buy in 2021.
1. Hansleep Wearable Blanket Hoodie- Best Overall
Hansleep Wearable Blanket Hoodie is the ideal premium hoodie blanket for both adults and kits. This oversized blanket is long and wide enough for you to get warm and comfortable too. It is one of the most highly recommended blanket hoodies and most importantly it has no strange stench.
This hoodie blanket is available in different prints and colors, the patterns are pretty interesting too.
The purpose of this blanket hoodie is to keep you warm whether you are laying down, sitting down, or walking. Reviews claim this hoodie blanket will get you the cozy comfort you need all day, and it's quite affordable too. This is so convenient, your kids can have lots of fun while staying warm.
Another major benefit of this hoodie blanket is that it is made with soft material that won't irritate your skin. Furthermore, it is designed with elastic ribbed cuffs to keep your hands warm and an oversized front pouch you can slide your phone, keys, and other essentials into.
2. Sienna Wearable Sherpa Hoodie Blanket – Best For Traveling Blanket Hoodie
Sienna Wearable Sherpa Hoodie Blanket is one hoodie blanket you can't say no to. This hoodie blanket is not just affordable doubles as an oversized sweatshirt and blanket. It is one blanket hoodie that sure makes the perfect gift, and it is designed with elastic cuffs to keep your hands free and not to forget the two side pockets as well.
This blanket hoodie is made with microfiber material which makes it extremely soft to the touch, and it is also long enough for you to tuck your legs in while you lounge at home for warmth and comfort.
This is the ideal hoodie blanket to get for your kids as well, and they are a perfect option for camping.
3. THE COMFY Oversized Microfiber & Sherpa Wearable Blanket – Best Microfiber Hoodie Blanket
You shouldn't worry about the size of the hoodie blanket and this is because, the bigger and heavier the hoodie blanket is, the more warmth it offers which is why this hoodie blanket might come in quite handy. The COMFY Oversized Microfiber wearable blanket covers you completely without it slipping or sliding.
There are lots of amazing colors to pick from too.
This oversized hoodie blanket has the perfect size for adults and kids. Just like every other hoodie blanket too, this makes a great gift and although it's quite long, you don't have to worry about it dragging on the floor, you can comfortably wear it everywhere you go.
4. Bedsure Oversized Blanket Hoodie- Best-Rated Hoodie Blanket
Just one look at this hoodie blanket, and you will be sure you want hoodie blankets. This is specifically designed to have everything an oversized hoodie blanket needs to offer comfort. It includes a slide slit design, so you can easily put it on and off. The deep pocket added to it also offers warmth while making the blanket hoodie look stylish as well.
Bedsure Oversized Blanket Hoodie is designed to provide you with warmth, and it's extremely long enough to keep your ankles cozy too. The elastic cuff keeps your hands free, so you can attend to household chores easily.
5. Tirrinia Navajo Oversized Hoodie- Best Lounge Hoodie Blanket
Tirrinia Navajo Oversized Blanket Hoodie is another hoodie blanket made you can't help but love.
This classy oversized blanket keeps you warm and cozy while you lounge in front of the TV at home. It is wearable too hence you can have fun wearing it for all outdoor activities. This serves as a sweatshirt with a huge pocket for you to keep your phones and other essentials.
If you do like camping a lot then this oversized blanket hoodie can be a perfect option for you. The one size of this hoodie is perfect for anyone, it's a pretty long one hence it can offer you comfort from head to toe.
6. PAVILIA Angel Wrap Hooded Blanket- Best Wrap Hoodie Blanket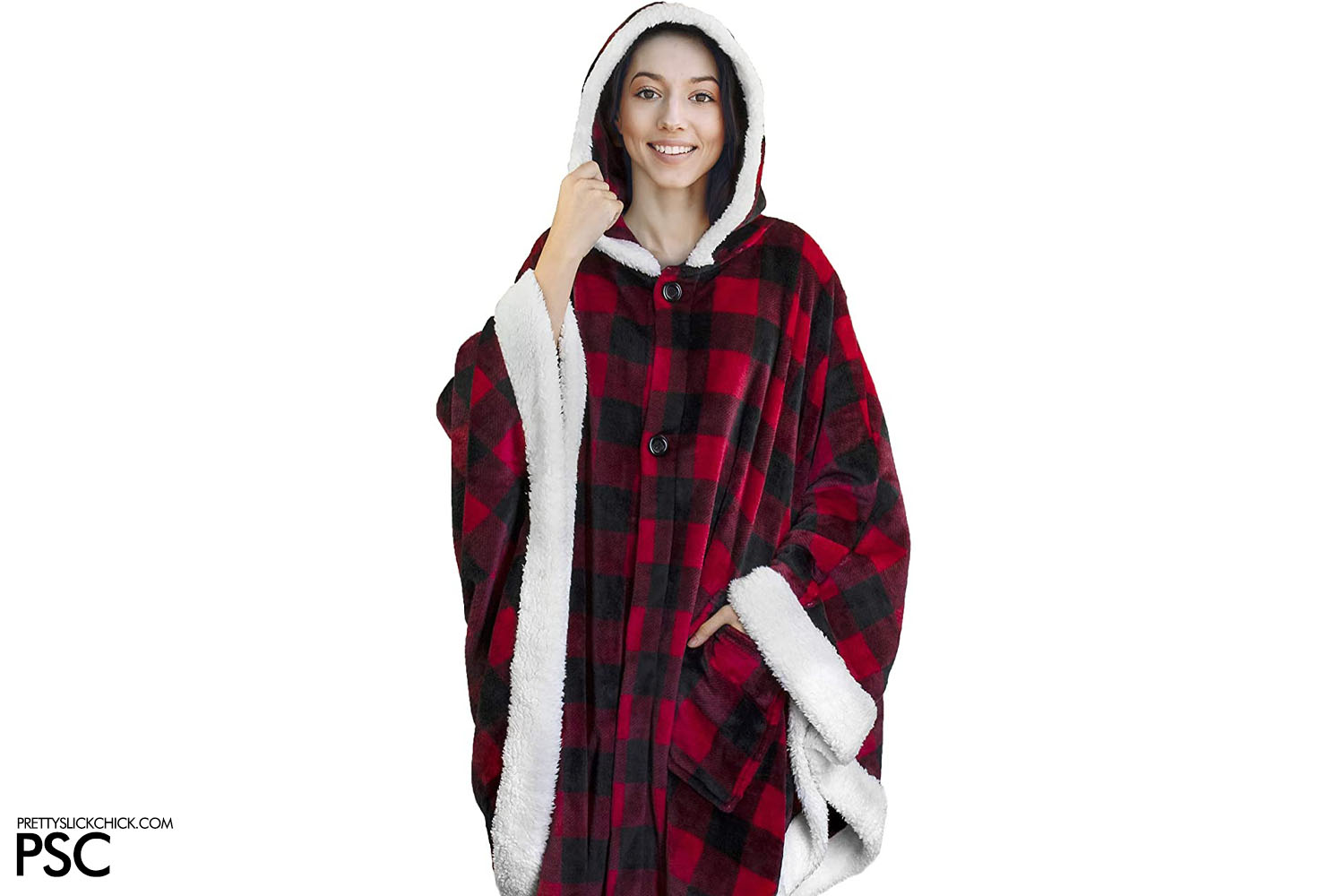 If you want complete coverage but still want to keep it stylish then here is one of the most recommended hoodie blankets to get.
This hoodie blanket is incredibly cozy and silky that you won't want to take it off. PAVILIA Angel Wrap Hooded Blanket comes with two pockets to keep your cell phones and keys, it is also designed with a button neck and sleeves. This is effective as a cape, shawl, cloak, and scarf.
This is a premium made blanket hoodie made with microfiber polyester to offer you comfort, and it's ideal for kids and adults. It is made with an adjustable neckline to keep your neck and back warm.
7. DmgicPro Oversized Wearable Blanket Hoodie With Sleeves- Best Value
This is another cozy oversized blanket hoodie you can't say no to.
DmgicPro Oversized is a wearable hoodie blanket that comes with a kangaroo pocket you can hide snacks, phones, and other essentials you need on the go. The pocket is also designed, so you can keep your hands warm in it. The elastic cuffs are meant to keep your hands free but warm too.
This large plush hood is surely made to keep warm, and it's quite affordable too.
8. Panku Wearable Blanket- Best Sweatshirt Hoodie Blanket
Panku Wearable blanket is another hoodie blanket designed to provide comfort while you lounge in front of the TV or go camping with the family.
This is a cute hoodie blanket that is heavy enough to provide warmth but also lightweight and fitted enough to be a sweatshirt. Tee.
This oversized hoodie blanket is wearable, and it is made with microfiber material with no odor to worry about. While this might not be large enough to be an oversized hoodie blanket for a 6'4, it will still look perfect as an oversized sweatshirt.
9. Dewellyo Oversized Blanket Hoodie- Best Leopard Print Blanket Hoodie
Leopard prints can be really fun and if you love designs and patterns then this might be the ideal oversized blanket to go for. Dewellyo Oversized Blanket Hoodie is one thick flannel hoodie with a front pocket, and it provides super warmth that will make you comfortable all the time.
This can be a great hoodie blanket to wear while you attend activities indoor and outdoor. The large size makes it suitable for anyone and you can enjoy wearing this while you work on your computer or play with your kids.
This won't slip unlike basic blankets, it will keep your hands and legs tucked in place while lying on the sofa.
10. Dreamcountry Oversized Wearable Blanket- Best Zip-On Hoodie Blanket
This wearable blanket is designed to be a portable fit but still serves as an oversized hoodie blanket.
It is just ideal for going out and with extra soft plush pockets, you can put your hands in when they are cold. The materials used are microfiber and Sherpa lining to make sure this keeps you warm, and it is suitable for both kids and adults.
Dreamcountry Oversized wearable blanket is made with elastic cuffs on the sleeves that possess high resilience and while you get to keep your hands free, you can also have it tucked into the loose sleeve to keep it warm.
11. AmyHomie Blanket Hoodie Sweatshirt – Best Wearable Hoodie Blanket
Cold days can be quite annoying and this might stop certain activities since you are too cold for them, however, this blanket hoodie is a lot roomier and comfortable which can make crazy cold days not so crazy.
AmyHomie Blanket hoodie is designed with different color options to choose from, and it is made of super micro plush polyester and shrink-resistant Sherpa fabric. This will make an exciting gift for a loved one.
12. Cozy Bliss Lightweight Blanket Hoodie- Best Blanket Hoodie For Kids And Adult
Cozy Bliss Lightweight Blanket Hoodie is an exquisite hoodie blanket that can serve you indoor and outdoor.
This is a soft blanket hoodie, and it also happens to be a glow-in-the-dark hoodie design, hence your kids are sure to love it. The glow in the dark feature can stimulate your child's curiosity, and with its compact storage bag, it is travel-friendly too.
This oversized blanket hoodie is big enough to offer comfort to anyone but also lightweight, so you can go anywhere with it conveniently. It is quite fluffy, and the cute bear ear should get kids excited as well.
13. Winthome Wearable Blanket Hoodie- Best Snuggle Hoodie
With this blanket hoodie, you can have fun outdoor while saying bye to the cold.
Winthome Wearable Blanket hoodie is the ideal snuggle hoodie to go for, and it is suitable for anyone. This hoodie blanket is made with a pre-washed process hence you don't have to worry about a rash or any weird odor.
It is made to offer you comfort with a luxurious feel to it and with the classy hood design to protect your head from cold, you can't help but find it worth the price it offers.
14. L'AGRATY Wearable Oversized Blanket Hoodie – Best Budget
This is a great oversized wearable blanket hoodie for men and women. This blanket hoodie is designed for everyone, and it is feasible enough for camping and even for riding a bicycle.
It is made of microfiber material flannel which makes it soft to the skin, and it has an excellent windproof that will not just provide warmth but make you feel fuzzy and comfortable.
For women and men looking for a good size of oversized wearable blanket hoodie then this is the ideal one to choose. This blanket is baggy but still roomy and comfortable, this comes in the perfect size and fits for everyone.
15. Topblan Wearable Hooded Blanket- Runner-Up
If you are looking for a lightweight winter and holiday hooded blanket, here is one you can't say no to.
Topblan Wearable Oversized Hooded Blanket is the perfect blanket for snuggling in, it is suitable for both men and women. This is pretty flexible, and it comes with large kangaroo pockets that can be used for your phones, remotes, and your hands.
This oversized blanket hoodie is suitable for all sizes and the large hood can keep your ear warm without having to cover your head. It is also roomy enough to have your legs tucked in. In addition, the fuzzy material feels snug and soft on the skin without causing any rashes.
Oversized Blanket Hoodie – Buyer's Guide
When looking to invest in an oversized blanket hoodie, there are certain things you need to consider before choosing one.
Oversized blanket hoodies are fast becoming the perfect choice of winter outfit, and we can understand why this is so. Since blanket hoodies have been invented, they are causing quite a buzz in the market, and here are some features to check out, so you can pick the perfect one.
1. Material
The material used in making the blanket hoodie you are buying is important to put into consideration. The material should be ultra-soft, plush, and cozy. To help control your body temperature easily, choose ones that are made with breathable materials such as cotton, Sherpa, polyester, and fleece.
2. Pockets
Another interesting feature you should ensure your hoodie blanket has is pockets. An oversized hoodie blanket with pockets should be wearable with pockets to provide you a convenient place to warm your hands or keep your keys and phones.
3. Care Instructions
The care instructions for a blanket hoodie should not be overlooked. You should choose a blanket hoodie that is easy to care for, some instructions to watch out for are no ironing, tumble dry low, and cold machine wash.
4. Size
The size of your blanket hoodie is quite important. Although most blanket hoodie is described as oversized, you don't want something too big that can prevent the flow of air or become too heavy to move around with. Choose a blanket hoodie with enough length to cover your legs when you fold it.
FAQs When Shopping For Oversized Blanket Hoodies
Here are a few of them answered for you.
Are oversized blanket hoodies in style?
Oversized blanket hoodies are always in style since they are basically for the cold weather season. The hooded blanket is a laid-back style that you don't have to wear outdoor and some sweatshirts can be worn outdoor instead.
What size should I get if I want it oversized?
If you want it bigger then you should probably get 2 or 3 sizes bigger than what you wear. Blanket hoodies are meant to be oversized hence make sure you are not getting something too big.
Are blanket hoodies worth it?
Blanket hoodies can be a bit pricey but considered worth it. Blanket hoodies are worth it when you buy one of higher quality that can last for a very long time and still provide comfort. It happens to make a great gift as well.
How do you wash a hoodie blanket?
Most hoodie blankets come with washing instructions but if this is not the case, they can be washed with a machine to save time. Hang the blanket hoodie and allow it to air dry.
Final Thoughts
The blanket hoodie is a lot more comfortable and offers more warmth than your regular sweatshirt. You can keep winter at bay with just blankets, but it's not as effective and comfy as the hooded blanket. One of the major benefits of hoodie blankets is that you can walk around with them which is not so with normal blankets.
They are quite versatile too and not as expensive as blankets.
Read next: 2022 Fall/Winter Style And Accessories Guide